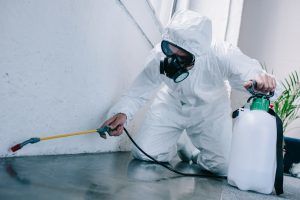 Panther Pest Control in Mayfair can protect your living area from pests or provide your employees with the essential hygienic and productive environment. With our range of pest control services, we can solve any problem related to vermin. For example, we can perform cockroach extermination, bed bug removal, rodent eradication, woodworm elimination, bird control, and many more pest removal and management jobs. Our solutions are appropriate for both residential and domestic properties in Mayfair, so no matter your pest control needs, we can cover them completely.
With our pest eradication treatments, you will not only ensure a healthy home for you and your loved ones but also enjoy numerous service benefits, such as:
Skilful, knowledgeable and experienced specialists – Our staff includes only extensively trained individuals who can respond adequately to any pest removal situation.
Assistance given at the best time for you – You'll receive the suitable pest control option at the right time for you. We can also provide you with an emergency pest removal service.
Service of the highest possible standards – Your job will be completed with attention to the smallest detail and great dedication by our friendly staff. Our work will be tailored to your individual pest control needs and requirements.
Treatments without toxic chemicals – We use only eco-friendly products, excluding the severe situations which are very rare in our practice.
What The Pest Control Service in Mayfair Consists of
You can expect a powerful pest control treatment from us that includes several stages. First, our specialists will carry out a thorough evaluation of your area. Second, they will identify the magnitude of the infestation, and after that, the technicians will decide which method is the best for your certain problem. The staff will share with you their suggestions and give you a proper quote for the required treatment. After the appropriate pest eradication procedure is completed, the experts will carefully clean the area and completely disinfect it.
To book with us right now or at another time convenient for you, please dial 020 3404 5177 or simply fill in the online request a quote form.
We offer pest control also in:
Horseflies are of the large and hairy fly variety and a common outdoor annoyance for both animals and humans in hot summer days. These flies have extremely painful bites, because unlike the rest of the creatures in this list, they don't pierce, but rather cut the skin, while injecting saliva containing anticoagulant as to prevent blood clotting. This makes horse fly bites harder to heal and painful for a day or more, as well as they may easily induce allergic reactions such as hives, difficulty with breathing, and in extremely rare cases – anaphylactic shock.
These insects are attracted to a potential victim by its movement, warmth, surface texture and the carbon dioxide it breathes out. They also prefer to be in the sun and enchanted by polarized reflections from water, which makes them avoid shaded places like barns and particularly annoying near swimming pools.
Horseflies, as their name precedes, also feed from many types of animals, usually big warm blooded mammals like cattle, but will also sometimes feed from dead animals. Thus making them an easy vector for different kinds of blood-borne diseases of mammals, such as:
Equine infectious anaemia virus;
The parasitic filarial worm Loa loa, also known as "eye worm" (transmitted between humans);
Anthrax (among cattle and sheep);
Tularemia (between rabbits and humans);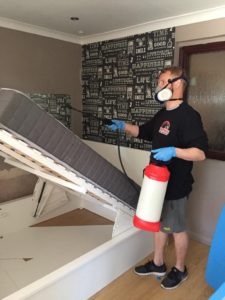 Matteo Grader is the bed bugs expert. He is responsible for domestic pest control sessions in London, and exclusively specialises in bed bugs treatment services. He has several years of experience in dealing with bed bug infestations and other pest issues.
Matteo also helps train new exterminators. He will advise you on the most effective pest prevention and proofing methods so that your home stays vermin-free in the future.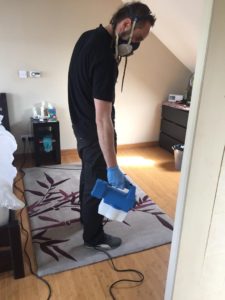 Alexander Clarke is one of the first exterminators in London and ever since he began his career, he's proved to be reliable, skilled and effective. He is an expert in dealing with wasps and wasp nests, as well as other unwanted insects.
He has vast knowledge about various types of household pests, their life cycles and habits, and is masterful in applying professional anti-insect treatments and methods. He covers the entire area of London and delivers quick and efficient results. You can listen to his advice and secure your home from future pest problems. He will make sure your home is treated thoroughly.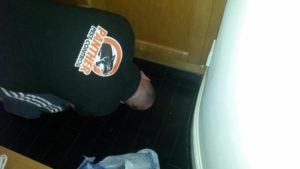 To help you in the fight with rats and mice, Noah Walker is perfectly trained and qualified in employing industry-approved rodent control methods, including setting up traps, the use of rodenticides, sealing points of entry, etc. He has been working as an exterminator with Panther Pest Control for over 3 years and is unequalled in finding the rodents' nests, entry points and routes.
He is the leader of a couple of rodent control teams and helps train new technicians.
We've made sure to answer most of the questions we get asked about the services that we offer. You can find the answers to your questions here.
Pest Control Specialists Are in Your Area
Vermin do not have boundaries. They do not have favourite cities. They are everywhere. We operate in London and are ready to help with your pest problem every day of the week or the weekend. Don't hesitate to call for an emergency pest problem. Teams of pest exterminators are in the M25 area and will come to the rescue as soon as possible.
Pest control specialists you can trust
Panther Pest Control always makes sure that the job is done up to the highest standard. If you are in need of a short-notice or an emergency pest control treatment, call us on 020 3404 5177 without delay or fill in our contact form at any time. We'll get back to you with a free quote ASAP!