Excellent Pest Control Service in Marylebone

You're fighting cockroaches or bed bugs but without success? Leave this job to us! We can rid your home of the vermin in a much easier and simpler way than you might expect. With the specialized equipment and proper materials, there is not a pest issue we cannot cope with. From rodent extermination, cockroach removal and nest inspection to bed bug eradication, wasp elimination and bird control, we can perform a range of pest control services. We always have the right solution to maintain your home or office free of vermin and hygienic.
Trust Our Pest Control Service in Marylebone and Take the Benefits
Discreet and emergency pest control treatments – If our schedule allows, we will come as quickly as possible to eradicate the pests in your home or office in a discreet manner.

Eco-friendly pest removal products and highly efficient tools – The materials and methods we apply will not affect your health or harm the environment.

Special offers – We offer a membership program that enables you to receive a 15% discount. You can have more information about this option from our sales specialists.

Certified pest removers – Our team members have the skills and qualities to meet the latest health and safety requirements for work.
Invite Our Pest Removal Specialists and Receive the Perfect Service for You
Our friendly technicians will take care of every step related to the eradication of the pests in your home or office. They will inspect the affected area and determine the suitable pest removal procedure for your particular situation. You will get a quote from our specialists, and you can be provided with a suitable service instantly if it is necessary or at another time convenient for you. After the service performance, our team will give you a piece of advice on how to maintain your area free of vermin in future.
How to make an appointment with our pest exterminators in Marylebone? It is so simple! Just call 020 3404 5177 or complete our contact form. If you prefer, you can chat with us. We are at your service 24/7 for your queries and needs related to our pest control solutions in Marylebone.
Located in the West End of London in the City of Westminster. In the heart of Marylebone is Baker Street mostly famous for the association with Sir Arthur Conan Doyle's fictional character – Sherlock Holmes.  Marylebone gets its name from the church dedicated to St. Mary. Marylebone had many famous musicians and writers for residents, such as Jimi Hendrix, Charles Dickens, John Lenon, Paul McCartney and Madonna. Today Marylebone has many attractions to offer to its visitors like the famous Sherlock Holmes Museum, Madame Tussauds and the museum The Wallace Collection.
We offer pest control also in:
When do Queen Wasps Come Out of Hibernation?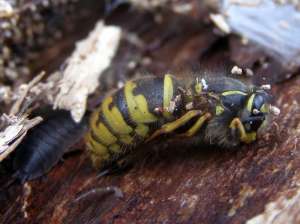 There is a lot of interest on questions like "when queen does the queen wasp leave the nest" so I decided to sum it up quickly.
The new year for the wasps starts when the winter ends, and the spring comes. During the first days of the spring, the warmer temperatures wake up the queens and break their hibernation process.
The next thing that needs to be done depends entirely on the queens as there are no other wasps alive at that time of the season. The wasp queens have to find a place which is very convenient for a nest. Then they start to gather materials of which the nest will be made. Wasps often make nest in lofts, which may prevent them from going through hibernation if it's too worm inside the structure.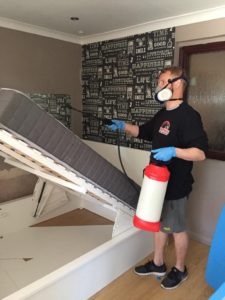 Matteo Grader is the bed bugs expert. He is responsible for domestic pest control sessions in London, and exclusively specialises in bed bugs treatment services. He has several years of experience in dealing with bed bug infestations and other pest issues.
Matteo also helps train new exterminators. He will advise you on the most effective pest prevention and proofing methods so that your home stays vermin-free in the future.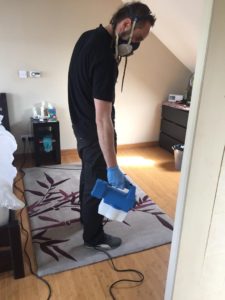 Alexander Clarke is one of the first exterminators in London and ever since he began his career, he's proved to be reliable, skilled and effective. He is an expert in dealing with wasps and wasp nests, as well as other unwanted insects.
He has vast knowledge about various types of household pests, their life cycles and habits, and is masterful in applying professional anti-insect treatments and methods. He covers the entire area of London and delivers quick and efficient results. You can listen to his advice and secure your home from future pest problems. He will make sure your home is treated thoroughly.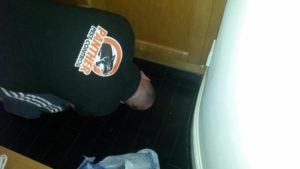 To help you in the fight with rats and mice, Noah Walker is perfectly trained and qualified in employing industry-approved rodent control methods, including setting up traps, the use of rodenticides, sealing points of entry, etc. He has been working as an exterminator with Panther Pest Control for over 3 years and is unequalled in finding the rodents' nests, entry points and routes.
He is the leader of a couple of rodent control teams and helps train new technicians.
We've made sure to answer most of the questions we get asked about the services that we offer. You can find the answers to your questions here.
Pest Control Specialists Are in Your Area
Vermin do not have boundaries. They do not have favourite cities. They are everywhere. We operate in London and are ready to help with your pest problem every day of the week or the weekend. Don't hesitate to call for an emergency pest problem. Teams of pest exterminators are in the M25 area and will come to the rescue as soon as possible.
Pest control specialists you can trust
Panther Pest Control always makes sure that the job is done up to the highest standard. If you are in need of a short-notice or an emergency pest control treatment, call us on 020 3404 5177 without delay or fill in our contact form at any time. We'll get back to you with a free quote ASAP!