Reliable Pest Control Service in Fitzrovia

When it comes to removing pests from your home or office, rely on our assistance. We provide trustworthy pest control services for a clean, hygienic and protected environment. With our professional help, you will quickly say goodbye to the harmful organisms that affect your health and damage your property. We can deliver a range of pest prevention services, such as cockroach removal, bed bug elimination, mice extermination, bird control, and many more solutions for your particular vermin problems.
Why Trust Exactly Our Pest Control Services in Fitzrovia
Flexibility – Our pest removal services are tailored to your individual needs and performed at a time convenient for you.
A range of effective equipment and tools, and eco-friendly pest prevention products – We are equipped with all required to satisfy your pest eradication and prevention needs.
Local, fully insured and responsive pest removers – Our technicians are ready to give you a helping hand, no matter where you're located in Fitzrovia. They have the needed skills and qualities to respond to your pest control needs.
Friendly and discreet pest eradication treatments – We provide special pest removal options to ensure nobody is aware of your vermin problem.
Rid Your Property of the Pest! Hire Our Insured Pest Controllers in Fitzrovia!
Make an appointment with our technicians by calling us on 020 3404 5177 and expect them at the scheduled time. They will inspect the affected area, determine the level of infestation and pick the most appropriate treatment to eradicate the pests. After getting a proper quote for the required service, you will be able to decide whether to receive the solution immediately or at another time more suitable for you. Sometimes an immediate help is required, and if our schedule allows, we will help you as soon as possible.
No matter the type of your vermin issue, we always have the right solution for it. Simply contact us via phone, through the online contact form or chat with us. Our customer support service is available for you 24/7.
Fitzrovia is a diverse residential district of Central London with many galleries, hotels and old-school pubs. The origins of the name Fitzrovia are many one of them is that the name comes from a local tavern  – Fitzroy Tavern, located on Charlotte Street where a group of writers used to gather, others suggest that it's related to the first lord that developed it – Charlez Fitzroy. Today Fitzrovia has many pubs, restaurants and bars to offer its visitors a great time. The famous residents of Fitzrovia are mostly writers and artists, among them are George Orwell, Quentin Crisp, Dylan Thomas and Virginia Woolf.We offer pest control also in:
Mealybugs (Pseudococcidae)
Mealybug is another well-known insect's name. It looks like a small, pale creature.
Mealybugs and their eggs are covered with a white waxy material, some of them feature filaments that extend beyond their small bodies.
These insects are difficult to control due to wax, which helps repel pesticides. We found mealybugs in leaf axils, on the lower surfaces of leaves, and sometimes on the roots. They cause stunted and distorted growth and damage to a plant because of sooty mould fungi.
Mealybugs can even kill the plant.
Panther Pest Control has the best way to eliminate minor infestations:
remove individual mealybugs by hand
spray with insecticidal soap
or wipe each bug with a cotton swab dipped in alcohol
Unfortunately, if the infestation is heavy, you may need to let the plant go.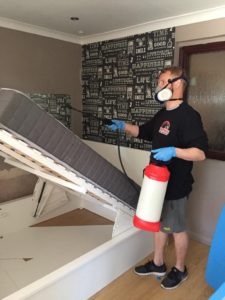 Matteo Grader is the bed bugs expert. He is responsible for domestic pest control sessions in London, and exclusively specialises in bed bugs treatment services. He has several years of experience in dealing with bed bug infestations and other pest issues.
Matteo also helps train new exterminators. He will advise you on the most effective pest prevention and proofing methods so that your home stays vermin-free in the future.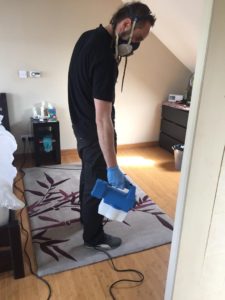 Alexander Clarke is one of the first exterminators in London and ever since he began his career, he's proved to be reliable, skilled and effective. He is an expert in dealing with wasps and wasp nests, as well as other unwanted insects.
He has vast knowledge about various types of household pests, their life cycles and habits, and is masterful in applying professional anti-insect treatments and methods. He covers the entire area of London and delivers quick and efficient results. You can listen to his advice and secure your home from future pest problems. He will make sure your home is treated thoroughly.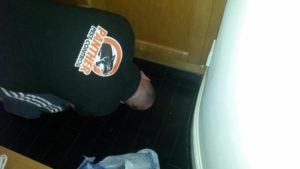 To help you in the fight with rats and mice, Noah Walker is perfectly trained and qualified in employing industry-approved rodent control methods, including setting up traps, the use of rodenticides, sealing points of entry, etc. He has been working as an exterminator with Panther Pest Control for over 3 years and is unequalled in finding the rodents' nests, entry points and routes.
He is the leader of a couple of rodent control teams and helps train new technicians.
We've made sure to answer most of the questions we get asked about the services that we offer. You can find the answers to your questions here.
Pest Control Specialists Are in Your Area
Vermin do not have boundaries. They do not have favourite cities. They are everywhere. We operate in London and are ready to help with your pest problem every day of the week or the weekend. Don't hesitate to call for an emergency pest problem. Teams of pest exterminators are in the M25 area and will come to the rescue as soon as possible.
Pest control specialists you can trust
Panther Pest Control always makes sure that the job is done up to the highest standard. If you are in need of a short-notice or an emergency pest control treatment, call us on 020 3404 5177 without delay or fill in our contact form at any time. We'll get back to you with a free quote ASAP!