Pest Control Covent Garden
You're struggling with pests at home? Cockroaches, bed bugs, fleas or other vermin affect your comfort and convenience? Let us take care of the pest problem in a quick and safe way? We provide fast and high-quality pest prevention services for your residential or commercial places. Here, you can receive the professional assistance you require to ensure safety and hygiene in your area. From bed bugs removal, cockroach eradication and bird control to nest inspection, rodent extermination, and bird control, we are able to perform a wide range of pest control services.
Why Prefer Our Pest Control Company in Covent Garden?
Immaculate reputation – We always strive to deliver the highest standard of service and ensure complete customer satisfaction.
Well-trained and high qualified pest controllers – Our team members are familiar with the newest and most efficient pest eradication techniques and methods.
Non-toxic and highly effective products – They are supplied by prominent UK-based companies.
24/7 customer support and assistance – Our polite advisers are always at hand to answer your questions or help with your bookings.
Immediate pest eradication service – If our working schedule allows, we can come to remove the pests at short notice.
Our Pest Controllers in Covent Garden Work to the Highest Possible Level
To ensure you are fully protected from pests, you have to make an appointment with our pest eradication specialists. The team will visit you at the pointed of time to evaluate the level of infestation of your affected area. The next step includes identifying the correct method for removing your vermin problem. When all this is done, the technicians will share with you the best solution and give you a fair quote for the required job. If you're delighted with the offer, they can start the pest removal procedure immediately or at another time suitable for you.
The pest control specialists we provide are professionally uniformed and fully equipped with the tools and materials for your specific pest control job.
Hire a Discreet Pest Control Service in Covent Garden!
You can call us immediately on 020 3404 5177 or you may prefer to use the request a quote form? Choose the best contact option to reach us and share what your pest control problem is. We will quickly find the solution for it!
Coven Garden derives its name from the french word "couvent" which means convent and it was the first piazza in London which was designed by the Royal Architect Inigo Jones. Today is one of the biggest tourist destinations with more than 40 million visitors per year and more than 60 pubs and bars and home of the Royal Opera House and Theather Royal. In the past Covent Garden was located in a small trading town known as Lundenwic and it was described as a trading centre for many nations who visit it by land and sea.
We offer pest control also in:
Flower Bugs & Insects Eating Your Garden Plants
For many people, growing houseplants and flowers become an addictive experience but so do pests and bugs think.
At Panther Pest Control, we know that some plants are fussy about conditions and care, however, the effort is worth it, especially when you see amazing blooms.
Unfortunately, there are insects and bugs that can severely diminish the health of the plant and the ability to produce flowers. The damage these insects do reduces plant vitality and can even kill the plant. Houseplant insects you find in your house can come in DIY gardens that have been outside for summer, or newly bought growers. It's a common problem for container gardening and cultures. Identifying pesky villains and providing effective control can save your plants and flowers.
We've teamed up with experienced gardeners and florists to provide you with all must-know information on flower pests.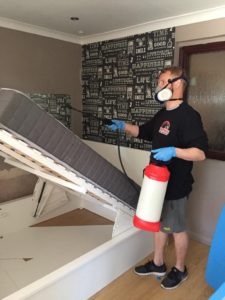 Matteo Grader is the bed bugs expert. He is responsible for domestic pest control sessions in London, and exclusively specialises in bed bugs treatment services. He has several years of experience in dealing with bed bug infestations and other pest issues.
Matteo also helps train new exterminators. He will advise you on the most effective pest prevention and proofing methods so that your home stays vermin-free in the future.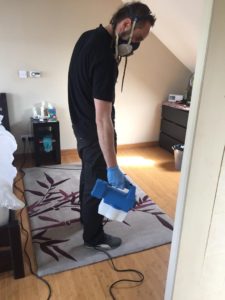 Alexander Clarke is one of the first exterminators in London and ever since he began his career, he's proved to be reliable, skilled and effective. He is an expert in dealing with wasps and wasp nests, as well as other unwanted insects.
He has vast knowledge about various types of household pests, their life cycles and habits, and is masterful in applying professional anti-insect treatments and methods. He covers the entire area of London and delivers quick and efficient results. You can listen to his advice and secure your home from future pest problems. He will make sure your home is treated thoroughly.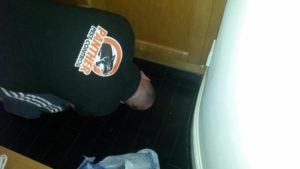 To help you in the fight with rats and mice, Noah Walker is perfectly trained and qualified in employing industry-approved rodent control methods, including setting up traps, the use of rodenticides, sealing points of entry, etc. He has been working as an exterminator with Panther Pest Control for over 3 years and is unequalled in finding the rodents' nests, entry points and routes.
He is the leader of a couple of rodent control teams and helps train new technicians.
We've made sure to answer most of the questions we get asked about the services that we offer. You can find the answers to your questions here.
Pest Control Specialists Are in Your Area
Vermin do not have boundaries. They do not have favourite cities. They are everywhere. We operate in London and are ready to help with your pest problem every day of the week or the weekend. Don't hesitate to call for an emergency pest problem. Teams of pest exterminators are in the M25 area and will come to the rescue as soon as possible.
Pest control specialists you can trust
Panther Pest Control always makes sure that the job is done up to the highest standard. If you are in need of a short-notice or an emergency pest control treatment, call us on 020 3404 5177 without delay or fill in our contact form at any time. We'll get back to you with a free quote ASAP!