You need a quick and safe pest control solution to protect your property from infestations and damage? We can help you prevent the spread of pests in your residential or commercial property. We provide high quality and flexible pest control services for your particular needs and requirements. Our skilful technicians will find the place where the harmful organisms live and apply the most suitable method for their eradication. Your area will be completely disinfected and free of vermin after the pest control service of our professionals.
Why Trust Exactly Us for Your Pest Control Needs in Holborn
Special discounts – Ask our sales specialists about the membership program we offer and how you can join.
Customer service phone line – It is open 24/7 for your questions and needs related to our pest control solutions.
Local and fully insured pest controllers – All of our team members have passed the required assessments to meet the newest health and safety regulations.
Discreet pest eradication – We can remove different kinds of pests in an eco-friendly and discreet manner.
Invite Our Specialists to Rid Your Home of the Vermin
Whatever your pest problem is, our specialists will find the solution for it. They have the knowledge and equipment to remove almost all kinds of pests, including but not limited to, bed bugs, cockroaches, rats, termites, mosquitos, wasps, and ticks. Even if you don't know where the pests are hiding in your home, our technicians will find the affected area. They will tell you what job is required and give you a proper quote for it. If you are satisfied with the offer, the experts can deliver the needed service immediately or at another time convenient for you.
How to Reach Us for More Information or Bookings
Call us for a free quote on 020 3404 5177 and make an appointment with our qualified pest controllers in Holborn. We provide round-the-clock customer support service for your comfort and convenience, and if our schedule allows, we can give you a pest control service at a short notice.
The district Holborn is covering the south-eastern part of London Borough of Camden and it's described sometimes as part of the West End of London. Some of the famous writers who lived in Holborn include Zadie Smith and Charles Dickens (he lived in Doughty Street where his house is now a museum). Known as London's historic law district, Holborn is a mix of legal buildings and offices, some small museums, jewellery shop, boutiques and casual cafes.We offer pest control also in:
Easier To Prevent Than Eliminate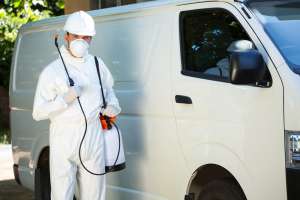 The best way to control insects on houseplants is through prevention. It's a well-known fact that it's easier to prevent an insect infestation than to eliminate one and Panther Pest Control is the best at it.
There are lots of effective practices you can try, and below we'll describe the best of them. These approaches will help your plants stay healthy.
Stressed plants are more susceptible to insects, so provide them with the growing conditions they need.


Check if there are insects on plants when you buy them. Before buying or bringing a new plant home, always inspect it and its container for signs of insects. If you identify pests on a plant in the shop, tell a shop owner so that he/she can quarantine the plant and ensure it doesn't get sold to someone else.


Use only clean pots and potting soil. When you bring home a new plant, before putting it into a new pot, make sure to thoroughly clean pots with a bleach solution or diluted soap to get rid of any disease-carrying agents.


Use commercially prepared potting soil when repotting a flower, instead of soil from outdoors, which is a rich source of pests.


Isolate new flowers for up to 6 weeks to make sure that any potential insects will be less likely to spread.


While your new plant is in isolation, carefully check it for signs of pests or damage every day. Pests or their eggs are most often found on the undersides of leaves, so use a 10X magnifying lens to pay particular attention to that area. Early caught infestation is much easier to control.


Examine the soil by taking the plant out of the pot. Plants that have been outside for summer, especially if they set on the ground, might have insects that crawled in through the drainage holes.


Every 2-3 weeks wash your smooth-leaved plants. It'll discourage pest infestations and improve the appearance of the foliage.


Cut flowers from the garden may be a rich source of insects, so keep them separate from your houseplants, comment Allan's Gardeners.


Pests, including insects that bite, can enter a house from the outdoors, so ensure that doors and screens fit well.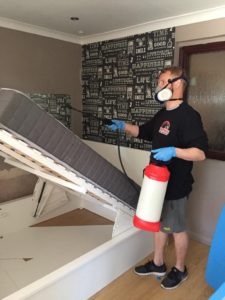 Matteo Grader is the bed bugs expert. He is responsible for domestic pest control sessions in London, and exclusively specialises in bed bugs treatment services. He has several years of experience in dealing with bed bug infestations and other pest issues.
Matteo also helps train new exterminators. He will advise you on the most effective pest prevention and proofing methods so that your home stays vermin-free in the future.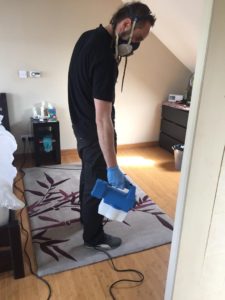 Alexander Clarke is one of the first exterminators in London and ever since he began his career, he's proved to be reliable, skilled and effective. He is an expert in dealing with wasps and wasp nests, as well as other unwanted insects.
He has vast knowledge about various types of household pests, their life cycles and habits, and is masterful in applying professional anti-insect treatments and methods. He covers the entire area of London and delivers quick and efficient results. You can listen to his advice and secure your home from future pest problems. He will make sure your home is treated thoroughly.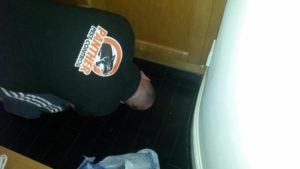 To help you in the fight with rats and mice, Noah Walker is perfectly trained and qualified in employing industry-approved rodent control methods, including setting up traps, the use of rodenticides, sealing points of entry, etc. He has been working as an exterminator with Panther Pest Control for over 3 years and is unequalled in finding the rodents' nests, entry points and routes.
He is the leader of a couple of rodent control teams and helps train new technicians.
We've made sure to answer most of the questions we get asked about the services that we offer. You can find the answers to your questions here.
Pest Control Specialists Are in Your Area
Vermin do not have boundaries. They do not have favourite cities. They are everywhere. We operate in London and are ready to help with your pest problem every day of the week or the weekend. Don't hesitate to call for an emergency pest problem. Teams of pest exterminators are in the M25 area and will come to the rescue as soon as possible.
Pest control specialists you can trust
Panther Pest Control always makes sure that the job is done up to the highest standard. If you are in need of a short-notice or an emergency pest control treatment, call us on 020 3404 5177 without delay or fill in our contact form at any time. We'll get back to you with a free quote ASAP!