Pest Control Regents Park
How to protect your lovely home from pests or ensure a hygienic environment for your employees? The answer is Panther Pest Control in Regents Park. Our company help many landlords, tenants, estate agents, business and homeowners to keep their premises free of vermin at all times. We can identify the root of your vermin problem easily and accurately, using the most modern equipment in this industry. With our assistance, you will say goodbye to the cockroaches in your kitchen, bed bugs in the bathroom, and mosquitos in the garden. We can handle absolutely any pest situation at your home, office, hotel or another domestic or commercial place. With us, removing the vermin is an easy job and your peace of mind is ensured.
Why Hire Exactly Our Pest Removal Services in Regents Park
They are performed by skilful and experienced technicians – Our staff are knowledgeable and highly skilled to respond correctly to your specific pest eradication requirements. The specialists will give you a service of the highest quality.
They are delivered at the best time for you – We offer flexible working time tailored to your personal schedule and individual needs.
They are timely and local – Our team will deliver the service you require at the right time – not a minute later, at the correct place – wherever you're located in Regents Park.
They are completed to the highest standards – We will give you not just a pest control service and leave. We will perform the most suitable treatment for you with attention to the smallest detail and great dedication. All of your service concerns and preferences will be taken into account when performing the required pest control job.
How to Book with Us Right Now?l
You can give us a call instantly on 020 3404 5177 or fill in our online contact form. You can make an immediate booking with us or get some information about our pest control assistance in Regents Park. We will be happy to be as helpful as possible for you with our pest management solutions.
We offer pest control also in:
Pyrethrin-based Insecticides
All such insecticides consist primarily of pyrethrin, which is extracted from flowers of the pyrethrum chrysanthemum plant. This extract, mixed with water, creates the perfect organic pest control spray for most common household pests such as ants, fleas, aphids, cockroaches, flies, wasps, caterpillars and more.
It gets quickly removed from plants and soil and causes no damage to any of these except the pests. It's also non-toxic to household pets and to humans.
To wipe out insects with a pyrethrin-based product they should have contact with the substances, to its recommended to spray directly on them or to treat all infested surfaces with the spray.
and livestock. Pyrethrin works as a fast knock-down for insects as soon as they come in contact with it, but they may revive if the dose you use is not high enough.
Important! – Pyrethrin-based products are known for destroying beneficial insects too, which may disrupt the pollination of your garden. This is why we highly recommend to use it only in case your plants are severely infested by a particular pest. Once killed, you can spray the treated plants with pure water to minimize the risk of killing beneficial insects.
Pyrethrin-based sprays may turn out to be ineffective and only stun insects instead of killing them if the essence is not mixed with synergists such as piperonyl butoxide. If you don't have success, seek for alternative compounds you can add to your spray to enhance its deadly potential.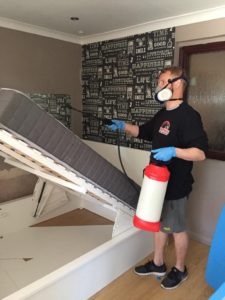 Matteo Grader is the bed bugs expert. He is responsible for domestic pest control sessions in London, and exclusively specialises in bed bugs treatment services. He has several years of experience in dealing with bed bug infestations and other pest issues.
Matteo also helps train new exterminators. He will advise you on the most effective pest prevention and proofing methods so that your home stays vermin-free in the future.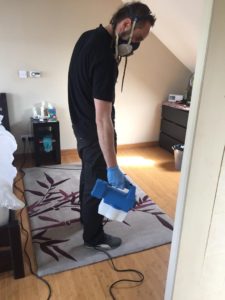 Alexander Clarke is one of the first exterminators in London and ever since he began his career, he's proved to be reliable, skilled and effective. He is an expert in dealing with wasps and wasp nests, as well as other unwanted insects.
He has vast knowledge about various types of household pests, their life cycles and habits, and is masterful in applying professional anti-insect treatments and methods. He covers the entire area of London and delivers quick and efficient results. You can listen to his advice and secure your home from future pest problems. He will make sure your home is treated thoroughly.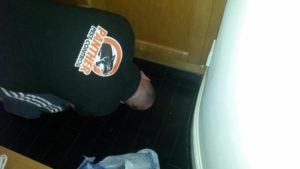 To help you in the fight with rats and mice, Noah Walker is perfectly trained and qualified in employing industry-approved rodent control methods, including setting up traps, the use of rodenticides, sealing points of entry, etc. He has been working as an exterminator with Panther Pest Control for over 3 years and is unequalled in finding the rodents' nests, entry points and routes.
He is the leader of a couple of rodent control teams and helps train new technicians.
We've made sure to answer most of the questions we get asked about the services that we offer. You can find the answers to your questions here.
Pest Control Specialists Are in Your Area
Vermin do not have boundaries. They do not have favourite cities. They are everywhere. We operate in London and are ready to help with your pest problem every day of the week or the weekend. Don't hesitate to call for an emergency pest problem. Teams of pest exterminators are in the M25 area and will come to the rescue as soon as possible.
Pest control specialists you can trust
Panther Pest Control always makes sure that the job is done up to the highest standard. If you are in need of a short-notice or an emergency pest control treatment, call us on 020 3404 5177 without delay or fill in our contact form at any time. We'll get back to you with a free quote ASAP!