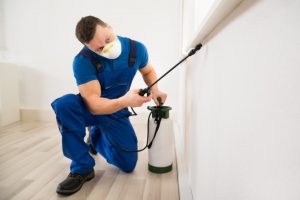 You need help to remove the mice from your attic or ants from the kitchen? Just trust Panther Pest Control in Kensington! We will take care of all jobs related to the complete removal of the vermin from your home or office. Simply book with us on 020 3404 5177 and we will come and inspect your property. We will identify the root of your pest problem and discuss with you the most appropriate method for its complete elimination. The insects, rodents or birds will be removed from your property and the place will be well-protected from future pest infestations. You'll be able to enjoy a clean and hygienic area and better health.
Why Our Pest Control Treatments in Kensington Are Beneficial for You
Many businesses use our pest control services to ensure a good hygienic environment for their employees and clients, which brings a positive effect on their company reputation. Our quality pest management treatments will increase the value of your business property and show your employees you appreciate them.
The vermin removal solutions we offer are highly essential for households who suffer from different allergies or respiratory problems. They effectively remove pests that easily transmit illnesses and infestations to humans and pets.
The benefits of using our services don't stop here. Look at what you'll also receive:
Professional and dedicated staff
24/7 customer support and assistance
Environmentally-friendly pest removal approaches
Top-quality equipment and effective products
Make Your Booking in Kensington Today!
Reach us whenever you have a pest problem and tell us more about your specific situation. We will come at the right time to deliver the best treatment for you, ensuring the essential hygienic and pest-free environment for your family or employees. The service will also include thorough and systematic cleaning of the concerned area after the problem is completely solved. We can provide you with a discreet pest removal service – at your request. Simply tell us you need this option when booking with us.
We offer pest control also in:
Technically ticks aren't insects, but parasitic arachnids closely related to mites – Panther Pest Control can help you with them. Ticks can be found on unpleasant occasions through UK woods, moors or thick grass. The difference between ticks and bed bugs is that ticks stay on the skin, they latch on it and continue feeding until spotted and removed. Tick bites aren't painful and even go unnoticed on most occasions, however they are hard to remove and if left unnoticed can infect humans with tick borne diseases, varying depending on the species and location.
For instance an Australian species, the Australian paralysis tick is very venomous and can cause paralysis, thankfully not found in the UK. You can send any ticks you collect to Public Health England and they'll identify them for you. Some of the most common tick borne diseases include:
Lyme disease – If you experience a circular rash spreading out from where you were bitten it is extremely important to visit a doctor, as this is a common symptom of developing Lyme disease.
Tularemia;
Tick-borne relapsing fever;
Babesiosis;
Ehrlichiosis;
Tick-borne meningoencephalitis;
Bovine anaplasmosis;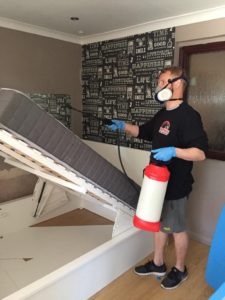 Matteo Grader is the bed bugs expert. He is responsible for domestic pest control sessions in London, and exclusively specialises in bed bugs treatment services. He has several years of experience in dealing with bed bug infestations and other pest issues.
Matteo also helps train new exterminators. He will advise you on the most effective pest prevention and proofing methods so that your home stays vermin-free in the future.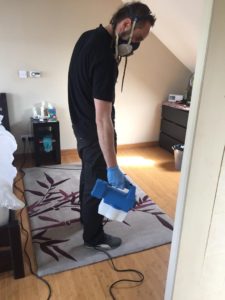 Alexander Clarke is one of the first exterminators in London and ever since he began his career, he's proved to be reliable, skilled and effective. He is an expert in dealing with wasps and wasp nests, as well as other unwanted insects.
He has vast knowledge about various types of household pests, their life cycles and habits, and is masterful in applying professional anti-insect treatments and methods. He covers the entire area of London and delivers quick and efficient results. You can listen to his advice and secure your home from future pest problems. He will make sure your home is treated thoroughly.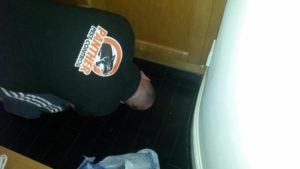 To help you in the fight with rats and mice, Noah Walker is perfectly trained and qualified in employing industry-approved rodent control methods, including setting up traps, the use of rodenticides, sealing points of entry, etc. He has been working as an exterminator with Panther Pest Control for over 3 years and is unequalled in finding the rodents' nests, entry points and routes.
He is the leader of a couple of rodent control teams and helps train new technicians.
We've made sure to answer most of the questions we get asked about the services that we offer. You can find the answers to your questions here.
Pest Control Specialists Are in Your Area
Vermin do not have boundaries. They do not have favourite cities. They are everywhere. We operate in London and are ready to help with your pest problem every day of the week or the weekend. Don't hesitate to call for an emergency pest problem. Teams of pest exterminators are in the M25 area and will come to the rescue as soon as possible.
Pest control specialists you can trust
Panther Pest Control always makes sure that the job is done up to the highest standard. If you are in need of a short-notice or an emergency pest control treatment, call us on 020 3404 5177 without delay or fill in our contact form at any time. We'll get back to you with a free quote ASAP!