Pest Control Notting Hill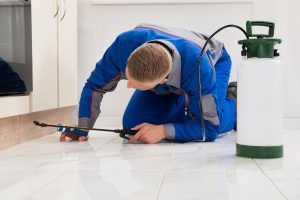 You find it difficult to handle a certain pest problem? You are trying to remove wasps, cockroaches or mosquitos but without success? Let us handle this challenge for you! We offer safe and reliable pest control solutions for different residential and commercial spaces in Notting Hill. Our highly skilled technicians are fully equipped with all required to eliminate your particular pest issue and prevent your home from future infestations. Simply share with them what your specific vermin issue is, and they will do the necessary to solve it without any hassle.
Take Incredible Benefits from Our Pest Control Service in Notting Hill
Polite and responsive office advisers who are at your service 24/7
Certified, professionally uniformed and courteous pest removers
A range of convenient booking slots
Specialized, highly efficient pest control products and equipment
Special offers and great discounts for multiple bookings
How Our Pest Control Technicians Will Proceed
You can book our team for a time suitable for you. When you do it, you can expect the specialists to come fully equipped at the scheduled time. First, they will inspect the affected area and determine what the level of infestation is. Second, the technicians will decide which method is most appropriate for your pest removal problem. Then, you will receive a proper quote for the needed service. The suitable pest eradication treatment can be performed at that time – if it is necessary, or at other time you point as convenient for you.
Our specialists offer pest proofing solutions to protect your premises from future infestations or block all entry points of your home or office area. On your request, they can install a door brush to prevent rodents from entering the home or provide you with other helpful options to guarantee the safety and cleanliness of your space.
Contact Us for More Information and Book with Us!
You can contact us instantly on 020 3404 5177 and tell us what your specific vermin problem is. If you prefer, you can fill in our online contact form to share what you require for your pest removal issue in Notting Hill, and we will give you a quote.
Notting Hill is a district of West London located in the Royal Borough of Kensington and Chelsea and is well known for its annual Notting Hill Carnival which has a strong Caribbean theme and it is celebrated every August and the movie of Richard Curtis called "Notting Hill", starring Hugh Grant and Julia Roberts, the blue door which inspired the idea for the movie can still be found at 280 Westbourne Park Road, tho it's just a replica because the original one was sold at an auction. Nowadays Notting Hill is full of antique shops and book stores. Some of the more notable residents include the Ladbroke family which owned much of the land in Notting Hill in the 19th-century and that's why most of the streets now carry their names such as Ladbroke Grove, Ladbroke Hall, Ladbroke Walk and Ladbroke Square Garden, Ladbroke Terrace, Ladbroke Crescent, Ladbroke Road.
We offer pest control also in:
Queen Wasp Identification
To distinguish the queen wasp from the worker wasps can be a challenge. Normally there aren't big differences for most wasp species. With some, however, the queen is a bit longer. And for some species, the queens also have a pointed lower abdomen and a narrower waist. But for example, with paper wasps, there is absolutely no difference in the size so you'll never know which one is the queen.
Since the queens are the only wasps that hibernate in winter, you should know that if you see a solitary wasp in late autumn or early spring, it is most likely the queen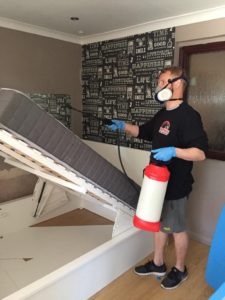 Matteo Grader is the bed bugs expert. He is responsible for domestic pest control sessions in London, and exclusively specialises in bed bugs treatment services. He has several years of experience in dealing with bed bug infestations and other pest issues.
Matteo also helps train new exterminators. He will advise you on the most effective pest prevention and proofing methods so that your home stays vermin-free in the future.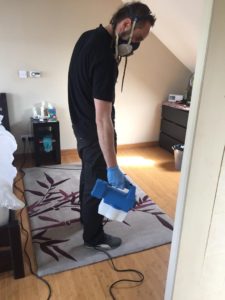 Alexander Clarke is one of the first exterminators in London and ever since he began his career, he's proved to be reliable, skilled and effective. He is an expert in dealing with wasps and wasp nests, as well as other unwanted insects.
He has vast knowledge about various types of household pests, their life cycles and habits, and is masterful in applying professional anti-insect treatments and methods. He covers the entire area of London and delivers quick and efficient results. You can listen to his advice and secure your home from future pest problems. He will make sure your home is treated thoroughly.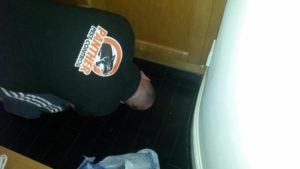 To help you in the fight with rats and mice, Noah Walker is perfectly trained and qualified in employing industry-approved rodent control methods, including setting up traps, the use of rodenticides, sealing points of entry, etc. He has been working as an exterminator with Panther Pest Control for over 3 years and is unequalled in finding the rodents' nests, entry points and routes.
He is the leader of a couple of rodent control teams and helps train new technicians.
We've made sure to answer most of the questions we get asked about the services that we offer. You can find the answers to your questions here.
Pest Control Specialists Are in Your Area
Vermin do not have boundaries. They do not have favourite cities. They are everywhere. We operate in London and are ready to help with your pest problem every day of the week or the weekend. Don't hesitate to call for an emergency pest problem. Teams of pest exterminators are in the M25 area and will come to the rescue as soon as possible.
Pest control specialists you can trust
Panther Pest Control always makes sure that the job is done up to the highest standard. If you are in need of a short-notice or an emergency pest control treatment, call us on 020 3404 5177 without delay or fill in our contact form at any time. We'll get back to you with a free quote ASAP!