Pest Control Shepherds Bush
Whether you need to rid your home of insects, rodents, birds or animals, Panther Pest Control is at your service. We can efficiently handle cockroaches, bed bugs, wasps, mosquitos, ants, pigeons, rats and many other harmful organisms that can ruin your health and damage your property. Will not only remove the vermin from your home but also thoroughly clean the area after the treatment to ensure a perfectly clean and disinfected place. Our step-by-step pest eradication approach will guarantee your pest issue is solved for a lifetime.
With our professional pest control services in Shepherds Bush, you can significantly reduce the risk of different illnesses in your home or ensure a hygienic and productive environment for your employees. On top of it all, you'll be able to benefit from the following great service perks:
Expert pest controllers – Our technicians have the required knowledge and skills to solve a range of pest removal challenges in both residential and commercial properties.
Eco-friendly pest removal treatments – We will handle your situation without having to use chemicals. We apply toxins as a last resort only – in very extreme cases.
Round–the-clock emergency assistance – We can respond quickly to your pest removal needs.
All equipment needed for your specific job – Our staff possess a range of helpful pest control items, such as UV vacuum cleaners, heat treatment machines, vent mesh, pigeon spikes and other tools.
Book a Full Pest Control Service with Us in Shepherds Bush
Our technicians will take care of your pest problem to the smallest detail. They will use a special approach to ensure all aspects of pest control are covered and your situation is solved permanently. They will conduct a comprehensive inspection of your property and find the place of the infestation. After the staff determine the extent of the infestation, they will be able to identify the best method for its elimination. The experts will tell you what they have decided and offer you a fair quote for the needed pest eradication procedure. The treatment can be done instantly if required or at another time that is suitable for you.
Call us for more information or a booking on 020 3404 5177.
We offer pest control also in:
Flea bites look like a small reddish skin rash, hives and swelling accompanied by a lot of itchiness. What's characteristic about flea bites is the red dot in the centre. These types of bite tend to be in groups of five to six and are typically seen on the ankles, knees, elbows and waist. Besides the discomfort and annoyance caused by this bug, their bites can also act as a vector of a number of diseases, fortunately most of them are location specific or affect only animals. Humans should watch out for the following:
Hymenolepiasis Tapeworm – Infection occurs by accidentally swallowing eggs of the parasite. The examination of the stool for eggs and parasites can confirm the diagnosis within minutes.Light infections are usually symptomless, whereas infection with more than 2000 worms can cause enteritis, abdominal pain, diarrhea, loss of appetite, restlessness, irritability, restless sleep, and anal and nasal pruritus. Occasionally, epileptic seizures can occur in infected children.
Murine typhus – Symptoms include headache, fever, muscle pain, joint pain, nausea and vomiting. 40–50% of patients will develop a discrete rash six days after the onset of signs. Up to 45% will develop neurological signs such as confusion, stupor, seizures or imbalance.
Bartonella henselae (Cat-Scratching Disease) – Occurs not only after contacts with a cat such as scratching, but also from cat fleas biting humans. Symptoms include fever, enlarged, tender lymph nodes that develop 1–3 weeks after exposure and a papule or pustule at the inoculation site.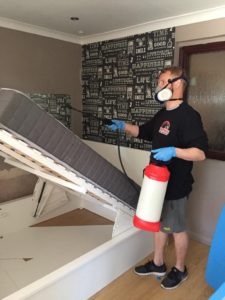 Matteo Grader is the bed bugs expert. He is responsible for domestic pest control sessions in London, and exclusively specialises in bed bugs treatment services. He has several years of experience in dealing with bed bug infestations and other pest issues.
Matteo also helps train new exterminators. He will advise you on the most effective pest prevention and proofing methods so that your home stays vermin-free in the future.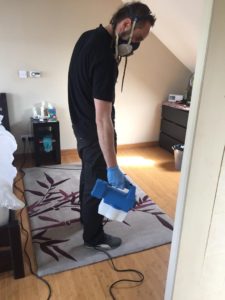 Alexander Clarke is one of the first exterminators in London and ever since he began his career, he's proved to be reliable, skilled and effective. He is an expert in dealing with wasps and wasp nests, as well as other unwanted insects.
He has vast knowledge about various types of household pests, their life cycles and habits, and is masterful in applying professional anti-insect treatments and methods. He covers the entire area of London and delivers quick and efficient results. You can listen to his advice and secure your home from future pest problems. He will make sure your home is treated thoroughly.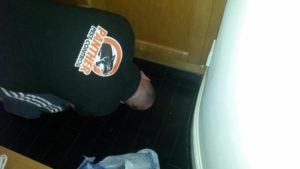 To help you in the fight with rats and mice, Noah Walker is perfectly trained and qualified in employing industry-approved rodent control methods, including setting up traps, the use of rodenticides, sealing points of entry, etc. He has been working as an exterminator with Panther Pest Control for over 3 years and is unequalled in finding the rodents' nests, entry points and routes.
He is the leader of a couple of rodent control teams and helps train new technicians.
We've made sure to answer most of the questions we get asked about the services that we offer. You can find the answers to your questions here.
Pest Control Specialists Are in Your Area
Vermin do not have boundaries. They do not have favourite cities. They are everywhere. We operate in London and are ready to help with your pest problem every day of the week or the weekend. Don't hesitate to call for an emergency pest problem. Teams of pest exterminators are in the M25 area and will come to the rescue as soon as possible.
Pest control specialists you can trust
Panther Pest Control always makes sure that the job is done up to the highest standard. If you are in need of a short-notice or an emergency pest control treatment, call us on 020 3404 5177 without delay or fill in our contact form at any time. We'll get back to you with a free quote ASAP!