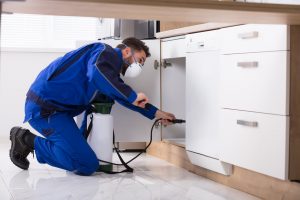 You're so tired of pests and don't know what to do with the problem? Don't waste your time and energy on domestic pest removal methods that are not effective but ask for the assistance of Panther Pest Control. We can efficiently solve your vermin issues and protect your property from pest invasions in the future. With our professional help, you'll easily rid your space of harmful organisms and enjoy a healthy and hygienic environment.
Why Choose Exactly Our Pest Removal Service in Earls Court
It is safe for your health and the environment – We apply environmentally pest control approaches when performing our services. Sometimes the use of toxins cannot be avoided, but these extreme situations are very rare.
It is tailored to your individual needs and wishes – We will provide you with a pest management solution that matches your personal schedule, budget and necessities.
It is completed by fully insured and great experienced individuals – Our staff is extensively trained, vetted and insured, so you can be sure your peace of mind and protection will be guaranteed.
It can be delivered at a short notice – We are available to provide round-the-clock pest control services.
Receive a High-Quality Service from Our Pest Controllers in Earls Court
Our professional staff will handle your situation correctly by applying a step-by-step pest removal method. Their approach will include a thorough evaluation of your property, determining the extent of the infestation, identifying and applying the right treatment for your pest elimination problem. Once the situation is handled and the pests are completely removed from the property, the technicians will diligently clean your area. This cleaning is essential because it ensures the hygienic conditions of your place are completely restored.
The team of Panther Pest Control can also give you effective pest proofing services and dead animal disposal solutions. To book the best option for you or have more information about our work in Earls Court, dial 020 3404 5177 or use the live chat facility.
We offer pest control also in: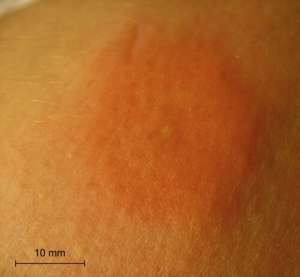 Bee stings are one of the most painful bites caused by insects. In people with insect sting allergy, a bee sting may trigger a dangerous anaphylactic shock that is potentially deadly. Even worse, honey bee stings release pheromones that prompt nearby bees to attack.

The initial sharp pain lasts for several minutes and then fades to an aching, dull feeling for a few hours. The bitten area may feel sore, itchy and swollen for up to a week after the sting. The area must not be scratched as it will only worsen the symptoms. If a reaction persists over the described period and covers more than 7-10 centimeters (3-4 inches) of skin, medical attention should be sought. For 2% of people may develop hypersensitivity after being stung, creating a more severe reaction when stung again in the future.

Symptoms of anaphylaxis include:
Skin reactions – including hives, itching and flushed or pale skin;
Respiratory reactions – Difficulty breathing, swelling of the throat and tongue;
Cardiovascular reactions – A weak, rapid pulse, lightheadedness;
Other reactions – Nausea, vomiting, diarrhea, dizziness or fainting which may lead to total loss of consciousness;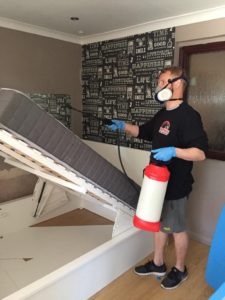 Matteo Grader is the bed bugs expert. He is responsible for domestic pest control sessions in London, and exclusively specialises in bed bugs treatment services. He has several years of experience in dealing with bed bug infestations and other pest issues.
Matteo also helps train new exterminators. He will advise you on the most effective pest prevention and proofing methods so that your home stays vermin-free in the future.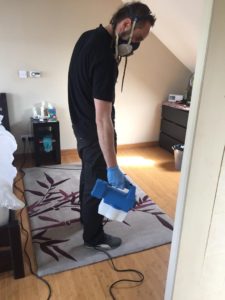 Alexander Clarke is one of the first exterminators in London and ever since he began his career, he's proved to be reliable, skilled and effective. He is an expert in dealing with wasps and wasp nests, as well as other unwanted insects.
He has vast knowledge about various types of household pests, their life cycles and habits, and is masterful in applying professional anti-insect treatments and methods. He covers the entire area of London and delivers quick and efficient results. You can listen to his advice and secure your home from future pest problems. He will make sure your home is treated thoroughly.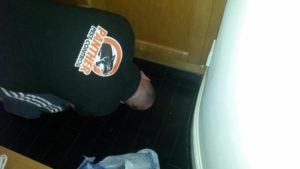 To help you in the fight with rats and mice, Noah Walker is perfectly trained and qualified in employing industry-approved rodent control methods, including setting up traps, the use of rodenticides, sealing points of entry, etc. He has been working as an exterminator with Panther Pest Control for over 3 years and is unequalled in finding the rodents' nests, entry points and routes.
He is the leader of a couple of rodent control teams and helps train new technicians.
We've made sure to answer most of the questions we get asked about the services that we offer. You can find the answers to your questions here.
Pest Control Specialists Are in Your Area
Vermin do not have boundaries. They do not have favourite cities. They are everywhere. We operate in London and are ready to help with your pest problem every day of the week or the weekend. Don't hesitate to call for an emergency pest problem. Teams of pest exterminators are in the M25 area and will come to the rescue as soon as possible.
Pest control specialists you can trust
Panther Pest Control always makes sure that the job is done up to the highest standard. If you are in need of a short-notice or an emergency pest control treatment, call us on 020 3404 5177 without delay or fill in our contact form at any time. We'll get back to you with a free quote ASAP!