Pest Control West Drayton
Rats and mice are a real disaster. They can spread diseases and infections in your living or working area, so their immediate removal is a must. If you're having such a problem or fighting any other pests, we can help you. We provide highly efficient pest removal services that can easily and safely eradicate the vermin in your home, leaving the area clean and hygienic. Our pest controllers can handle a range of harmful microorganisms, including but not limited to, wasps, mosquitos, ticks, cockroaches, bed bugs, spiders, rodents and birds.
Why Choose Our Pest Removal Service in West Drayton
Discreet pest elimination options are available – We can eradicate the vermin in your home in a way that ensures nobody will know about your pest issue.
All needed tools and resources for your pest removal job – Our technicians are equipped with a range of tools, such as UV vacuum cleaners, heat treatment machines, pigeon spikes, eco-friendly pesticides, and other helpful materials.
Certified and thoroughly insured pest controllers – Our employees have passed the needed evaluations to satisfy the latest safety and health requirements.
Help in emergency situations – We can deliver 24/7 pest control treatments.
Invite Our Specialists in West Drayton to Handle Your Pest Problem
The removal technicians of our company deliver local and prompt services in the whole area of West Drayton. They will come to your place at the scheduled time, inspect the affected area and determine the level of contagion. Then, the staff will choose the best method for eliminating the vermin and give you a quote for the service required. The needed pest removal job can be delivered immediately or at another time that suits you.
The professionals will give you advice on how to maintain your home free of vermin in the future. They can also provide you with regular pest prevention services if you require them.
How to Hire Us in West Drayton?
Pick up your phone and dial 020 3404 5177 when you have any vermin challenge. We will respond to your needs as quickly as possible. You can also contact us through the online request quote form or by chatting with us.
We offer pest control also in:
How Queen Wasps Build Wasp Nests?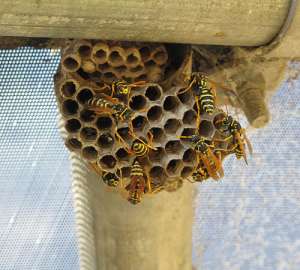 The process of building a wasp nest starts immediately after the winter ends and the queens get out of hibernation.
Scavenging materials

Once they find the perfect place for the nest, the wasp queens start to gather the material they need to build it.
What works best is mix of wax, saliva and chewed fabric (wood or synthetic material). It all begins with finding something that is stable and firm to which the nest will be attached, quite often this is the place under the roof of a house and inside sheds, bird boxes, garages and cavities.
Once the wasp nest is ready, the queens lay their eggs there and start searching for food to ensure sustenance for their larvae. The food for the larvae should be rich in protein as this increases the speed of their growth and leads to a healthy colony.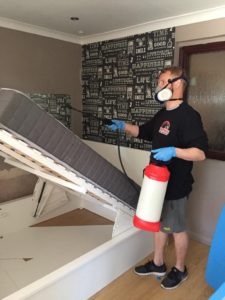 Matteo Grader is the bed bugs expert. He is responsible for domestic pest control sessions in London, and exclusively specialises in bed bugs treatment services. He has several years of experience in dealing with bed bug infestations and other pest issues.
Matteo also helps train new exterminators. He will advise you on the most effective pest prevention and proofing methods so that your home stays vermin-free in the future.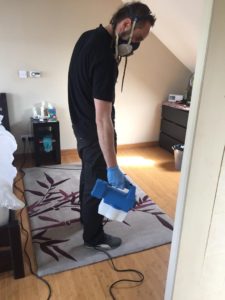 Alexander Clarke is one of the first exterminators in London and ever since he began his career, he's proved to be reliable, skilled and effective. He is an expert in dealing with wasps and wasp nests, as well as other unwanted insects.
He has vast knowledge about various types of household pests, their life cycles and habits, and is masterful in applying professional anti-insect treatments and methods. He covers the entire area of London and delivers quick and efficient results. You can listen to his advice and secure your home from future pest problems. He will make sure your home is treated thoroughly.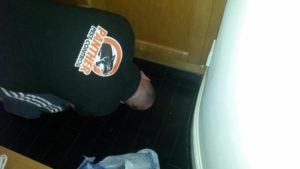 To help you in the fight with rats and mice, Noah Walker is perfectly trained and qualified in employing industry-approved rodent control methods, including setting up traps, the use of rodenticides, sealing points of entry, etc. He has been working as an exterminator with Panther Pest Control for over 3 years and is unequalled in finding the rodents' nests, entry points and routes.
He is the leader of a couple of rodent control teams and helps train new technicians.
We've made sure to answer most of the questions we get asked about the services that we offer. You can find the answers to your questions here.
Pest Control Specialists Are in Your Area
Vermin do not have boundaries. They do not have favourite cities. They are everywhere. We operate in London and are ready to help with your pest problem every day of the week or the weekend. Don't hesitate to call for an emergency pest problem. Teams of pest exterminators are in the M25 area and will come to the rescue as soon as possible.
Pest control specialists you can trust
Panther Pest Control always makes sure that the job is done up to the highest standard. If you are in need of a short-notice or an emergency pest control treatment, call us on 020 3404 5177 without delay or fill in our contact form at any time. We'll get back to you with a free quote ASAP!