When it comes to ridding your home of pests, just rely on us. We deliver professional and flexible pest control services that can solve a range of vermin problems. Our qualified pest controllers can handle wasps, fleas, ticks, cockroaches, bed bugs, mosquitos, rodents, and other pests that may affect your health. The pest control solutions we provide can guarantee a healthy and safe home – free of harmful organisms. Your vermin issue can be removed in a quick and discreet manner. Simply contact us and share what your pest removal situation is.
What Makes Us Stand Out from the Crowd in Hanwell
Impeccable reputation – We've always strived to deliver high quality of service and meet the particular requirements of each individual client.
Top-quality equipment and non-toxic products – The tools and resources we use for your pest eradication problems are of the highest quality and available only to professional companies like ours.
Flexible working time – We provide our solutions at a time that is most convenient for our clients. Additionally, if our schedule allows, we can give you professional help at short notice.
A wide variety of pest control options – You can take advantage of a full range of pest removal and prevention services. We deliver one-off control services as well as regular pest prevention solutions.
Enjoy an Excellent Service Performance by Our Pest Controllers in Hanwell
We will respond to your pest problem as quickly as possible. When you make an appointment with our technicians, they will arrive at the best for you to listen to your specific pest control needs. They will find the place where the pests are hiding and identify the infestation level of the affected area. After that, the experts will determine the appropriate pest eradication treatment and offer you a fair quote for the necessary service. If you like the offer, the technicians will remove the problem instantly or come at another time which is more suitable for you.
Make an Appointment with Us Now!
We are available 24/7 to respond to your pest control needs. Simply reach us via the phone, or through the online request a quote form. Book a pest control service that will exceed your expectations.
Hanwell is a residential suburb dating back to the 6th and 7th-century as an ancient village, located in the London Borough of Ealing and part of the County of Middlesex. Hanwell's name is thought to have come from the words hana(cock) and weille(stream). The suburb is mostly famous for its seven locks along the Grand Union Canal, The Hanwell Zoo, Brent Lodge Park and the Hanwell Clock Tower which was built in 1937 to mark the Ealing's celebration of the crowning of King George VI and Queen Elizabeth. The most famous residents in Hanwell include Charlie Chaplin who attended the Cuckoo Schools in the Central London District School, Jimi Hendrix who owned a house in Hanwell and lived in it.
We offer pest control also in:
How Does a Wasp Become a Queen Wasp at First Place?
To get a queen in a wasp nest you need fertilized eggs. These eggs contain female wasps which are usually the workers in the colony. There is always at least 1 queen in the nest, which choose the females wasps that will be turned into the new queens.
When the choice is made the queen wasps start a complex process of special care for these wasps. It's still somehow unknown the process of turning specific normal wasps into queens. Scientists say there is a special hormone which the queen gives to the choselogn wasps. Afterwards, these insects that have been given special care, grow faster and differently, finally turning into the new queens of the colony.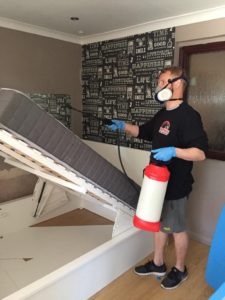 Matteo Grader is the bed bugs expert. He is responsible for domestic pest control sessions in London, and exclusively specialises in bed bugs treatment services. He has several years of experience in dealing with bed bug infestations and other pest issues.
Matteo also helps train new exterminators. He will advise you on the most effective pest prevention and proofing methods so that your home stays vermin-free in the future.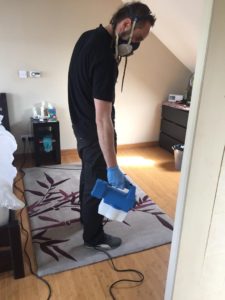 Alexander Clarke is one of the first exterminators in London and ever since he began his career, he's proved to be reliable, skilled and effective. He is an expert in dealing with wasps and wasp nests, as well as other unwanted insects.
He has vast knowledge about various types of household pests, their life cycles and habits, and is masterful in applying professional anti-insect treatments and methods. He covers the entire area of London and delivers quick and efficient results. You can listen to his advice and secure your home from future pest problems. He will make sure your home is treated thoroughly.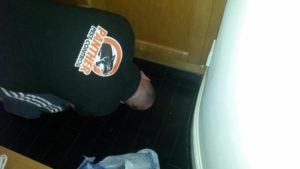 To help you in the fight with rats and mice, Noah Walker is perfectly trained and qualified in employing industry-approved rodent control methods, including setting up traps, the use of rodenticides, sealing points of entry, etc. He has been working as an exterminator with Panther Pest Control for over 3 years and is unequalled in finding the rodents' nests, entry points and routes.
He is the leader of a couple of rodent control teams and helps train new technicians.
We've made sure to answer most of the questions we get asked about the services that we offer. You can find the answers to your questions here.
Pest Control Specialists Are in Your Area
Vermin do not have boundaries. They do not have favourite cities. They are everywhere. We operate in London and are ready to help with your pest problem every day of the week or the weekend. Don't hesitate to call for an emergency pest problem. Teams of pest exterminators are in the M25 area and will come to the rescue as soon as possible.
Pest control specialists you can trust
Panther Pest Control always makes sure that the job is done up to the highest standard. If you are in need of a short-notice or an emergency pest control treatment, call us on 020 3404 5177 without delay or fill in our contact form at any time. We'll get back to you with a free quote ASAP!