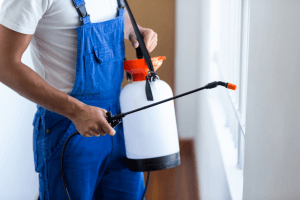 You have pests in your home but don't know where they are hiding? Don't worry about your vermin problems, we will handle them. We offer a range of pest control services that will ensure safety and hygiene in your home. We cannot only find the place of the pests that bother you but also can eliminate them quickly. Equipped with a range of efficient tools and proper resources, we can cope with any vermin challenge, for example, cockroaches, wasps, ticks, mosquitos, fleas, flies, woodworms, bed bugs, rats, mice, birds, and many more.
Take the Unique Benefits that Come with Our Pest Control Service in Northolt
Reliable, swift and discreet pest control options – Our solutions can be delivered in a discreet manner – if you wish.
Flexible booking – You can make an appointment with our pest exterminators for a time that best suits your personal schedule.
A wide variety of pest control and eradication services – We offer one-off services as well as regular options to maintain your property free of vermin at all times. We also deliver dead animal disposal solutions.
All required tools, equipment and materials for your particular pest removal job – Our technicians are supplied with UV vacuum cleaners, eco-friendly pesticides, heat treatment machines, pigeon spikes, door brushes, and other helpful items for effective removing of pests.
Let Our Pest Exterminators Protect Your Northolt Home from Pests
Our skilful technicians will quickly find your pest problem and identify the best solution for it. They will offer you the right service and a fair quote for the required job. If you need it – the service will be performed immediately. When the specialists finish their work, they will give you some tips on how to maintain your area free of pests in future.
With our pest eradication solution, you will enjoy a healthful and safe living environment and prevent damage to your property. Don't hesitate to ask us for help right now! Just dial 020 3404 5177 or complete our online request a quote form.
Northolt formerly Northall is an area in Ealing which existed since the 8th-century. The most notable place is certainly the Northolt and Greenford country park, famous for the Northala Fields, made from more than 60,000 lorry loads of rubble from the original Wembley Stadium and spoil from the Westfield Shopping Mall. The fields today also shield the area from the traffic noise coming from Western Avenue, the park also has six fishing lakes, a boating lake, streams, wildlife ponds and wetlands. The most famous people who lived in Northolt include the musicians Alton Ellis and Paul Gardiner and the football players – Jerome Okimo from Stevenage FC and Steve Perryman from Tottenham Hotspur.
We offer pest control also in:
Queen Wasp Sting. Is it More Dangerous?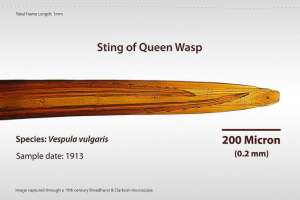 The queen wasp is not more dangerous than the sting of a normal wasp, although the anatomy of the queen wasp sting is a bit different, mostly by its size as the insects are a bit bigger.
Wasps, bees and hornets sting either in self-defence or when their queen is threatened. You might get attacked if you get too close to their nest but such unfortunate events are less possible, but not impossible.
In this picture of a queen wasp sting, made with a microscope in 1913, you can see the anatomy of the sting. There are two small barbs in the tip and each has a very specific and important purpose.
The first one is supposed to stabilize the victim so that the second barb can go in easily and with precision. Once the victim is immobilized by the first barb the second one injects the venom that paralyzes the stung victim completely, usually, these are other smaller insects, bees and more.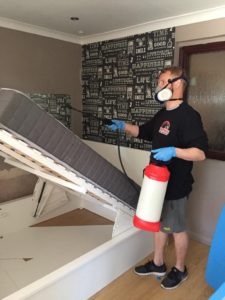 Matteo Grader is the bed bugs expert. He is responsible for domestic pest control sessions in London, and exclusively specialises in bed bugs treatment services. He has several years of experience in dealing with bed bug infestations and other pest issues.
Matteo also helps train new exterminators. He will advise you on the most effective pest prevention and proofing methods so that your home stays vermin-free in the future.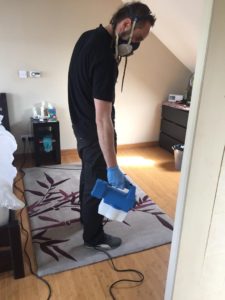 Alexander Clarke is one of the first exterminators in London and ever since he began his career, he's proved to be reliable, skilled and effective. He is an expert in dealing with wasps and wasp nests, as well as other unwanted insects.
He has vast knowledge about various types of household pests, their life cycles and habits, and is masterful in applying professional anti-insect treatments and methods. He covers the entire area of London and delivers quick and efficient results. You can listen to his advice and secure your home from future pest problems. He will make sure your home is treated thoroughly.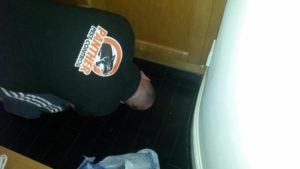 To help you in the fight with rats and mice, Noah Walker is perfectly trained and qualified in employing industry-approved rodent control methods, including setting up traps, the use of rodenticides, sealing points of entry, etc. He has been working as an exterminator with Panther Pest Control for over 3 years and is unequalled in finding the rodents' nests, entry points and routes.
He is the leader of a couple of rodent control teams and helps train new technicians.
We've made sure to answer most of the questions we get asked about the services that we offer. You can find the answers to your questions here.
Pest Control Specialists Are in Your Area
Vermin do not have boundaries. They do not have favourite cities. They are everywhere. We operate in London and are ready to help with your pest problem every day of the week or the weekend. Don't hesitate to call for an emergency pest problem. Teams of pest exterminators are in the M25 area and will come to the rescue as soon as possible.
Pest control specialists you can trust
Panther Pest Control always makes sure that the job is done up to the highest standard. If you are in need of a short-notice or an emergency pest control treatment, call us on 020 3404 5177 without delay or fill in our contact form at any time. We'll get back to you with a free quote ASAP!