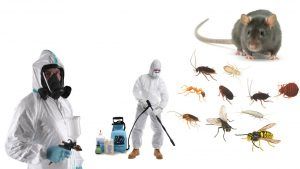 You're looking for a solution to your pest problem? You've already found it. We can handle all your vermin issues in a safe and quick manner. We can give you a great variety of pest eradication and control services for your well-protected and healthy home. With us, you will receive the perfect solution for your pest removal needs, no matter how complex the issue may seem to you. Our professionals have great experience in removing various pests, including bed bugs, cockroaches, fleas, ticks, mosquitos, woodworms, wasps, rats, mice, pigeons, and other irritating and troublesome creatures.
Why Trust Our Pest Control Company in Feltham
Child and pet-friendly treatments – We provide environmentally sensitive approaches to protect your health and that of your loved ones.
Convenient appointments – Our technicians will visit you at the best time for you.
Certified and local pest extermination experts – Our services are available throughout the entire area of Feltham. They are delivered by fully insured and qualified technicians.
All necessary equipment – The pest eradication specialists will come with the required tools and materials to handle your specific vermin problem.
More about the Professional Work of Our Pest Controllers in Feltham
When you call us we will arrange an appointment with our local specialists. You will choose the best time for you to be visited. The team will assess the particular pest eradication needs of your property and offer you the right solution for the problem along with a proper quote for the service. If the issue cannot be delayed any more, the specialists will start the job immediately. They will apply the suitable approach for your place, and if it is necessary they will come several times to guarantee the issue is completely removed. You will also receive pest prevention advice from our friendly experts.
Contact Us to Receive the Solution to Your Pest Problem!
We are ready to listen to your specific vermin issue in Feltham. You just have to dial 020 3404 5177 or complete the online contact form on the website.
Feltham is a large town located in West London. Some of the UK's most recognizable faces are from Feltham. The most famous of them – The lead singer of Queen – Freddy Mercury, his friend and colleague  –  Brian May and the guitarist from Led Zepellin Jimmy Page. There was even a large factory of Aston Martin from 1926 until 1963.
We offer pest control also in:
Appearances
The brown rat is up to 40 cm in length. Its tail is shorter than the head and body;
It grows up to 500g in weight;
It has a blunt nose, small ears and a thicker body than the Black Rat.
Life Cycle
They produce 5–10 young per litter, and have between 3–6 litters a year;
The gestation period is about 3 weeks;
Reach sexual maturity between 10–12 weeks after the birth.
Habits
The brown rat is the only species to occur in sewers in the UK;
When it comes to food they are omnivorous, but their favourite is cereals;
Around 30g of food is enough for the day. Brown Rats can also drink up to 60ml daily.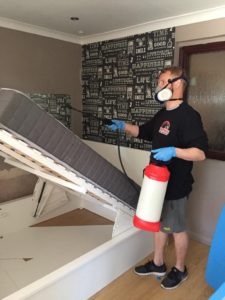 Matteo Grader is the bed bugs expert. He is responsible for domestic pest control sessions in London, and exclusively specialises in bed bugs treatment services. He has several years of experience in dealing with bed bug infestations and other pest issues.
Matteo also helps train new exterminators. He will advise you on the most effective pest prevention and proofing methods so that your home stays vermin-free in the future.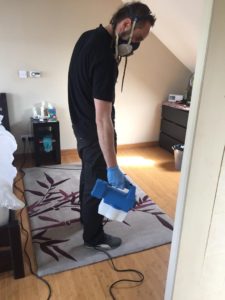 Alexander Clarke is one of the first exterminators in London and ever since he began his career, he's proved to be reliable, skilled and effective. He is an expert in dealing with wasps and wasp nests, as well as other unwanted insects.
He has vast knowledge about various types of household pests, their life cycles and habits, and is masterful in applying professional anti-insect treatments and methods. He covers the entire area of London and delivers quick and efficient results. You can listen to his advice and secure your home from future pest problems. He will make sure your home is treated thoroughly.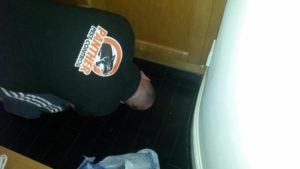 To help you in the fight with rats and mice, Noah Walker is perfectly trained and qualified in employing industry-approved rodent control methods, including setting up traps, the use of rodenticides, sealing points of entry, etc. He has been working as an exterminator with Panther Pest Control for over 3 years and is unequalled in finding the rodents' nests, entry points and routes.
He is the leader of a couple of rodent control teams and helps train new technicians.
We've made sure to answer most of the questions we get asked about the services that we offer. You can find the answers to your questions here.
Pest Control Specialists Are in Your Area
Vermin do not have boundaries. They do not have favourite cities. They are everywhere. We operate in London and are ready to help with your pest problem every day of the week or the weekend. Don't hesitate to call for an emergency pest problem. Teams of pest exterminators are in the M25 area and will come to the rescue as soon as possible.
Pest control specialists you can trust
Panther Pest Control always makes sure that the job is done up to the highest standard. If you are in need of a short-notice or an emergency pest control treatment, call us on 020 3404 5177 without delay or fill in our contact form at any time. We'll get back to you with a free quote ASAP!