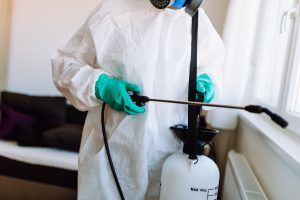 Pests are irritating creatures that can cause severe damage to your property or ruin your health. If you have a vermin problem and don't know how to handle it, you can rely on our professional help. We at Panther Pest Control in Hounslow can find a quick and discreet solution for your pest issues. With us, you can take advantage of a great variety of pest management services, such as bird control, cockroach extermination, rodent removal, bed bug eradication, nest inspection, dead animal disposal, and many more options for your vermin removal needs.
Our services come with a range of benefits for you, including:
Special eco-friendly products – We work with non-toxic solutions that are effective enough to eliminate pests and use chemicals only in very extreme situations.
Thoroughly insured and vetted pest exterminators – Our technicians are always well-prepared to provide you with the service you need. They have the skills and knowledge to work to the highest possible standards.
Healthy and safe home – With our pest control solutions, you will have a healthful living environment with minimal risk of allergies and diseases.
Assistance in emergencies – We provide 24/7 pest eradication treatments for your domestic and commercial properties in Hounslow.
Learn More About Our Professional Pest Control Service in Hounslow
The pest specialists will successfully handle your situation by applying a step-by-step pest eradication approach. Their job will include a full inspection of the affected area, determining the type of pest and level of the infestation, and applying the most suitable procedure for your certain problem. According to the kind of your issue, the service can be performed instantly or at other time you point as most convenient for you.
Our staff is supplied with various pest control items and tools, such as UV vacuum cleaners, pigeon spikes, vent mesh, heat treatment machines, and others. The quality equipment they have allow our experts to respond correctly to your pest control needs and requirements and find the perfect solution for any situation related to pest removal or management. To hire our great team in Hounslow, simply dial 020 3404 5177 or complete the online request quote form.
We offer pest control also in:
The brown recluse is a poisonous spider that can be found in various places around the world. A non-aggressive species, that does bite only when pressed to the skin. This mostly occurs in cases of accidental nature such as when tangled in clothes, bedding and etc. People bitten by this spider might initially feel no pain, but it can actually lead to serious conditions due to the potentially deadly hemotoxic venom. Here's what you should know about the brown recluse bites:
The majority, or to be exact, 49% of bites are minor with no necrosis or systemic effects. In one study of clinically diagnosed brown recluse bites, skin necrosis occurred 37% of the time, while systemic illness occurred 14% of the time.
Systematic effects may occur before necrosis, as the venom spreads throughout the body in minutes.
The elderly, the debilitatingly ill and children may be more susceptible to systemic loxoscelism.
Most fatalities are in children under the age of seven or those with a weak immune system.
It is estimated that 80% of reported brown recluse bites have been misdiagnosed.
This is why it's important to be able to recognize the brown recluse bite symptoms or better yet – get checked by a doctor as soon as possible.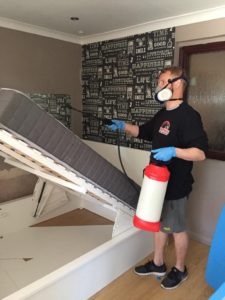 Matteo Grader is the bed bugs expert. He is responsible for domestic pest control sessions in London, and exclusively specialises in bed bugs treatment services. He has several years of experience in dealing with bed bug infestations and other pest issues.
Matteo also helps train new exterminators. He will advise you on the most effective pest prevention and proofing methods so that your home stays vermin-free in the future.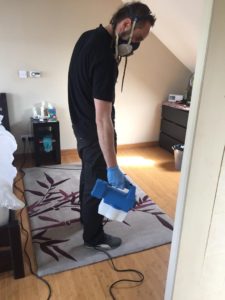 Alexander Clarke is one of the first exterminators in London and ever since he began his career, he's proved to be reliable, skilled and effective. He is an expert in dealing with wasps and wasp nests, as well as other unwanted insects.
He has vast knowledge about various types of household pests, their life cycles and habits, and is masterful in applying professional anti-insect treatments and methods. He covers the entire area of London and delivers quick and efficient results. You can listen to his advice and secure your home from future pest problems. He will make sure your home is treated thoroughly.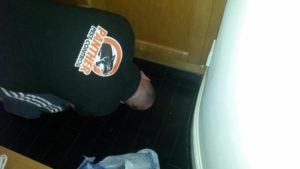 To help you in the fight with rats and mice, Noah Walker is perfectly trained and qualified in employing industry-approved rodent control methods, including setting up traps, the use of rodenticides, sealing points of entry, etc. He has been working as an exterminator with Panther Pest Control for over 3 years and is unequalled in finding the rodents' nests, entry points and routes.
He is the leader of a couple of rodent control teams and helps train new technicians.
We've made sure to answer most of the questions we get asked about the services that we offer. You can find the answers to your questions here.
Pest Control Specialists Are in Your Area
Vermin do not have boundaries. They do not have favourite cities. They are everywhere. We operate in London and are ready to help with your pest problem every day of the week or the weekend. Don't hesitate to call for an emergency pest problem. Teams of pest exterminators are in the M25 area and will come to the rescue as soon as possible.
Pest control specialists you can trust
Panther Pest Control always makes sure that the job is done up to the highest standard. If you are in need of a short-notice or an emergency pest control treatment, call us on 020 3404 5177 without delay or fill in our contact form at any time. We'll get back to you with a free quote ASAP!