Pest Control St Johns Wood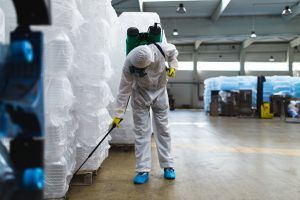 You don't know how to handle the pests patrolling your home? Ask for our assistance! We at Panther Pest Control can provide you with comprehensive pest eradication and prevention solutions in the whole area of St Johns Wood. We will thoroughly remove the vermin, leaving your home pest free for good. Our teams are well-trained to uncover and attack colonies to protect your place from future invasions. They will destroy the breeding grounds, so you won't have to worry about the pests appearing again.
Book Our Pest Control Service in St Johns Wood That Will Come with the Following Benefits for You
Prompt and efficient pest eradication services – Our technicians will deliver the best option for your pest control needs at the best time for you – not a minute later.
A wide range of pest control and removal solutions – We can perform a variety of jobs related to pest management, including bed bug extermination, cockroach elimination, bird control, mice eradication, nest inspection, and many more.
Friendly, responsible and well-trained technicians – Our staff consists of professionally trained and cheerful individuals who give their best to leave each individual client satisfied with their service.
Improved health and well-being – Eliminating the harmful creatures from your area will positively affect your lifestyle. Removing the pests, you will enjoy a better night's sleep and reduce the risk of allergies and respiratory problems.
Learn More about Our Pest Eradication Approach in St Johns Wood
We apply an individual approach to each client. This means that before going ahead with the job we will conduct a full property inspection. We will determine the exact level of infestation, find the entry points, and identify the most appropriate pest eradication method for your certain problem. You will also get a proper quote for the service. According to the type of pest challenge, we can use a UV vacuum cleaner, heat treatment machine, pigeon spikes or other tools for the current situation. After the job is finished, your area will be cleaned and disinfected diligently. You will be able to enjoy a clean and pest free place.
We offer pest control also in:
Any form of biological pest control is better for the environment than using chemicals as a solution. There is no water or soil contamination when organic pest control method is used. Biological control agents that are used in IPM programmes are harmless unless their population gets out of control.
The risk of losing certificates of any kind if you're a farmer is greatly reduced when biological pest control is used as an alternative to the chemical treatments. Here is the full list of biological pest control advantages related to sustainability:
Reduced toxicity of groundwater
Beneficial insects are preserved
Plant food nutrients are maintained at high levels
More quality food
No soil contamination
Better soil fertility
Cleaner air
Precise Targeting
As mentioned earlier, precise targeting is a huge advantage of the biological pest control. When another organism is supposed to destroy a pest it usually threatens only the targeted pest and nothing more.
This precise targeting greatly helps to preserve other animal species in the area of pest control such as birds, reptiles, mammals and other non-targeted insects.
Wildlife suffers from chemical pest control and organic methods of extermination prevent this.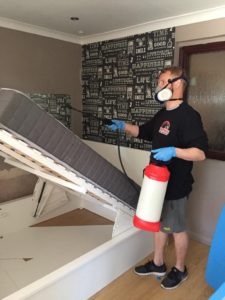 Matteo Grader is the bed bugs expert. He is responsible for domestic pest control sessions in London, and exclusively specialises in bed bugs treatment services. He has several years of experience in dealing with bed bug infestations and other pest issues.
Matteo also helps train new exterminators. He will advise you on the most effective pest prevention and proofing methods so that your home stays vermin-free in the future.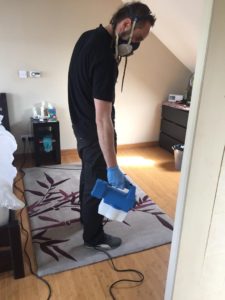 Alexander Clarke is one of the first exterminators in London and ever since he began his career, he's proved to be reliable, skilled and effective. He is an expert in dealing with wasps and wasp nests, as well as other unwanted insects.
He has vast knowledge about various types of household pests, their life cycles and habits, and is masterful in applying professional anti-insect treatments and methods. He covers the entire area of London and delivers quick and efficient results. You can listen to his advice and secure your home from future pest problems. He will make sure your home is treated thoroughly.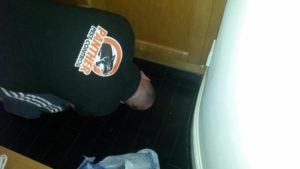 To help you in the fight with rats and mice, Noah Walker is perfectly trained and qualified in employing industry-approved rodent control methods, including setting up traps, the use of rodenticides, sealing points of entry, etc. He has been working as an exterminator with Panther Pest Control for over 3 years and is unequalled in finding the rodents' nests, entry points and routes.
He is the leader of a couple of rodent control teams and helps train new technicians.
We've made sure to answer most of the questions we get asked about the services that we offer. You can find the answers to your questions here.
Pest Control Specialists Are in Your Area
Vermin do not have boundaries. They do not have favourite cities. They are everywhere. We operate in London and are ready to help with your pest problem every day of the week or the weekend. Don't hesitate to call for an emergency pest problem. Teams of pest exterminators are in the M25 area and will come to the rescue as soon as possible.
Pest control specialists you can trust
Panther Pest Control always makes sure that the job is done up to the highest standard. If you are in need of a short-notice or an emergency pest control treatment, call us on 020 3404 5177 without delay or fill in our contact form at any time. We'll get back to you with a free quote ASAP!