When it comes to removing wasps, cockroaches, bedbugs, rodents or any other pests from your house, flat or office, rely on our pest control services in Hampstead. We have a quick and reliable solution for your particular pest eradication problem. Some vermin issues need to be solved quickly, so don't hesitate to call us right now on 020 3404 5177. We will come as quickly as possible to eradicate the pests that cause discomfort to you and damage your property.
Our Pest Control Services in Hampstead Come with Many Benefits for You
Complete removal of pests in a professional and discreet manner
Fully skilled technicians who know how to deal with any pest infestations
A service delivered at a time convenient for you
Industry-leading treatments and eco-friendly products
Friendly customer support team – at your hand 24/7
Pest removal service for emergency situations
How Will Our Pest Controllers Proceed?
When you've already made your booking you can expect our technicians to come at the right time to evaluate your pest situation and determine the level of infestation. They will identify the best method for handling your vermin problem and apply it in the correct manner. The services we deliver are in accordance with current pest control industry standards. So, your certain pest removal needs and requirements will be met to the highest possible level.
Our skilful pest controllers are always ready to come, inspect, treat and prevent future pest attacks. The jobs they are able to perform include mice eradication, cockroach or bedbug removal, insect extermination, fox deterrence and other helpful services to ensure a safe and hygienic living or working space.
Book Us for Your Pest Control Issue!
You can tell us about your specific pest eradication problem by calling us on 020 3404 5177 or reaching us through the online contact form. We will offer you the right solution for your issue and help you make an appointment with our technicians in Hampstead. The experts will give you a pest control service of the highest quality that perfectly matches your needs.
Hampstead is a little village located on the north side of London next to Hamstead Heath(one of the largest green spaces), with many beautiful and perfectly preserved Georgian buildings, many shops, fashion boutiques, cafes, pubs, restaurants and long favoured artists and academics. The name of Hampstead comes from the Anglo-Saxon words ham and stede, which means homestead.  One of the most notable buildings in Hampstead is The Freud Museum which was the home of Sigmund Freud and his family. Hampstead is also known to have one of the most expensive housings in the London area.
We offer pest control also in: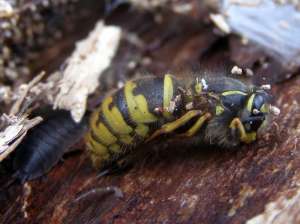 Parasitoid insects are types of insect species which lay their eggs inside the body of a host. The body is later used by the larvae as a food source. Parasitoid insects are among the most suitable animals for the organic pest control method. There are four major groups of parasitoid insects:

Ichneumonid wasps
This species prey on caterpillars and moths, which makes a very efficient biological control agent.
Braconid wasps
Feed on greenflies and use cabbage white caterpillar as host for their larvae. Great for organic pest control in gardens.
Chalcid wasp
Parasitizes the eggs and the larvae of whiteflies, greenflies, strawberry tortrix moth and other insect species.
Tachinid fly
The tachinid fly's larvae are endoparasites, which means internal parasites. They use the bodies of insects such as caterpillars, butterflies and moths as a host. Bees and sawflies are also parasitised by the tachinidae.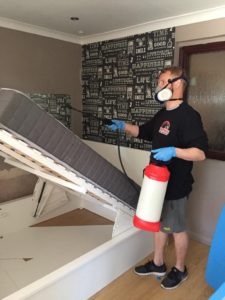 Matteo Grader is the bed bugs expert. He is responsible for domestic pest control sessions in London, and exclusively specialises in bed bugs treatment services. He has several years of experience in dealing with bed bug infestations and other pest issues.
Matteo also helps train new exterminators. He will advise you on the most effective pest prevention and proofing methods so that your home stays vermin-free in the future.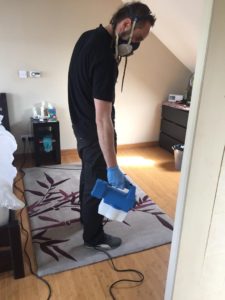 Alexander Clarke is one of the first exterminators in London and ever since he began his career, he's proved to be reliable, skilled and effective. He is an expert in dealing with wasps and wasp nests, as well as other unwanted insects.
He has vast knowledge about various types of household pests, their life cycles and habits, and is masterful in applying professional anti-insect treatments and methods. He covers the entire area of London and delivers quick and efficient results. You can listen to his advice and secure your home from future pest problems. He will make sure your home is treated thoroughly.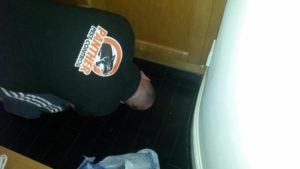 To help you in the fight with rats and mice, Noah Walker is perfectly trained and qualified in employing industry-approved rodent control methods, including setting up traps, the use of rodenticides, sealing points of entry, etc. He has been working as an exterminator with Panther Pest Control for over 3 years and is unequalled in finding the rodents' nests, entry points and routes.
He is the leader of a couple of rodent control teams and helps train new technicians.
We've made sure to answer most of the questions we get asked about the services that we offer. You can find the answers to your questions here.
Pest Control Specialists Are in Your Area
Vermin do not have boundaries. They do not have favourite cities. They are everywhere. We operate in London and are ready to help with your pest problem every day of the week or the weekend. Don't hesitate to call for an emergency pest problem. Teams of pest exterminators are in the M25 area and will come to the rescue as soon as possible.
Pest control specialists you can trust
Panther Pest Control always makes sure that the job is done up to the highest standard. If you are in need of a short-notice or an emergency pest control treatment, call us on 020 3404 5177 without delay or fill in our contact form at any time. We'll get back to you with a free quote ASAP!