Full Pest Control in Honor Oak
Insects and rodents bugging you? Pests are more than an embarrassing nuisance; they can be a serious risk to your home and family. Regardless of how clean the home, unwanted invaders will find a way in. Pests systematically seek out entry points and invade residences to obtain food and water. These invaders not only cause physical damage to your home, but can also spread germs, irritate allergies and make your environment, family, and pets uncomfortable.
At workplaces in Honor Oak, we offer a free, no-obligation pest risk Assessment and fixed price quotation before there is any commitment on your behalf. Our approach consists of firstly considering environmental means of reducing risk; where pesticides are necessary, using the smallest amounts of the least toxic materials in the safest way form the basis of our prescription. For on-off treatments, a simple approval is required. If a regular service is appropriate, we would offer a simple Service Agreement, which would include provision for a full reporting package and secure material placement.
Nothing's worse than dealing with unwanted houseguests, particularly if they're of the creepy, crawly variety, which is why Panther Pest Control is always there to help you take control of the situation and vanquish uninvited visitors for good. When you need the top name in Honor Oak pest control to keep your home under control, it's time to call the skilled experts at Panther Pest Control.
Panther Pest Control offers a complete solution to domestic or commercial pest problems. We will quickly control pest problems caused by rats, mice, moles, ants, cockroaches, pigeons, birds, squirrels, house flies, cluster flies, pest birds, and wasps nests. Panther Pest Control has a wealth of expertise gained from over 10 years working in the pest control industry. We will eradicate pest problems safely, efficiently and in a discreet manner.
Offering a variety of pest control services, Panther Pest Control is a local service that understands the exterminator needs and requirements of residents and businesses in Honor Oak. Serving the locals since 2012, we have been delivering pest control solutions to residents, businesses and industries ensuring that you can stay safe and healthy. Unlike other local companies, we do not use harsh chemicals and poisonous gases for mosquito control but only use 'Green' pest control solutions considering the health of pets and kids.
At Panther Pest Control, we have one simple motto: "We won't treat your home with anything we wouldn't use in ours." Beyond the effectiveness and safety of our treatments, this motto is indicative of how we do business overall … simply by following the Golden Rule. we take pride in delivering the highest quality pest control and service in Honor Oak. Roaches, fleas, ticks, bed bugs, ants, spiders, and other insects not only cause damage to homes but also present a health risk for your loved ones. For all of your home or commercial pest control needs call Panther Pest Control on 020 3404 5177.
We offer pest control also in:
The Damage Pests Can Cause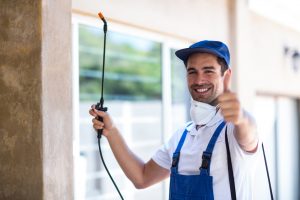 Unwelcome pests can be a nuisance but they also pose a health and damage risk as well. Pesky rodents can chew and gnaw their way through electric wires and cables leaving your home open to a risk of fire. They also carry some very nasty diseases such as Salmonella and Hantavirus. They don't always travel alone either. On their backs, they bring mites, fleas and ticks.
For allergy or asthma sufferers pests such as cockroaches can increase symptoms of the illness. It doesn't take much effort to keep pests at bay and the time you spend will be repaid in full.
Spiders, ants, mice, mosquitoes and wasps, to name just a few, can bring misery to a household if they're allowed to get in. If you've tried everything without success, you can call for professional help. You'll be guaranteed a successful outcome and be able to sleep soundly in your bed once more.
Call us for professional spider extermination today.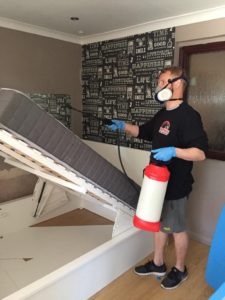 Matteo Grader is the bed bugs expert. He is responsible for domestic pest control sessions in London, and exclusively specialises in bed bugs treatment services. He has several years of experience in dealing with bed bug infestations and other pest issues.
Matteo also helps train new exterminators. He will advise you on the most effective pest prevention and proofing methods so that your home stays vermin-free in the future.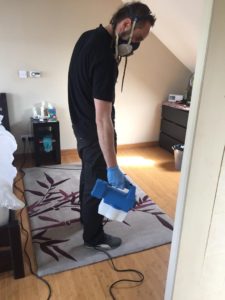 Alexander Clarke is one of the first exterminators in London and ever since he began his career, he's proved to be reliable, skilled and effective. He is an expert in dealing with wasps and wasp nests, as well as other unwanted insects.
He has vast knowledge about various types of household pests, their life cycles and habits, and is masterful in applying professional anti-insect treatments and methods. He covers the entire area of London and delivers quick and efficient results. You can listen to his advice and secure your home from future pest problems. He will make sure your home is treated thoroughly.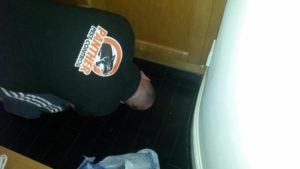 To help you in the fight with rats and mice, Noah Walker is perfectly trained and qualified in employing industry-approved rodent control methods, including setting up traps, the use of rodenticides, sealing points of entry, etc. He has been working as an exterminator with Panther Pest Control for over 3 years and is unequalled in finding the rodents' nests, entry points and routes.
He is the leader of a couple of rodent control teams and helps train new technicians.
We've made sure to answer most of the questions we get asked about the services that we offer. You can find the answers to your questions here.
Pest Control Specialists Are in Your Area
Vermin do not have boundaries. They do not have favourite cities. They are everywhere. We operate in London and are ready to help with your pest problem every day of the week or the weekend. Don't hesitate to call for an emergency pest problem. Teams of pest exterminators are in the M25 area and will come to the rescue as soon as possible.
Pest control specialists you can trust
Panther Pest Control always makes sure that the job is done up to the highest standard. If you are in need of a short-notice or an emergency pest control treatment, call us on 020 3404 5177 without delay or fill in our contact form at any time. We'll get back to you with a free quote ASAP!