Competent Pest Control in Dulwich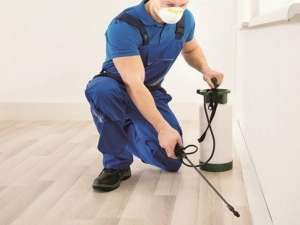 Panther Pest Control can provide a one-off service to eradicate household pests or provide year-round contracts to local authorities, restaurants, pubs, hotels, schools, farms, offices industrial and domestic premises in Dulwich.
We specialize in quick and efficient pest control and removal of nuisance wildlife and vegetation in Dulwich. Our team offers a quality and reliable service that you can count on. Also, our friendly and professional staff is here to answer any questions you may have about our company or our services. We appreciate our customers and communities and look for ways to give back to those in need.
Today, Panther Pest Control is a common name among many of the commercial stores throughout Dulwich. Many of the places you buy your groceries turn to Panther Pest Control when the need arises. After all, would you prefer to see some man in a spacesuit spraying chemicals in the bakery of your favourite store or to ensure the need doesn't arrive by stopping pests at the source of the problem?
Panther Pest Control is fast and effective, so we can offer great pricing. We know what to do, and we can ensure the pests won't return, and this means we can reduce our pricing for you. Panther Pest Control has 15 years in the business as full professionals, and we are one of the most established pest control companies in Dulwich. We treat cockroaches, fleas, ants, mice, rats and termites – and have treatments for bedbugs, silverfish, spiders and wasps – and plenty more. For every pest, we have a treatment that is safe for your family, but lethal for the pest.
Let us make your home the security blanket it should be. You'll be happy you did. Panther Pest Control knows how important it is to you for your home to be an environment that is not violated by toxic materials and is also pest-free. Since insects and pests find all spots to live and breed in the home, our contractor will thoroughly inspect your home before treatment to ensure that all possible areas where pests can hide are found. You can feel confident that Panther Pest Control uses very minimal chemicals in your home to make the process comfortable for you and your family. We use only environmentally friendly products that ensure your family's safety. Let us show you the difference between a locally owned company…we care!
Do you have a pest problem in Dulwich? Have you tried to rid them, but they just come back stronger? Call us for advice. We can explain why the problem keeps returning, and suggest different solutions. Call Panther Pest Control on 020 3404 5177 and describe your problem.
We offer pest control also in: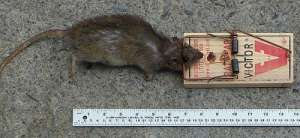 Snap traps are a classic solution for a rodent infestation and are largely used even nowadays. Often they turn out to be an even better solution than chemical rodenticides. Snap traps are the preferred pest control solution over glue traps for the reasons we mentioned earlier in this post.
The core difference between the two devices is that the snap trap gives a quick and clean dead, while glue boards are very inhumane, cause a lot of agony to the animal and threaten other animal species, specifically wildlife and pets.
The biggest downsides of mousetraps are the mess and cruelty. You'll have to deal with a dead mouse, which is not only disgusting but it also puts you at risk of contracting disease.
Between setting the traps and cleaning up the ensuing mess, they can be a lot of work.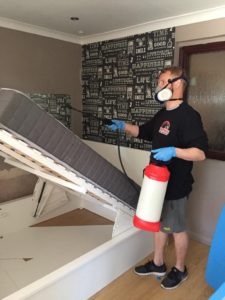 Matteo Grader is the bed bugs expert. He is responsible for domestic pest control sessions in London, and exclusively specialises in bed bugs treatment services. He has several years of experience in dealing with bed bug infestations and other pest issues.
Matteo also helps train new exterminators. He will advise you on the most effective pest prevention and proofing methods so that your home stays vermin-free in the future.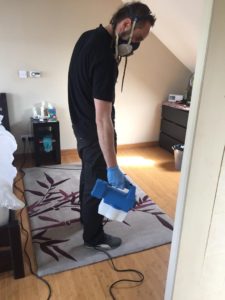 Alexander Clarke is one of the first exterminators in London and ever since he began his career, he's proved to be reliable, skilled and effective. He is an expert in dealing with wasps and wasp nests, as well as other unwanted insects.
He has vast knowledge about various types of household pests, their life cycles and habits, and is masterful in applying professional anti-insect treatments and methods. He covers the entire area of London and delivers quick and efficient results. You can listen to his advice and secure your home from future pest problems. He will make sure your home is treated thoroughly.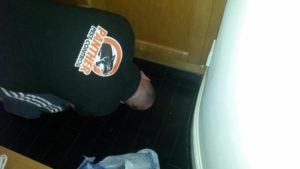 To help you in the fight with rats and mice, Noah Walker is perfectly trained and qualified in employing industry-approved rodent control methods, including setting up traps, the use of rodenticides, sealing points of entry, etc. He has been working as an exterminator with Panther Pest Control for over 3 years and is unequalled in finding the rodents' nests, entry points and routes.
He is the leader of a couple of rodent control teams and helps train new technicians.
We've made sure to answer most of the questions we get asked about the services that we offer. You can find the answers to your questions here.
Pest Control Specialists Are in Your Area
Vermin do not have boundaries. They do not have favourite cities. They are everywhere. We operate in London and are ready to help with your pest problem every day of the week or the weekend. Don't hesitate to call for an emergency pest problem. Teams of pest exterminators are in the M25 area and will come to the rescue as soon as possible.
Pest control specialists you can trust
Panther Pest Control always makes sure that the job is done up to the highest standard. If you are in need of a short-notice or an emergency pest control treatment, call us on 020 3404 5177 without delay or fill in our contact form at any time. We'll get back to you with a free quote ASAP!