Expert Pest Control in Bellingham
When you need pest control, you will find skilled and experienced service from the professionals at Panther Pest Control. We do more than just eliminating unwanted insects from your home: we prevent them from coming back! Why trust your home, family or property in the hands of amateur technicians At Panther our mission is to provide all of our customers with the highest quality insect and rodent control services.
Integral provides a professional service to eliminate/keep away a broad range of pests including rats, mice, ants, bed bugs, feral pigeons, starlings, cockroaches, fleas, flies, mites stored product insects, textile pests, woodworm, wasps and many more in Bellingham. We do not provide a service against some rural pests like rabbits or moles but are happy to give advice or put you in touch with someone who does undertake such work.
Panther Pest Control is an established local and professional pest control company in Bellingham, dealing mainly with rodents, insects and pest birds in or around buildings. Our reputation is built on providing the best solutions at a reasonable price in a helpful and friendly manner. Our existing clients are mainly in the industrial, commercial and educational sectors, although we also deal with domestic pest issues.
Offering a variety of pest control services, Panther Pest Control is a local service that understands the exterminator needs and requirements of residents and businesses in Bellingham. Serving the locals since 2012, we have been delivering pest control solutions to residents, businesses and industries ensuring that you can stay safe and healthy. Unlike other local companies, we do not use harsh chemicals and poisonous gases for mosquito control but only use 'Green' pest control solutions considering the health of pets and kids.
Our pest control services in Bellingham are ready to address whatever needs you to have in pest management solutions. We understand that one could not anticipate the need for effective and dependable pest management solutions which is why we at Panther Pest Control are open to serve your needs around the clock and at any given day of the week.
We typically supply and service warehouses, restaurants, hotels, fast food take-away's, shops, nursing homes, and public houses. We are a one-stop service providing everything from electric fly units, fly screens, washroom services, bird proofing, and cleaning equipment through to pest control service contracts. If you are a proactive business and you would like to talk to someone about managing your premises please call Panther Pest Control on 020 3404 5177.
We offer pest control also in:
Can Dust Mites Cause Allergies?
Dust mites are really tiny and look like spiders. They make their homes in beds, carpets and soft furnishings. They are in nearly every home across the UK and throughout the world but because of their size you are unlikely to come across them. They like conditions that are warm and humid best of all.
A dust mite feeds off dead skin flakes and their droppings and dead body parts trigger an allergic reaction in some people. If you have a high level of dust mites in your home you are more likely to develop an allergic reaction to them. Dust mites allergy symptoms can be reduced by allergen-impermeable bed coverings, regularly washing bed linen at high temperatures, replacing carpets with tiles or wooden flooring, getting someone else to clean your home and using a dehumidifier. Panther Pest Control can solve this problem for you.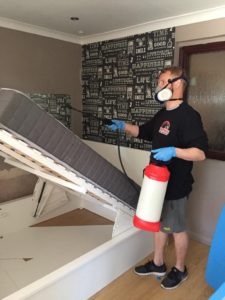 Matteo Grader is the bed bugs expert. He is responsible for domestic pest control sessions in London, and exclusively specialises in bed bugs treatment services. He has several years of experience in dealing with bed bug infestations and other pest issues.
Matteo also helps train new exterminators. He will advise you on the most effective pest prevention and proofing methods so that your home stays vermin-free in the future.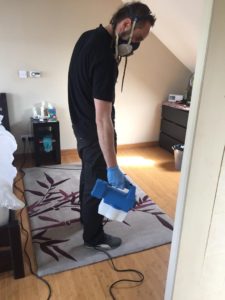 Alexander Clarke is one of the first exterminators in London and ever since he began his career, he's proved to be reliable, skilled and effective. He is an expert in dealing with wasps and wasp nests, as well as other unwanted insects.
He has vast knowledge about various types of household pests, their life cycles and habits, and is masterful in applying professional anti-insect treatments and methods. He covers the entire area of London and delivers quick and efficient results. You can listen to his advice and secure your home from future pest problems. He will make sure your home is treated thoroughly.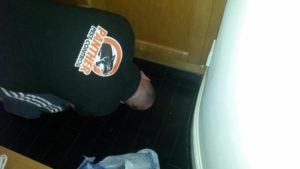 To help you in the fight with rats and mice, Noah Walker is perfectly trained and qualified in employing industry-approved rodent control methods, including setting up traps, the use of rodenticides, sealing points of entry, etc. He has been working as an exterminator with Panther Pest Control for over 3 years and is unequalled in finding the rodents' nests, entry points and routes.
He is the leader of a couple of rodent control teams and helps train new technicians.
We've made sure to answer most of the questions we get asked about the services that we offer. You can find the answers to your questions here.
Pest Control Specialists Are in Your Area
Vermin do not have boundaries. They do not have favourite cities. They are everywhere. We operate in London and are ready to help with your pest problem every day of the week or the weekend. Don't hesitate to call for an emergency pest problem. Teams of pest exterminators are in the M25 area and will come to the rescue as soon as possible.
Pest control specialists you can trust
Panther Pest Control always makes sure that the job is done up to the highest standard. If you are in need of a short-notice or an emergency pest control treatment, call us on 020 3404 5177 without delay or fill in our contact form at any time. We'll get back to you with a free quote ASAP!