All-inclusive Pest Control in Sydenham
An established business since early 2012, we have been consistently delivering excellent services that reflect in the goodwill of the returning businesses and residential customers in Sydenham. To ensure that you are provided with the safest methods that are non-invasive and safe for pets and kids, we utilize ecologically safe 'green' pest control techniques, one of the few pest control companies to do so.
Whatever your circumstances, we intend to solve a problem and make you want to recommend or use us again. Being local, we like to think we are big enough to cope but small enough to care. We certainly aim to provide a service and would challenge anyone to compare our customer service with that of any other provider.
We strive to deliver excellent pest control services for our clients in Sydenham and we urge you to see and experience our services yourself! We are confident that you would be impressed and would be pleased to recommend Panther Pest Control to your relatives and friends. Contrary to what some people may think, bug control services are not all alike in terms of quality and reliability. Some bug exterminators will settle for merely getting the job done without really showing any concern regarding the results of their work. We at Panther Pest Control intend to deliver exactly the kind of pest control service you need and put an end to your pest control problems!
Our pest control services in Sydenham are ready to address whatever needs you to have in pest management solutions. We understand that one could not anticipate the need for effective and dependable pest management solutions which is why we at Panther Pest Control are open to serve your needs around the clock and at any given day of the week.
Panther Pest Control offers a complete solution to domestic or commercial pest problems. We will quickly control pest problems caused by rats, mice, moles, ants, cockroaches, pigeons, birds, squirrels, house flies, cluster flies, pest birds, and wasps nests. Panther Pest Control has a wealth of expertise gained from over 10 years working in the pest control industry. We will eradicate pest problems safely, efficiently and in a discreet manner.
For thorough, effective pest control in Sydenham, call in the experts at Panther Pest Control. We've battled our fair share of insects in the past and have the tools and experience necessary to nip pest invasions in the bud. Panther Pest Control team are skilled professionals when it comes to pest control but we never forget that customer service lies at the core of any successful customer relationship. With this in mind, we approach every job with complete integrity and professionalism. Regardless of the type of pest control problem you are having, you can count on Panther Pest Control to get the job done right! Call us today on 020 3404 5177.
We offer pest control also in: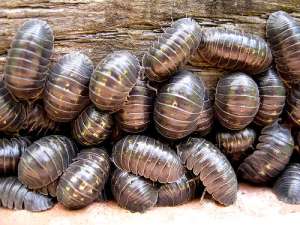 It's pretty easy to identify a woodlice problem, as they have very specific characteristics. The problem is catching a glimpse of them, as they are active mainly at night. A woodlouse has an outer shell called an exoskeleton, which it must shed as it grows. The moult happens in two stages, unlike that of most arthropods which are shed all at once. The first back half of the shell is shed and a day or so later the front half falls off. Woodlice also have a pair of antennae to help them find their way around and two small 'tubes', called uropods on the back of their bodies which help them to navigate. Also, some species use these tubes to produce chemicals which discourage predators. Anyway, Panther Pest Control is always ready to help you get rid of any pests.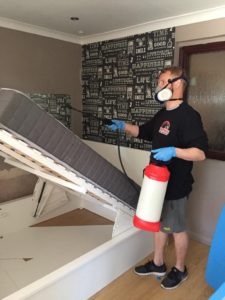 Matteo Grader is the bed bugs expert. He is responsible for domestic pest control sessions in London, and exclusively specialises in bed bugs treatment services. He has several years of experience in dealing with bed bug infestations and other pest issues.
Matteo also helps train new exterminators. He will advise you on the most effective pest prevention and proofing methods so that your home stays vermin-free in the future.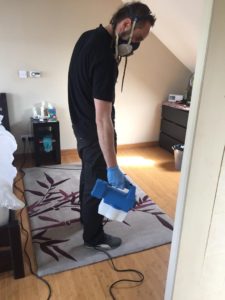 Alexander Clarke is one of the first exterminators in London and ever since he began his career, he's proved to be reliable, skilled and effective. He is an expert in dealing with wasps and wasp nests, as well as other unwanted insects.
He has vast knowledge about various types of household pests, their life cycles and habits, and is masterful in applying professional anti-insect treatments and methods. He covers the entire area of London and delivers quick and efficient results. You can listen to his advice and secure your home from future pest problems. He will make sure your home is treated thoroughly.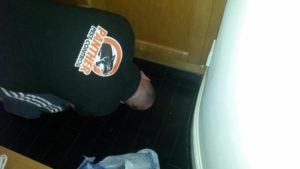 To help you in the fight with rats and mice, Noah Walker is perfectly trained and qualified in employing industry-approved rodent control methods, including setting up traps, the use of rodenticides, sealing points of entry, etc. He has been working as an exterminator with Panther Pest Control for over 3 years and is unequalled in finding the rodents' nests, entry points and routes.
He is the leader of a couple of rodent control teams and helps train new technicians.
We've made sure to answer most of the questions we get asked about the services that we offer. You can find the answers to your questions here.
Pest Control Specialists Are in Your Area
Vermin do not have boundaries. They do not have favourite cities. They are everywhere. We operate in London and are ready to help with your pest problem every day of the week or the weekend. Don't hesitate to call for an emergency pest problem. Teams of pest exterminators are in the M25 area and will come to the rescue as soon as possible.
Pest control specialists you can trust
Panther Pest Control always makes sure that the job is done up to the highest standard. If you are in need of a short-notice or an emergency pest control treatment, call us on 020 3404 5177 without delay or fill in our contact form at any time. We'll get back to you with a free quote ASAP!