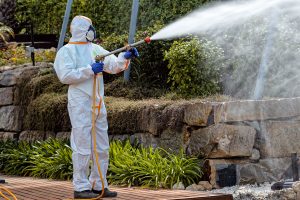 If you require a reliable and prompt pest control service in Whitechapel, you are at the right spot! We offer professional and friendly pest control assistance to remove the vermin from your house/flat/office. With our competent staff and efficient equipment, we will solve your pest control problem easily and effectively. We will apply the most suitable method to eradicate the pests of your premises and if you require, we will provide a specialized option to prevent future infestations.
The services we are able to perform include cockroach or bedbug removal, mice eradication, insect extermination, bird control, and many more options for your safe and hygienic place.
What Other Benefits You Will Have from Our Pest Control Services in Whitechapel
The latest pest control products and innovative equipment
Environmentally friendly pesticides
Regular pest prevention services for your clean and safe place
A discreet pest extermination option is available
24/7 customer care service online and over the phone
Receive a Great Service Performance from Our Pest Controllers in Whitechapel
Our pest control team is always available to inspect, treat and protect your premises. The specialists will assess your affected area and identify the level of infestation. Then, they will pick the best method to eliminate the insects or rodents from your place. The experts will do the job without any risk to your health or damage to the environment. Furthermore, our employees have passed many assessments to meet the latest health and safety regulations. So, you can be sure you trust reliable and trustworthy individuals who work to the highest possible standards.
Our teams can cope with different types of pests, involving but not limited to, fleas, wasps, bees, cockroaches, bedbugs, mice, rodents, pigeons, and others. The services they provide are an effective alternative to prevent the spreading of different diseases and protect a property from damage.
Call Us for More Information or Make a Booking in Whitechapel Today!
We will be available 24/7 to learn more about your pest control problems and find the solution for you as quickly as possible. Simply call 020 3404 5177 or complete our online contact form.
Whitechapel is a district located in East London and it is famous for the infamous murderers of the legendary serial killer – Jack The Ripper. There is even a "Jack The Ripper Tours" in which you can join with the local victorian police forces and try to solve the murder cases. Whitechapel is also known to house the best curry restaurant houses in London. The most famous gallery in the district is the Whitechapel Gallery and more notable locations include the Whitechapel Bell Foundry with over 500 years of history, this Foundry crafted the Big Ben and the Liberty Bell.
We offer pest control also in:
Yellow Necked Field Mouse
Yellow Necked Field Mice are seen as a threat mostly in rural areas. An infestation can pose a fire risk as they are known to chew through electrical wiring.
Appearance
Head and body size: 95 to 120 mm in length, Tail from 75 to 110mm;
Weights between 14 and 45g;
Brown fur on the back, white on the underside and noticeable yellow fur around the neck;
Big ears, protruding eyes and a long tail.
Life Cycle
Breeding season is from March until October and starts the year following the birth;
The gestation period lasts 25 or 26 days;
Young are fully weaned after about 18 days;
Lifespan: Usually no longer than 12 months.
Habits
They can spoil or consume stored food;
Interfere with electrical wiring;
They prefer mature broad-leafed woodland and habitats such as hedges, rural gardens and buildings.
Much more likely to enter buildings and homes than wood mice (Apodemus sylvaticus).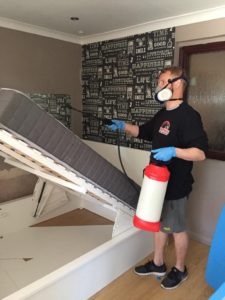 Matteo Grader is the bed bugs expert. He is responsible for domestic pest control sessions in London, and exclusively specialises in bed bugs treatment services. He has several years of experience in dealing with bed bug infestations and other pest issues.
Matteo also helps train new exterminators. He will advise you on the most effective pest prevention and proofing methods so that your home stays vermin-free in the future.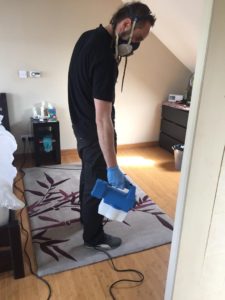 Alexander Clarke is one of the first exterminators in London and ever since he began his career, he's proved to be reliable, skilled and effective. He is an expert in dealing with wasps and wasp nests, as well as other unwanted insects.
He has vast knowledge about various types of household pests, their life cycles and habits, and is masterful in applying professional anti-insect treatments and methods. He covers the entire area of London and delivers quick and efficient results. You can listen to his advice and secure your home from future pest problems. He will make sure your home is treated thoroughly.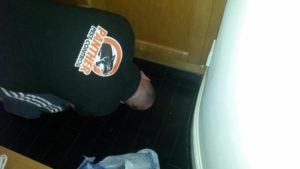 To help you in the fight with rats and mice, Noah Walker is perfectly trained and qualified in employing industry-approved rodent control methods, including setting up traps, the use of rodenticides, sealing points of entry, etc. He has been working as an exterminator with Panther Pest Control for over 3 years and is unequalled in finding the rodents' nests, entry points and routes.
He is the leader of a couple of rodent control teams and helps train new technicians.
We've made sure to answer most of the questions we get asked about the services that we offer. You can find the answers to your questions here.
Pest Control Specialists Are in Your Area
Vermin do not have boundaries. They do not have favourite cities. They are everywhere. We operate in London and are ready to help with your pest problem every day of the week or the weekend. Don't hesitate to call for an emergency pest problem. Teams of pest exterminators are in the M25 area and will come to the rescue as soon as possible.
Pest control specialists you can trust
Panther Pest Control always makes sure that the job is done up to the highest standard. If you are in need of a short-notice or an emergency pest control treatment, call us on 020 3404 5177 without delay or fill in our contact form at any time. We'll get back to you with a free quote ASAP!