Don't underestimate the pests in your home! They can severely damage your property and ruin your health. Panther Pest Control offers a great variety of pest control services that will help you eliminate the harmful organisms from your home or commercial place quickly and simply. We can cope with different pest control situations, such as cockroach removal, rodent eradication, bed bug extermination, nest inspection, bird control, and others. We always achieve outstanding results thanks to our high-quality equipment and professionally trained staff.
The technicians of Panther Pest Control can come at the right time to assess your particular pest control needs and offer you a solution that best suits them along with a proper quote. Booking our efficient pest control treatment in Wembley, you will enjoy numerous benefits, such as:
Courteous and responsible pest control staff – Our technicians are friendly and responsive individuals who will take into account your individual service concerns and requirements. They will give you a pest control service of the highest quality that will exceed your expectations.
Specialized and modern pest control equipment – We are supplied with top-of-the-range tools that allow us to handle any specific vermin removal situation in the proper manner.
Hygienic and healthful home – Removing the pests from your home will improve the overall condition of your area and enhance your health. The pest eradication solutions we offer can minimize the risk of various skin and respiratory diseases.
24/7 customer care – We maintain several contact options for you to choose from when you have any questions related to our services or want to book with us. You can get in touch with our friendly advisers on 

020 3404 5177

 or online at any time of the day and night.
Book the Suitable Pest Control Treatment in Wembley for You Now!
We will deliver you a full pest control service which includes a thorough inspection of your property, identifying the level of infestation, and applying the best treatment for its complete removal. But that is not all. When all these steps are performed to the smallest detail, we will thoroughly clean and disinfect the area and surroundings. You will be able to enjoy a completely refreshed and hygienic place – free of vermin for a lifetime.
We offer pest control also in:
Bed bug bites come with mild symptoms and reactions. Typically around the neck, back, hands and legs, basically depending on your sleeping position as to which body parts are most exposed during sleep. Their bites are generally classified as ghost bites, as they are almost never felt by the victim during the bite. Afterwards, however, the area becomes a raised, red and itchy skin bump that may lead to a rash. Lesions go away after a week or two.
Apart from these physiological reactions, people who often suffer such parasitic bites might develop insomnia and anxiety, as well as an allergy towards bed bugs. Bed bug infestations grow rapidly which also increases the risk of asthma development in children, as well as worsens typical allergic symptoms in people with allergies.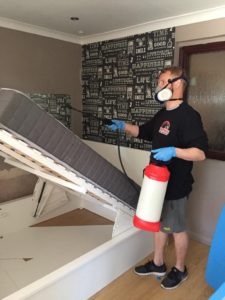 Matteo Grader is the bed bugs expert. He is responsible for domestic pest control sessions in London, and exclusively specialises in bed bugs treatment services. He has several years of experience in dealing with bed bug infestations and other pest issues.
Matteo also helps train new exterminators. He will advise you on the most effective pest prevention and proofing methods so that your home stays vermin-free in the future.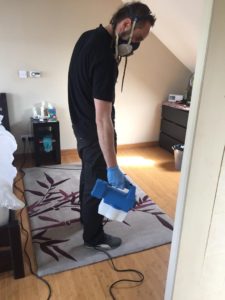 Alexander Clarke is one of the first exterminators in London and ever since he began his career, he's proved to be reliable, skilled and effective. He is an expert in dealing with wasps and wasp nests, as well as other unwanted insects.
He has vast knowledge about various types of household pests, their life cycles and habits, and is masterful in applying professional anti-insect treatments and methods. He covers the entire area of London and delivers quick and efficient results. You can listen to his advice and secure your home from future pest problems. He will make sure your home is treated thoroughly.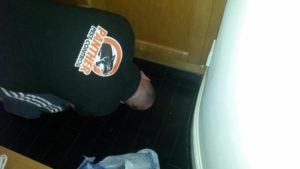 To help you in the fight with rats and mice, Noah Walker is perfectly trained and qualified in employing industry-approved rodent control methods, including setting up traps, the use of rodenticides, sealing points of entry, etc. He has been working as an exterminator with Panther Pest Control for over 3 years and is unequalled in finding the rodents' nests, entry points and routes.
He is the leader of a couple of rodent control teams and helps train new technicians.
We've made sure to answer most of the questions we get asked about the services that we offer. You can find the answers to your questions here.
Pest Control Specialists Are in Your Area
Vermin do not have boundaries. They do not have favourite cities. They are everywhere. We operate in London and are ready to help with your pest problem every day of the week or the weekend. Don't hesitate to call for an emergency pest problem. Teams of pest exterminators are in the M25 area and will come to the rescue as soon as possible.
Pest control specialists you can trust
Panther Pest Control always makes sure that the job is done up to the highest standard. If you are in need of a short-notice or an emergency pest control treatment, call us on 020 3404 5177 without delay or fill in our contact form at any time. We'll get back to you with a free quote ASAP!