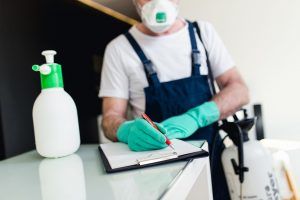 Don't try to remove the pests from your home by yourself but rely on Panther Pest Control to complete this job for you. We can quickly eliminate the vermin in your living or working area, ensuring the essential good hygiene of your premises. Our pest removal services can protect your space from future pest invasions and significantly improve your well-being.
Book an Efficient Pest Removal Service with Us and Get the Benefits
Improved night sleep – Our pest exterminators will easily eliminate the mosquitos, fleas, bed bugs, flies and other irritating creatures that affect your sleep. They will ensure the hygienic and healthful sleeping area you and your family deserve.
Eco-friendly pest eradication approaches – When removing pests, we use only environmentally-friendly pesticides. We apply chemical treatments only in extreme situations when other solutions cannot solve the given problem.
Qualified and certified pest removal experts – All of our team members have passed extensive training in eliminating various types of pests. They can respond quickly and adequately to your vermin eradication situation.
The latest pest prevention products and equipment – All necessary tools and materials will be provided for your specific pest removal problem.
The advantages of using our pest control services are numerous. By hiring them you will enjoy improved health and enhanced well-being.
Enjoy an Excellent Pest Control Service from Us in Balham
We will use highly advanced technology to find the root of your vermin problem. Then we will determine the level of infestation of the affected areas in your home and pick the right treatment for the issue. When the appropriate pest eradication procedure is applied, we will clean your area to the smallest detail with the proper detergents. After our work, you will be able to enjoy a fresh, clean and free of pest environment. We will schedule follow-up visits to guarantee that the vermin challenge is absolutely handled.
To receive more information about how we can be helpful for you, please dial 020 3404 5177 or complete the online request a quote form.
We offer pest control also in:
Installing bird control spikes, usually on the roof of a property, is a bird control method we offer as part of our bird control and prevention services.
The bird control spike, also known as an anti-roosting spike or roost modification, is an effective and humane solution against larger bird infestations. The device consists of long, needle-like rods and there are two types of spikes available – in plastic and stainless steel.
Bird control spikes can prevent wild and feral birds from perching or roosting at public spaces this is why they can be easily attached to building ledges, street lighting, and commercial signage. Some pest birds produce lots of unsightly and unhygienic feces, other can be inconvenient for neighbours by making strange and loud noises, especially at night.

This is why bird control spike are coming to the rescue without causing harm or killing the birds. The birds get a slightly stabb and stay unharmed. The RSPB (Royal Society for the Protection of Birds) recommends bird control spikes for deterring pigeons from gardens.
If left unchecked, the spikes are getting clogged by leaves, debris and feathers which allows the pest birds to perch easily on top. In addition, this bird control method can make some landmark buildings look less attractive or untidy. In these cases, it would be better to implement other methods of bird control such as barriers that do not allow the birds to be in an area or on a surface.

Barriers will totally exclude netting and mesh from unwanted areas. The low current electric won't allow nesting, roosting, or loafing birds at any surface. Spikes attract small birds or pigeons which nest right into the spikes by providing large amounts of nesting debris, twigs, and grass as well. This is why it's much more preferable to start with netting and low current barriers because these methods have proven to be effective each time they were used.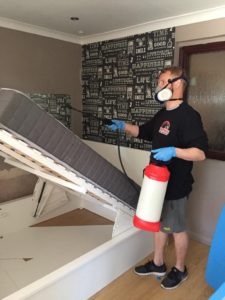 Matteo Grader is the bed bugs expert. He is responsible for domestic pest control sessions in London, and exclusively specialises in bed bugs treatment services. He has several years of experience in dealing with bed bug infestations and other pest issues.
Matteo also helps train new exterminators. He will advise you on the most effective pest prevention and proofing methods so that your home stays vermin-free in the future.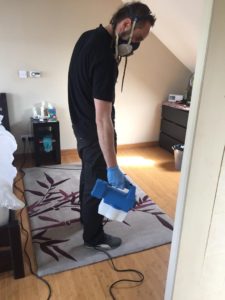 Alexander Clarke is one of the first exterminators in London and ever since he began his career, he's proved to be reliable, skilled and effective. He is an expert in dealing with wasps and wasp nests, as well as other unwanted insects.
He has vast knowledge about various types of household pests, their life cycles and habits, and is masterful in applying professional anti-insect treatments and methods. He covers the entire area of London and delivers quick and efficient results. You can listen to his advice and secure your home from future pest problems. He will make sure your home is treated thoroughly.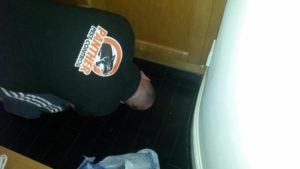 To help you in the fight with rats and mice, Noah Walker is perfectly trained and qualified in employing industry-approved rodent control methods, including setting up traps, the use of rodenticides, sealing points of entry, etc. He has been working as an exterminator with Panther Pest Control for over 3 years and is unequalled in finding the rodents' nests, entry points and routes.
He is the leader of a couple of rodent control teams and helps train new technicians.
We've made sure to answer most of the questions we get asked about the services that we offer. You can find the answers to your questions here.
Pest Control Specialists Are in Your Area
Vermin do not have boundaries. They do not have favourite cities. They are everywhere. We operate in London and are ready to help with your pest problem every day of the week or the weekend. Don't hesitate to call for an emergency pest problem. Teams of pest exterminators are in the M25 area and will come to the rescue as soon as possible.
Pest control specialists you can trust
Panther Pest Control always makes sure that the job is done up to the highest standard. If you are in need of a short-notice or an emergency pest control treatment, call us on 020 3404 5177 without delay or fill in our contact form at any time. We'll get back to you with a free quote ASAP!