Removing pests is a tough challenge for you? Don't struggle with the cockroaches or bed bugs any more but call us right now! We will eradicate the vermin in your home or commercial place in a quick and discreet manner. There is not a pest issue we cannot handle. Our technicians have vast experience in removing pests, including wasps, fleas, ticks, bed bugs, cockroaches, woodworms, flies, mosquitos, rodents, pigeons, and other troublesome creatures. The pest exterminators can ensure a clean and healthy environment for you and your loved ones.
The Benefit from Hiring Our Pest Controllers in Brixton
Fully insured and qualified specialists – Our pest removers have the qualifications to meet the newest safety and health regulations and possess the knowledge to deal with any kind of pest control job – big or small.
A range of specialized tools and eco-friendly products – We are supplied with various useful tools and products for pest eradication. The materials and methods we apply are safe for your health and harmless to the environment.
Local and prompt service – Our efficient pest eradication treatments can be delivered to any place in the area of Brixton – at a time convenient for our clients. We always strive to ensure trustworthy and timely pest prevention services.
Emergency pest eradication options – We can come to handle your vermin problem at short notice.
Book Us for a High-Quality Pest Removal Service in Brixton
Our technicians have the needed knowledge and skills to cope with any vermin challenge – no matter of its complexity. They are equipped with the necessary tools, such as pigeon spikes, UV vacuum cleaners, heat treatment machines, and other helpful materials to respond to your vermin situation correctly.
Even if you don't know where the pests are hiding, don't worry about it – our experts will easily discover the place of the infestation and eradicate the harmful organisms with the proper method. They will provide you with a quote for the required service. To make a booking with them, please dial 020 3404 5177 or complete the request a quote form.
Located in South London, Brixton is a lively area with many interesting places for art, music, food and culture, and it's part of the London Borough of Lambeth, it's also considered to be one of the major centres in Greater London. It's thought that Brixton gets its name from Lord Brixi who was a Saxon lord and according to the stories, established a stone barrier to mark an ancient boundary of Surrey. Brixton had a huge impact on the music industry with names like Skin, David Bowie and two members from the band "The Clash" called Brixton home.
We offer pest control also in:
This is an inexpensive method which relies on the movement of balloons with which the birds get used to. People using this type of a scarer draw an additional illustration of an eye on the balloons because it has shown to increase the effectiveness of this method as it combats the birds' ability to adapt.
There are also commercially available balloons. They all have holographic eyes from which the pest birds can't hide because they follow them wherever they go. When the "scare-eye" balloon placement is being moved periodically, the effectiveness of this method increases.
In the United Kingdom the use of balloons is subject to approval from the Civil Aviation Authority, especially around airfields.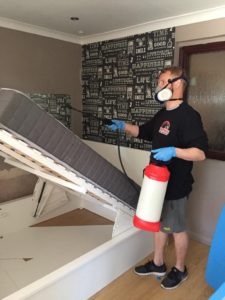 Matteo Grader is the bed bugs expert. He is responsible for domestic pest control sessions in London, and exclusively specialises in bed bugs treatment services. He has several years of experience in dealing with bed bug infestations and other pest issues.
Matteo also helps train new exterminators. He will advise you on the most effective pest prevention and proofing methods so that your home stays vermin-free in the future.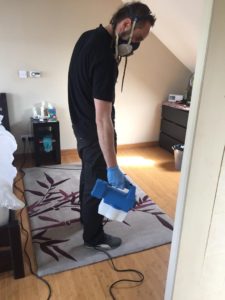 Alexander Clarke is one of the first exterminators in London and ever since he began his career, he's proved to be reliable, skilled and effective. He is an expert in dealing with wasps and wasp nests, as well as other unwanted insects.
He has vast knowledge about various types of household pests, their life cycles and habits, and is masterful in applying professional anti-insect treatments and methods. He covers the entire area of London and delivers quick and efficient results. You can listen to his advice and secure your home from future pest problems. He will make sure your home is treated thoroughly.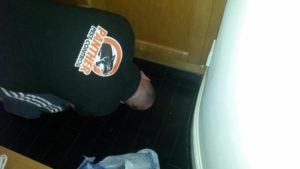 To help you in the fight with rats and mice, Noah Walker is perfectly trained and qualified in employing industry-approved rodent control methods, including setting up traps, the use of rodenticides, sealing points of entry, etc. He has been working as an exterminator with Panther Pest Control for over 3 years and is unequalled in finding the rodents' nests, entry points and routes.
He is the leader of a couple of rodent control teams and helps train new technicians.
We've made sure to answer most of the questions we get asked about the services that we offer. You can find the answers to your questions here.
Pest Control Specialists Are in Your Area
Vermin do not have boundaries. They do not have favourite cities. They are everywhere. We operate in London and are ready to help with your pest problem every day of the week or the weekend. Don't hesitate to call for an emergency pest problem. Teams of pest exterminators are in the M25 area and will come to the rescue as soon as possible.
Pest control specialists you can trust
Panther Pest Control always makes sure that the job is done up to the highest standard. If you are in need of a short-notice or an emergency pest control treatment, call us on 020 3404 5177 without delay or fill in our contact form at any time. We'll get back to you with a free quote ASAP!