Do you need an efficient and discreet pest removal service in Clapham? We can deliver it to you in a timely manner. Whatever your pest removal problem is, we have the solution for it. Rely on us for eliminating cockroaches, eradicating rats, exterminating bed bugs, removing wasps, and many other pest control jobs to ensure the hygiene of your commercial or residential space. We've got all the required equipment and products to rid your area of the vermin – without affecting your health or the environment.
Get Unique Benefits from Our Professional Pest Control Services in Clapham
Fast, reliable and local service – You will receive the pest control service you need in a timely and reliable manner wherever you're located in the area of Clapham.
Highly skilled and great experienced pest exterminators – The individuals of our pest control team have been professionally trained to work to the highest level and possess the skills and knowledge to respond correctly to your vermin situation.
Non-toxic pesticides and specialized tools – We have the required equipment and correct products to remove any kinds of pests from your place and prevent their invasion.
24/7 customer service – You can receive any information regarding our services or assistance for your booking by friendly and polite office advisers – via the phone or online – at any time of the day and night.
Receive the Best Vermin Removal Option for You
Our certified experts can come to your place and assess your particular pest removal needs. They will determine the most appropriate pest eradication treatment for your problem, and if it is required, they can apply it immediately. Our specialists also provide discreet services, and if you need such an option, just tell us about this requirement when making your booking. Furthermore, we can deliver dead animal disposal and pest proofing options.
When you're facing a problem with pests, simply dial 020 3404 5177 or complete the online request a quote form on our website. We will quickly respond to your pest eradication needs, giving you the solution that is right for your situation.
Clapham is a district in South London and it's part of the London Borough of Lambeth. Clapham exists since the Roman Times and it was just a road between Chichester and London known as Stane Street. Clapham Junction Stations is considered to be one of the busiest stations in Europe with more than 2,000 passing through it every day. Some of the famous people who lived in Clapham include JK Rowling, Vivienne Westwood, Dennis Waterman, Piers Morgan and Ainsley Harriott.
We offer pest control also in:
Birds have a specific behaviour towards dead animal species of the same kind. Birds even hold funeral through which they warn other birds of a nearby threat..  In addition to this, carcasses of birds are known to serve as a warning to other birds that deters them from the area where dead birds may be spotted.
This visual scarer relies on a model or an actual carcass used to signal danger to others. Pest birds often approach the dead body but usually leave when they see the unnatural position of the dead bird. This type of a scarer is often used in attempts to deter gulls from airports.
In case you have dead birds or other animals at your property, we are able to provide a dead animal removal service. Simply call Panther Pest Control for more details how we do the service and what animals may be disposed by us.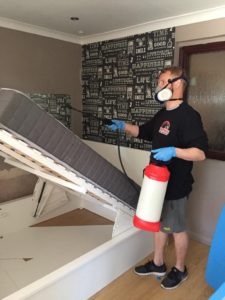 Matteo Grader is the bed bugs expert. He is responsible for domestic pest control sessions in London, and exclusively specialises in bed bugs treatment services. He has several years of experience in dealing with bed bug infestations and other pest issues.
Matteo also helps train new exterminators. He will advise you on the most effective pest prevention and proofing methods so that your home stays vermin-free in the future.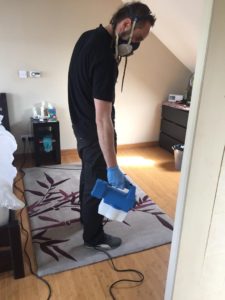 Alexander Clarke is one of the first exterminators in London and ever since he began his career, he's proved to be reliable, skilled and effective. He is an expert in dealing with wasps and wasp nests, as well as other unwanted insects.
He has vast knowledge about various types of household pests, their life cycles and habits, and is masterful in applying professional anti-insect treatments and methods. He covers the entire area of London and delivers quick and efficient results. You can listen to his advice and secure your home from future pest problems. He will make sure your home is treated thoroughly.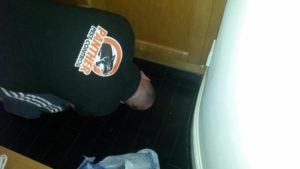 To help you in the fight with rats and mice, Noah Walker is perfectly trained and qualified in employing industry-approved rodent control methods, including setting up traps, the use of rodenticides, sealing points of entry, etc. He has been working as an exterminator with Panther Pest Control for over 3 years and is unequalled in finding the rodents' nests, entry points and routes.
He is the leader of a couple of rodent control teams and helps train new technicians.
We've made sure to answer most of the questions we get asked about the services that we offer. You can find the answers to your questions here.
Pest Control Specialists Are in Your Area
Vermin do not have boundaries. They do not have favourite cities. They are everywhere. We operate in London and are ready to help with your pest problem every day of the week or the weekend. Don't hesitate to call for an emergency pest problem. Teams of pest exterminators are in the M25 area and will come to the rescue as soon as possible.
Pest control specialists you can trust
Panther Pest Control always makes sure that the job is done up to the highest standard. If you are in need of a short-notice or an emergency pest control treatment, call us on 020 3404 5177 without delay or fill in our contact form at any time. We'll get back to you with a free quote ASAP!