How to protect your home from vermin? With us, this is an easy job. We provide highly efficient pest control services in Teddington that will ensure the safety and hygiene of your lovely home. The pest removal solutions we offer are appropriate for both residential and commercial purposes. Whether you need help to remove the cockroaches from your office, the bed bugs from your bedroom or the woodworms from the children's room, we will be at your service. With our professional assistance, you can easily save goodbye to the vermin.
Why Our Pest Control Service in Teddington Stands out from the Crowd
Discreet pest removal treatments – Our services can be completed in a discreet manner if you request.
Local and insured experts – Wherever you're located in the area of Teddington, you can receive our services. The best option for you will be delivered by fully insured and certified technicians.
Flexible working schedule – Our pest controllers work around your personal timetable and are available to provide 24/7 emergency pest control treatments.
Eco-friendly methods and non-toxic pest eradication products – We apply environmentally friendly approaches to protect your health and the environment.
What about the Job of Our Skillful Technicians in Teddington
In order to handle any individual pest eradication problem, our staff are fully equipped with the necessary tools. They are supplied with heat treatment machines, pigeon spikes, UV vacuum cleaners, eco-friendly pesticides, and other useful items to respond to any vermin situation.
The specialists will easily find the place of the hidden pests in your home and identify the level of infestation. After that, they will determine the best approach to remove your vermin problem and offer you a quote for the needed job. They can make as many visits as it is necessary to ensure your issue is completely removed. The team will also give you pest prevention advice and helpful tips on how to protect your place from future infestations.
You can book our pest exterminators by calling us on 020 3404 5177 or through completing the online request a quote form. Or, if you prefer, you can chat with us.
Located in the southwest of London, Teddington is a residential area with a population of over 10,000 people, it's also part of the London Borough of Richmond upon Thames and in the county of Middlesex. Teddington's name comes from an Old English tribal chief whose name was Tedd, and "ton" means settlement. The TV series "The Office" was filmed in a real office in Teddington. Some of the most notable residents of Teddington include the legendary Benny Hill, who lived in a small flat on Twickenham Road and  Alan Turing, the father of modern computer science.
We offer pest control also in:
What Types Of Moths Eat Clothes?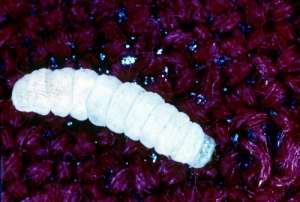 There are 5 moth species which can terrorize your household. Do all moths eat clothes? The short answer is "no". Some of them are a little bit picky when it comes to food preferences and some would eat anything from oatmeal to carpet fibres. The shortlists of clothes destroyers include: Brown House Moth (Hofmannophila pseudospretella), Common Clothes Moth (Tineola bisselliella), Case-bearing Clothes Moth (Tinea pellionella).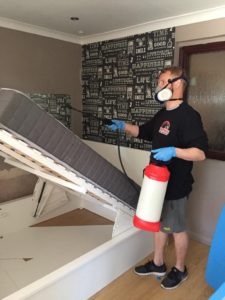 Matteo Grader is the bed bugs expert. He is responsible for domestic pest control sessions in London, and exclusively specialises in bed bugs treatment services. He has several years of experience in dealing with bed bug infestations and other pest issues.
Matteo also helps train new exterminators. He will advise you on the most effective pest prevention and proofing methods so that your home stays vermin-free in the future.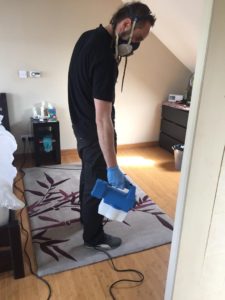 Alexander Clarke is one of the first exterminators in London and ever since he began his career, he's proved to be reliable, skilled and effective. He is an expert in dealing with wasps and wasp nests, as well as other unwanted insects.
He has vast knowledge about various types of household pests, their life cycles and habits, and is masterful in applying professional anti-insect treatments and methods. He covers the entire area of London and delivers quick and efficient results. You can listen to his advice and secure your home from future pest problems. He will make sure your home is treated thoroughly.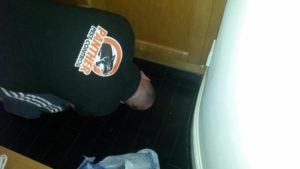 To help you in the fight with rats and mice, Noah Walker is perfectly trained and qualified in employing industry-approved rodent control methods, including setting up traps, the use of rodenticides, sealing points of entry, etc. He has been working as an exterminator with Panther Pest Control for over 3 years and is unequalled in finding the rodents' nests, entry points and routes.
He is the leader of a couple of rodent control teams and helps train new technicians.
We've made sure to answer most of the questions we get asked about the services that we offer. You can find the answers to your questions here.
Pest Control Specialists Are in Your Area
Vermin do not have boundaries. They do not have favourite cities. They are everywhere. We operate in London and are ready to help with your pest problem every day of the week or the weekend. Don't hesitate to call for an emergency pest problem. Teams of pest exterminators are in the M25 area and will come to the rescue as soon as possible.
Pest control specialists you can trust
Panther Pest Control always makes sure that the job is done up to the highest standard. If you are in need of a short-notice or an emergency pest control treatment, call us on 020 3404 5177 without delay or fill in our contact form at any time. We'll get back to you with a free quote ASAP!