Let us protect your home in Hampton from pest invasion! We provide reliable and flexible pest control solutions suitable for both residential and commercial premises. You no longer have to fight pests! With us, it is easy to handle any vermin problem. We can cope with bed bugs, cockroaches, wasps, mosquitos, fleas, ticks, rodents, pigeons, woodworms, spiders, and any other vermin that comes to your mind. Our local technicians will come at the right time for you to listen to your needs and apply the best vermin eradication approach for your particular problem.
Why Book Exactly Our Pest Control Service in Hampton
Discreet vermin elimination solutions – If you wish nobody to be aware of your pest problem, simply book our discreet pest removal option.
Convenient appointment slots – Our services are tailored to your individual needs and personal timetable. They are performed when it is convenient for our clients.
Environmentally-friendly pest removal approaches – The treatments we apply are safe for your health and do not harm the environment.
Local experts – You can receive the assistance of our pest eradication specialists wherever you're located in the area of Hampton.
Learn More about the Job of Our Pest Removers in Hampton
The technicians we provide have passed all evaluations to meet the newest health and safety requirements. They are fully supplied with the necessary tools and materials to complete any specific pest removal job. When they arrive at your place, the specialists will evaluate your certain pest control needs and offer you a suitable solution. They will also give you the correct quote for the service. According to the type and complexity of the problem, the staff can start the job immediately or at another time convenient for you. They will apply the most appropriate method for you and visit your place as often as it is needed to ensure the pests are thoroughly eliminated and your home is well protected.
How to book with us? It's easy! Simply dial 020 3404 5177 or complete the request a quote form on the website.
Hampton is a suburban area located on the north bank of river Themes and is part of the London Borough of Richmond. Hampton gets its name from the Anglo-Saxon words "hamm" which means near a bend of a river and "ton" meaning settlement or farmstead. The most notable residents of Hampton include Brian May(the guitarist from the band Queen), Hayley Mills and her son Crispian Mills, Bill Milner an actor known for his role in the movie X-Men: First Class and many more.
We offer pest control also in:
What Types Of Moths Are There?
Well, the short and simplest answer is "a lot". They're as many as 160, 000 which compared to the number of butterflies is very impressive. Yet, only a few moths are known to be domestic terrorists. Let Panther Pest Control help you out.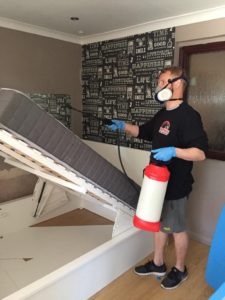 Matteo Grader is the bed bugs expert. He is responsible for domestic pest control sessions in London, and exclusively specialises in bed bugs treatment services. He has several years of experience in dealing with bed bug infestations and other pest issues.
Matteo also helps train new exterminators. He will advise you on the most effective pest prevention and proofing methods so that your home stays vermin-free in the future.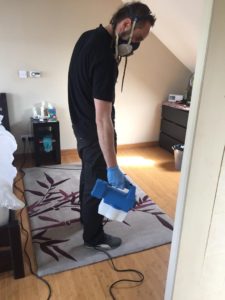 Alexander Clarke is one of the first exterminators in London and ever since he began his career, he's proved to be reliable, skilled and effective. He is an expert in dealing with wasps and wasp nests, as well as other unwanted insects.
He has vast knowledge about various types of household pests, their life cycles and habits, and is masterful in applying professional anti-insect treatments and methods. He covers the entire area of London and delivers quick and efficient results. You can listen to his advice and secure your home from future pest problems. He will make sure your home is treated thoroughly.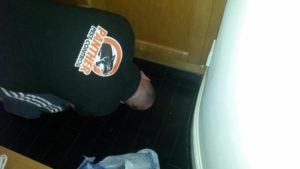 To help you in the fight with rats and mice, Noah Walker is perfectly trained and qualified in employing industry-approved rodent control methods, including setting up traps, the use of rodenticides, sealing points of entry, etc. He has been working as an exterminator with Panther Pest Control for over 3 years and is unequalled in finding the rodents' nests, entry points and routes.
He is the leader of a couple of rodent control teams and helps train new technicians.
We've made sure to answer most of the questions we get asked about the services that we offer. You can find the answers to your questions here.
Pest Control Specialists Are in Your Area
Vermin do not have boundaries. They do not have favourite cities. They are everywhere. We operate in London and are ready to help with your pest problem every day of the week or the weekend. Don't hesitate to call for an emergency pest problem. Teams of pest exterminators are in the M25 area and will come to the rescue as soon as possible.
Pest control specialists you can trust
Panther Pest Control always makes sure that the job is done up to the highest standard. If you are in need of a short-notice or an emergency pest control treatment, call us on 020 3404 5177 without delay or fill in our contact form at any time. We'll get back to you with a free quote ASAP!