Pest Removal in Chingford, E4, Waltham Forest
Got a pest problem in Chingford? Suffering from nuisance vermin, insects, birds or other pests? Call us – Panther Pest Control are here to help you!
Seen a cockroach or mouse on your property? Waking up itching and worrying it may be mosquitos or bedbugs? Do you fear your best fabrics are being eaten by moth larvae, or your attic beams by woodworm?
Seeing even a single pest – one rat, one silverfish, one flea – in your property is often an indication of a far bigger problem. One or two visible individuals most likely suggest that a much larger infestation has established itself in your property, with the core population perhaps hidden behind the walls or under the floorboards or deep in the fabrics of your premises. What should you do? Don't struggle with your pest infestation alone – call Panther Pest Control for fast and effective diagnosis and resolution of your pest problem.
Our Pest Control Company Offers Chingford Residents These Benefits
Always available – Our client care centre is open 24 hours, so we're available to answer your call or message whenever you need our pest-removal service.
Free quotes – We are always happy to give you a quote for removing your pest problem, so you know what to expect.
Same-day emergency pest control – When you need your pest problem fixed fast, we will prioritise getting to you asap. In many cases we can get to you within the hour or at least the same day or night. We will also guide you on what to do in the period before we can reach you.
Safety-conscious – We source all the products we use from approved UK pest control suppliers. We prioritise the most environmentally-friendly solutions. Our pest exterminators are specifically trained in the specific skills required for safe pest removal, for instance having undertaken Safe Use of Pesticides training, Kill Germ & First Environmental Training courses.
What Our Pest Control Service in Chingford Involves
Our pest control services technician will visit and inspect your property for pests, to determine the size and key locations of any pest infestations. After treating the affected areas, removing the pests and cleaning up, our pest exterminators will give you any advice you need to prevent pests returning to your property in future.
Panther Pest Control services are available in your area of Chingford. Contact our friendly sales team today.
We offer pest control also in:
A bigger threat to business, particularly farming and agriculture, because when the winter comes they will go to places where people store their vegetables. The wood mouse, which is another common name for the field mouse, is unlikely to inhabited buildings and homes.
Appearance
Head and body size 80 – 100mm in length, Tail 70 – 90mm;
A male Field Mouse can weigh up to 25g, Female – up to 20g;
The fur colour on the head and back is like sandy/orange;
Yellowish fur on the flanks, white on the belly;
Usually has a small streak of yellow on the chest.
Life Cycle
Average lifespan is two to three months;
Breeding seasons is from March to November;
The gestation period lasts approximately 25 days;
During the the first half of the breeding season adult males can be aggressive towards one another and to the young;
Habits
They feed with the high proportion of the seed crop of trees such as oak, beech, ash, lime, hawthorn and sycamore;
During the late spring and early summer days, when seeds are rarely available, small snails and insects are а good source of food. Mice also like to feed with apples;
Newly planted legume seeds are also part of the mice menu.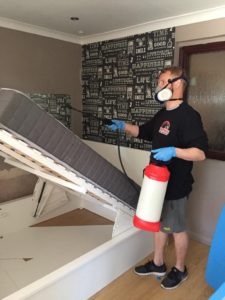 Matteo Grader is the bed bugs expert. He is responsible for domestic pest control sessions in London, and exclusively specialises in bed bugs treatment services. He has several years of experience in dealing with bed bug infestations and other pest issues.
Matteo also helps train new exterminators. He will advise you on the most effective pest prevention and proofing methods so that your home stays vermin-free in the future.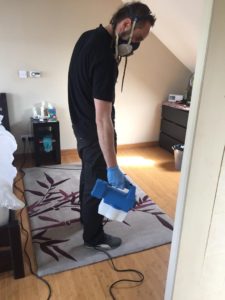 Alexander Clarke is one of the first exterminators in London and ever since he began his career, he's proved to be reliable, skilled and effective. He is an expert in dealing with wasps and wasp nests, as well as other unwanted insects.
He has vast knowledge about various types of household pests, their life cycles and habits, and is masterful in applying professional anti-insect treatments and methods. He covers the entire area of London and delivers quick and efficient results. You can listen to his advice and secure your home from future pest problems. He will make sure your home is treated thoroughly.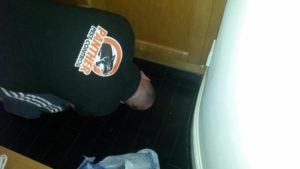 To help you in the fight with rats and mice, Noah Walker is perfectly trained and qualified in employing industry-approved rodent control methods, including setting up traps, the use of rodenticides, sealing points of entry, etc. He has been working as an exterminator with Panther Pest Control for over 3 years and is unequalled in finding the rodents' nests, entry points and routes.
He is the leader of a couple of rodent control teams and helps train new technicians.
We've made sure to answer most of the questions we get asked about the services that we offer. You can find the answers to your questions here.
Pest Control Specialists Are in Your Area
Vermin do not have boundaries. They do not have favourite cities. They are everywhere. We operate in London and are ready to help with your pest problem every day of the week or the weekend. Don't hesitate to call for an emergency pest problem. Teams of pest exterminators are in the M25 area and will come to the rescue as soon as possible.
Pest control specialists you can trust
Panther Pest Control always makes sure that the job is done up to the highest standard. If you are in need of a short-notice or an emergency pest control treatment, call us on 020 3404 5177 without delay or fill in our contact form at any time. We'll get back to you with a free quote ASAP!