Decisive Pest Control in Crawley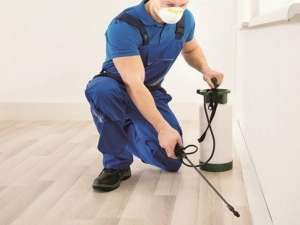 If you're searching for a Crawley, pest exterminator who will provide professional and prompt support, give Panther Pest Control a telephone. We're a locally owned and operated company that has helped many individuals just like you. We always prioritize complete customer satisfaction.
Being local, we like to think we are big enough to cope but small enough to care. We certainly aim to offer a service and would challenge anyone to compare our client service with that of any other supplier.
We'll supply you with a free preliminary cost estimate before we start so that you will know precisely what you'll be paying when we're done. For pest management, the perfect business to call is Panther Pest Control. We use environmentally safe products that are demonstrated to work effectively.
The very nature of the business requires good public relations with our customers, starting with the office employees who answer their phone calls, correspondence and scheduling their appointments, to the technicians in the field who deal directly with them at the operation of our services. The main reason Panther Pest Control has attained the degree of success it has now is due to the dedicated personnel, office staff and technicians.
Panther Pest Control offers a comprehensive solution to domestic or commercial pest issues. We will quickly control pest problems brought on by rats, mice, moles, ants, cockroaches, pigeons, birds, squirrels, house flies, cluster flies, pest birds, and wasps nests. We'll eradicate pest problems safely, efficiently and in a discreet manner.
In Panther Pest Control, we have one simple slogan: "We won't treat your home with anything we wouldn't use in ours." We take pride in providing the highest quality pest management and service in Crawley. Roaches, fleas, ticks, bed bugs, ants, spiders, and other insects not only cause damage to houses but also pose a health hazard for your loved ones. For all of your home or commercial pest management needs call Panther Pest Control on 020 3404 5177.
We offer pest control also in:
Chemical Pest Control Methods
Chemical pest control methods have been used for thousands of years by civilizations which had much less knowledge than the current population. Sumerians found out that sulfur gives great results in insect extermination.
However, the actual revolution in chemical pesticides happened during the 18th and 19th century when the industrial revolution required much more efficient pest treatments in terms of scale, effectiveness and speed.
To present days, chemical pest control methods are among the major types of vermin extermination practices and despite the fact that pesticides often lead to serious health issues, chemical compounds are vastly produced and sold across the whole world.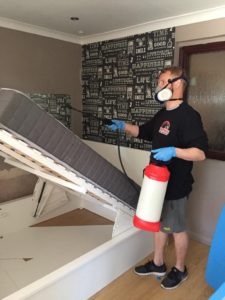 Matteo Grader is the bed bugs expert. He is responsible for domestic pest control sessions in London, and exclusively specialises in bed bugs treatment services. He has several years of experience in dealing with bed bug infestations and other pest issues.
Matteo also helps train new exterminators. He will advise you on the most effective pest prevention and proofing methods so that your home stays vermin-free in the future.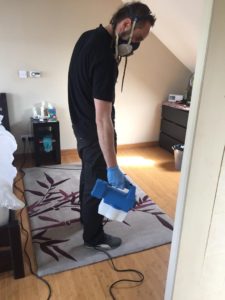 Alexander Clarke is one of the first exterminators in London and ever since he began his career, he's proved to be reliable, skilled and effective. He is an expert in dealing with wasps and wasp nests, as well as other unwanted insects.
He has vast knowledge about various types of household pests, their life cycles and habits, and is masterful in applying professional anti-insect treatments and methods. He covers the entire area of London and delivers quick and efficient results. You can listen to his advice and secure your home from future pest problems. He will make sure your home is treated thoroughly.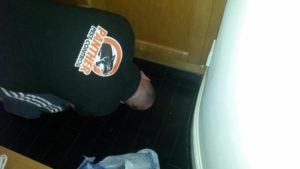 To help you in the fight with rats and mice, Noah Walker is perfectly trained and qualified in employing industry-approved rodent control methods, including setting up traps, the use of rodenticides, sealing points of entry, etc. He has been working as an exterminator with Panther Pest Control for over 3 years and is unequalled in finding the rodents' nests, entry points and routes.
He is the leader of a couple of rodent control teams and helps train new technicians.
We've made sure to answer most of the questions we get asked about the services that we offer. You can find the answers to your questions here.
Pest Control Specialists Are in Your Area
Vermin do not have boundaries. They do not have favourite cities. They are everywhere. We operate in London and are ready to help with your pest problem every day of the week or the weekend. Don't hesitate to call for an emergency pest problem. Teams of pest exterminators are in the M25 area and will come to the rescue as soon as possible.
Pest control specialists you can trust
Panther Pest Control always makes sure that the job is done up to the highest standard. If you are in need of a short-notice or an emergency pest control treatment, call us on 020 3404 5177 without delay or fill in our contact form at any time. We'll get back to you with a free quote ASAP!