Acclaimed Pest Control in Camberley
An established business since the early 2012s, we've been consistently delivering excellent services which reflect from the goodwill of their coming businesses and residential customers in Camberley. To make certain that you're provided with the safest methods that are non-invasive and safe for pets and children, we use environmentally secure pest management techniques, one of the few pest management companies to do so.
Offering a variety of pest control services, Panther Pest Control is a local service that knows the exterminator needs and requirements of residents and businesses in Camberley. Serving the locals since 2012, we've been delivering pest management solutions to residents, businesses and industries ensuring that you can stay safe and healthy. Unlike other regional companies, we do not use harsh chemicals and toxic gases for mosquito control but only use green pest control alternatives considering the health of pets and kids.
As a full-service pest management firm, Panther Pest Control recognizes the specific needs of all our clients. Irrespective of whether you are a home, commercial, hospitality, food service or transport customer in the place, Panther Pest Control has the experience, tools and protocols required to deal with your particular pest control difficulties.
It can be tough to find reliable and reliable pest control in Camberley service provider nowadays. It seems that the market is littered with these so-called bug control services that are more worried about their paycheck without actually getting the job done. If this has indeed been your experience in bug exterminators, then it's about time you flip to the reputable and dependable services of Panther Pest Control. We at Panther Pest Control take pride in our reputation of providing only the finest pest control solutions in the business!
Our pest control services in Camberley are ready to address whatever needs you to have in pest control solutions. We know that one could not expect the need for dependable and effective pest management solutions that's why we at Panther Pest Control are available to serve your needs around the clock and at any given day of the week.
Panther Pest Control is certainly more than capable of providing you with exactly the kind of pest management solutions you need. However difficult or easy the job is, we are determined to provide you with only the best. Thus if you are in any way fairly unsatisfied with our services, we offer a complete money-back guarantee that we think would boost our client's confidence in our solutions. If you need more info about Panther Pest Control, contact us today on 020 3404 5177!
We offer pest control also in:
What happens when a wasp stings you?
Wasps use their venom for two reasons only – one for protection and one to attack smaller insects that they will feed on. The venom sends a signal to your body that the damage is actually bigger than it is. As it is not considered a dangerous venom and it doesn't transmit diseases, a wasp sting can only be dangerous to allergic people. That's why it's important to seek immediate medical help if you are allergic.
How many times can a wasp sting?
As we mentioned above, a wasp can sting you more than once. It can sting until you manage to escape from it. Wasps release a pheromone that alarms the other wasps from the nest that there's danger near and they can all attack you. Panther Pest Control advises you to call a wasp control specialist to inspect the nest and if necessary to treat it.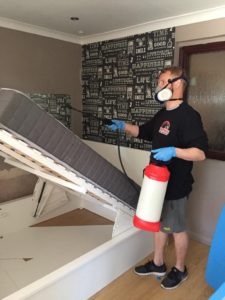 Matteo Grader is the bed bugs expert. He is responsible for domestic pest control sessions in London, and exclusively specialises in bed bugs treatment services. He has several years of experience in dealing with bed bug infestations and other pest issues.
Matteo also helps train new exterminators. He will advise you on the most effective pest prevention and proofing methods so that your home stays vermin-free in the future.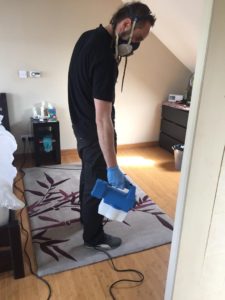 Alexander Clarke is one of the first exterminators in London and ever since he began his career, he's proved to be reliable, skilled and effective. He is an expert in dealing with wasps and wasp nests, as well as other unwanted insects.
He has vast knowledge about various types of household pests, their life cycles and habits, and is masterful in applying professional anti-insect treatments and methods. He covers the entire area of London and delivers quick and efficient results. You can listen to his advice and secure your home from future pest problems. He will make sure your home is treated thoroughly.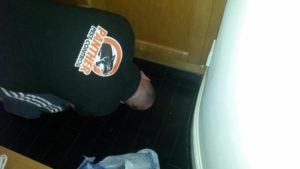 To help you in the fight with rats and mice, Noah Walker is perfectly trained and qualified in employing industry-approved rodent control methods, including setting up traps, the use of rodenticides, sealing points of entry, etc. He has been working as an exterminator with Panther Pest Control for over 3 years and is unequalled in finding the rodents' nests, entry points and routes.
He is the leader of a couple of rodent control teams and helps train new technicians.
We've made sure to answer most of the questions we get asked about the services that we offer. You can find the answers to your questions here.
Pest Control Specialists Are in Your Area
Vermin do not have boundaries. They do not have favourite cities. They are everywhere. We operate in London and are ready to help with your pest problem every day of the week or the weekend. Don't hesitate to call for an emergency pest problem. Teams of pest exterminators are in the M25 area and will come to the rescue as soon as possible.
Pest control specialists you can trust
Panther Pest Control always makes sure that the job is done up to the highest standard. If you are in need of a short-notice or an emergency pest control treatment, call us on 020 3404 5177 without delay or fill in our contact form at any time. We'll get back to you with a free quote ASAP!