Expert Pest Control in Woking
Insects and rodents bugging you? Pests are more than an embarrassing nuisance; they could be a serious risk to your house and loved ones. Regardless of how clean the home, unwanted invaders will find a means in. Pests systematically seek out entry points and invade residences to obtain food and water. These invaders not only cause physical harm to your house, but can also spread germs, irritate allergies and create your surroundings, family, and pets uncomfortable.
Undesirable bugs take refuge in the cleanest of homes. Panther Pest Control provides Woking with outstanding pest control solutions. Our pest management program is designed to specifically meet the pest needs of their Woking region. We inspect your home to pinpoint the region's insects that may enter your home. Your house is no place for pests. Panther Pest Control protects your home needs and the peace of mind in knowing that pests will not infest the place your family lives in.
Being local, we like to think we are big enough to cope but small enough to care. We certainly aim to offer a service and would challenge anyone to compare our client service with that of any other supplier.
Our success through the years has come from maintaining a standard of dependable service utilizing the latest methods that technology offers. Using innovation in addition to time-tested procedures, we've provided our clients with lasting satisfaction. Do not suffer from unwanted pests when assistance is just a phone call away. With over ten decades of expertise, we are a locally owned and operated service guaranteed to remove your unwelcome pests, whatever the size or type of infestation that is bothering you. We are never going to keep you waiting to see whether our services get results; rather we simply eliminate your issue, for good.
As a full-service pest management firm, Panther Pest Control recognizes the specific needs of all our clients. Irrespective of whether you are a home, commercial, hospitality, food service or transport customer in the place, Panther Pest Control has the experience, tools and protocols required to deal with your particular pest control difficulties.
We have a group of experts that have completed pre-employment screening, background checks, with intensive training licenses according to UK laws on the latest products in the market associated with our industry. Additionally, they are courteous, professional and pros with years of experience within the business. If you will need to talk about any of the pest issues plaguing your house or office in Woking, please contact our company representatives today on 020 3404 5177!
We offer pest control also in:
Is there a number of wasp stings that is dangerous to a person?
Yes, there is. It is generally accepted that about 10-15 stings per kilogram, can be extremely dangerous and even lead to a fatal end.
In case you get stung multiple times, you should seek medical help right away or at least pay attention to the pierced areas as it is possible to develop an allergy or get a severe reaction, even if you are not allergic. If you have a wasp problem, call the experts from Panther Pest Control to sort it out.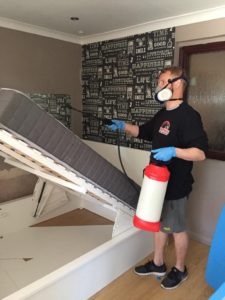 Matteo Grader is the bed bugs expert. He is responsible for domestic pest control sessions in London, and exclusively specialises in bed bugs treatment services. He has several years of experience in dealing with bed bug infestations and other pest issues.
Matteo also helps train new exterminators. He will advise you on the most effective pest prevention and proofing methods so that your home stays vermin-free in the future.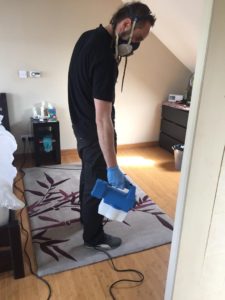 Alexander Clarke is one of the first exterminators in London and ever since he began his career, he's proved to be reliable, skilled and effective. He is an expert in dealing with wasps and wasp nests, as well as other unwanted insects.
He has vast knowledge about various types of household pests, their life cycles and habits, and is masterful in applying professional anti-insect treatments and methods. He covers the entire area of London and delivers quick and efficient results. You can listen to his advice and secure your home from future pest problems. He will make sure your home is treated thoroughly.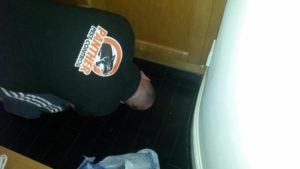 To help you in the fight with rats and mice, Noah Walker is perfectly trained and qualified in employing industry-approved rodent control methods, including setting up traps, the use of rodenticides, sealing points of entry, etc. He has been working as an exterminator with Panther Pest Control for over 3 years and is unequalled in finding the rodents' nests, entry points and routes.
He is the leader of a couple of rodent control teams and helps train new technicians.
We've made sure to answer most of the questions we get asked about the services that we offer. You can find the answers to your questions here.
Pest Control Specialists Are in Your Area
Vermin do not have boundaries. They do not have favourite cities. They are everywhere. We operate in London and are ready to help with your pest problem every day of the week or the weekend. Don't hesitate to call for an emergency pest problem. Teams of pest exterminators are in the M25 area and will come to the rescue as soon as possible.
Pest control specialists you can trust
Panther Pest Control always makes sure that the job is done up to the highest standard. If you are in need of a short-notice or an emergency pest control treatment, call us on 020 3404 5177 without delay or fill in our contact form at any time. We'll get back to you with a free quote ASAP!