Pest Control Services in Belvedere, DA17, Bexley
Our friendly pest-eradication experts will safely and professionally get rid of pests and vermin from your home or business in Belvedere.
Are you struggling with an annoying pest problem? Do you need rat and mice control, bed bug treatment, pigeon control, wasp or wasp nest treatment, ant eradication, cockroach removal or any other pest eradication service?
Dealing with the mess and stress that pests create is unpleasant, but you don't have to deal with the alone. In fact, DIY and over-the-counter pest treatments often have disappointing and short-lived results, and may expose you and those around you to dangerous chemicals. This is why, for effective and long-lasting pest removal, we recommend you bring in Panther Pest Control, the pest removal experts!
Our experienced and expertly trained pest eradication specialists will remove pests for you, with clean and guaranteed results.
How Panther Pest Control Benefits You
Customer service 24/7 – Our phones are on 24 hours, every day of the year. If you have a pest problem in Belvedere, you can call us anytime.
Expert pest exterminators – Our expert pest-specialists and pest removal teams have comprehensive technical and safety training, and years of experience dealing with all the different pests we suffer from in the UK.
Fast response times – If you have an emergency pest control requirement, we can arrange to visit you the same day, or even overnight. Home alone at night and afraid of a spider? Call us. No matter how big or small your pest infestation is, we are ready to come and remove it for you.
Guaranteed results – We will apply the most effective treatment to remove all pests from your Belvedere property. For additional peace of mind we provide guarantees on our work, and – for stubborn types of pest – a programme of follow-up treatments as required, to totally eradicate them.
Comprehensive Pest Control Removal for Residents of Belvedere
After we have removed all pests from your premises, we clean the treated areas. We also give you key information and advice on pest control so you can avoid the pests returning in future.
The aim of our discrete and friendly pest control service is to leave you free of worry, so you can enjoy a pest free home or workplace again.
Panther Pest Control services are available in your area of Belvedere. Contact our friendly sales team today.
We offer pest control also in:
Quick Woodlice Fact Sheet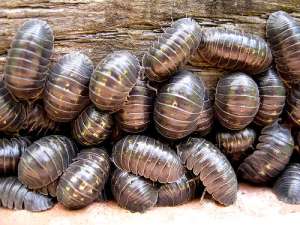 Woodlice are also commonly known as pill bugs, roly-poly and slaters. "Pill bug" and "roly-poly" because of its ability to roll into a ball.
The pill bugs absorb water from the air, which makes humidity a key condition for their habitat;
Woodlice are mainly detritivores, feeding off dead plant matter, fungi and their own faeces, but sometimes they may attack seedlings;
Usually nocturnal animals, hence they are most active at night;
Rolly pollies breed in the summer;
Females can breed asexually, resulting in up to 200 young woodlice that live up to four years;
Woodlice choose to hide in the moist, dark areas in your garden, such as under the mulch, compost heap, rotting timber, rocks, bricks, weeds, even in walls;
Apart from man, its main natural enemies are spiders, centipedes, wasps, toads and shrews.
Woodlice presence inside a property may indicate a dampness problem;
Panther Pest Control is always ready to help you get rid of any pests.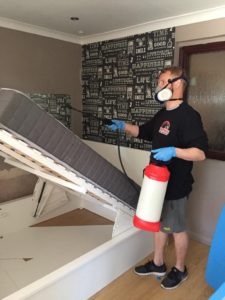 Matteo Grader is the bed bugs expert. He is responsible for domestic pest control sessions in London, and exclusively specialises in bed bugs treatment services. He has several years of experience in dealing with bed bug infestations and other pest issues.
Matteo also helps train new exterminators. He will advise you on the most effective pest prevention and proofing methods so that your home stays vermin-free in the future.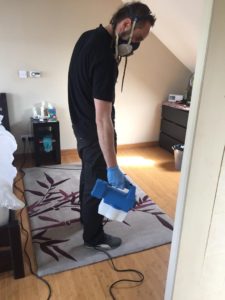 Alexander Clarke is one of the first exterminators in London and ever since he began his career, he's proved to be reliable, skilled and effective. He is an expert in dealing with wasps and wasp nests, as well as other unwanted insects.
He has vast knowledge about various types of household pests, their life cycles and habits, and is masterful in applying professional anti-insect treatments and methods. He covers the entire area of London and delivers quick and efficient results. You can listen to his advice and secure your home from future pest problems. He will make sure your home is treated thoroughly.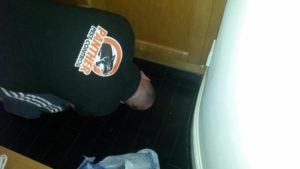 To help you in the fight with rats and mice, Noah Walker is perfectly trained and qualified in employing industry-approved rodent control methods, including setting up traps, the use of rodenticides, sealing points of entry, etc. He has been working as an exterminator with Panther Pest Control for over 3 years and is unequalled in finding the rodents' nests, entry points and routes.
He is the leader of a couple of rodent control teams and helps train new technicians.
We've made sure to answer most of the questions we get asked about the services that we offer. You can find the answers to your questions here.
Pest Control Specialists Are in Your Area
Vermin do not have boundaries. They do not have favourite cities. They are everywhere. We operate in London and are ready to help with your pest problem every day of the week or the weekend. Don't hesitate to call for an emergency pest problem. Teams of pest exterminators are in the M25 area and will come to the rescue as soon as possible.
Pest control specialists you can trust
Panther Pest Control always makes sure that the job is done up to the highest standard. If you are in need of a short-notice or an emergency pest control treatment, call us on 020 3404 5177 without delay or fill in our contact form at any time. We'll get back to you with a free quote ASAP!