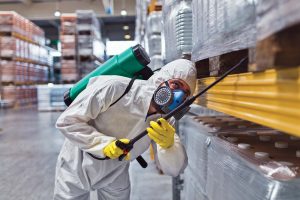 Ensure safety and hygiene with our efficient pest control services in Croydon. We can remove any kinds of harmful organisms from your living or working area, for example, cockroaches, wasps, mosquitos, bed bugs, fleas, ticks, flies, woodworms, mice, rats, pigeons, and more. The pests are not a problem for us. With the right tools and proper skills, we will eliminate them much more quickly and easily than you might expect. Just trust us and relax!
The Fantastic Benefits You Will Have when Book with Us in Croydon
Swift, reliable and flexible service – We can deliver our pest control options to any place in the area of Croydon in a timely and trustworthy manner.
Emergency service – You have a pest control issue you cannot delay any more? We are available to provide our assistance at short notice.
Removing pests in a discreet manner – We can eradicate the vermin in such a way that nobody will know about your pest problem.
Uniformed, certified and insured technicians – All of the individuals we work with have passed the required assessments to meet the latest health and safety regulations.
How Will Our Pest Controllers Proceed When They Come to Your Place
Our pest removal experts will come to you at a time convenient for you. They will find the place of your vermin issue and select the best procedure for its solution. The specialists will tell you what treatment is needed and give you a proper quote for the necessary job. If the problem cannot be postponed anymore and requires immediate attention, the procedure can be performed instantly.
The pest removal technicians will do the needed job with attention to detail and great diligence, leaving your area clean and safe. They will give you professional tips on how to prevent the spread of infestations in future. Our team can also provide you with efficient pest proofing services to block all entry points and other pest prevention solutions to stop any pest invasion.
You Want to Book with Us in Croydon?
Booking with us is easy and convenient. Simply dial 020 3404 5177 or complete the online contact form on our website.
Croydon is a large town in South London with a total territory of 9.4 miles and it's also the largest commercial district outside of Central London and it was the first area outside of London that used postcodes. The Croydon Airport was the first airport that had international flights, even Winston Churchill took his flight lessons there. Croydon is also famous for his part in the cinema industry with movies like 28 Days Later, The Da Vinci Code and Batman – The Dark Knight Rises being shot there. Some of the famous Croydians include – Kate Moss and the movie director David Lean.
We offer pest control also in:
There is some evidence about some birds being laser-resistant, however, the use of lasers is still an effective method in order to keep pest birds away from the crops. Although some lasers prove to be effective during daylight hours, the most effective time to use them is at dawn and dusk because when the light levels are increasing the effectiveness of the laser decreases.
When using this method of bird control, the strong contrast between the ambient light and the laser beam startles the pest birds. This technique is very selective during low light conditions and can be attuned to frequencies and wavelengths that particular bird species don't like. Things are different during night time because the light beam is visible over a large distance and can cause widespread disturbance. Due to safety regulations in some nations lasers above a certain power of the beam are prohibited by a law.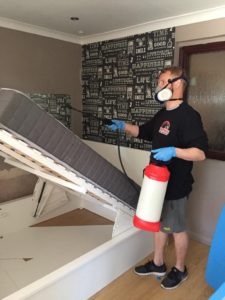 Matteo Grader is the bed bugs expert. He is responsible for domestic pest control sessions in London, and exclusively specialises in bed bugs treatment services. He has several years of experience in dealing with bed bug infestations and other pest issues.
Matteo also helps train new exterminators. He will advise you on the most effective pest prevention and proofing methods so that your home stays vermin-free in the future.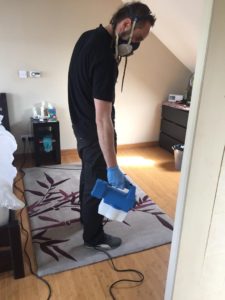 Alexander Clarke is one of the first exterminators in London and ever since he began his career, he's proved to be reliable, skilled and effective. He is an expert in dealing with wasps and wasp nests, as well as other unwanted insects.
He has vast knowledge about various types of household pests, their life cycles and habits, and is masterful in applying professional anti-insect treatments and methods. He covers the entire area of London and delivers quick and efficient results. You can listen to his advice and secure your home from future pest problems. He will make sure your home is treated thoroughly.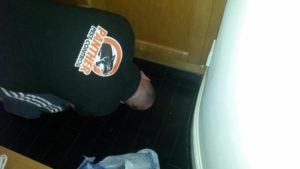 To help you in the fight with rats and mice, Noah Walker is perfectly trained and qualified in employing industry-approved rodent control methods, including setting up traps, the use of rodenticides, sealing points of entry, etc. He has been working as an exterminator with Panther Pest Control for over 3 years and is unequalled in finding the rodents' nests, entry points and routes.
He is the leader of a couple of rodent control teams and helps train new technicians.
We've made sure to answer most of the questions we get asked about the services that we offer. You can find the answers to your questions here.
Pest Control Specialists Are in Your Area
Vermin do not have boundaries. They do not have favourite cities. They are everywhere. We operate in London and are ready to help with your pest problem every day of the week or the weekend. Don't hesitate to call for an emergency pest problem. Teams of pest exterminators are in the M25 area and will come to the rescue as soon as possible.
Pest control specialists you can trust
Panther Pest Control always makes sure that the job is done up to the highest standard. If you are in need of a short-notice or an emergency pest control treatment, call us on 020 3404 5177 without delay or fill in our contact form at any time. We'll get back to you with a free quote ASAP!