Savvy Pest Control in Woodside
Panther Pest Control can provide a one-off service to eradicate household pests or provide year-round contracts to local authorities, restaurants, pubs, hotels, schools, farms, offices industrial and domestic premises in Woodside.
Panther Pest Control is fast and effective, so we can offer great pricing. We know what to do, and we can ensure the pests won't return, and this means we can reduce our pricing for you. Panther Pest Control has 15 years in the business as full professionals, and we are one of the most established pest control companies in Woodside. We treat cockroaches, fleas, ants, mice, rats and termites – and have treatments for bedbugs, silverfish, spiders and wasps – and plenty more. For every pest, we have a treatment that is safe for your family, but lethal for the pest.
We cover all domestic properties from one-bedroom flats to country estates which can all suffer pest problems ranging from mice, rats, flies, ants, wasps, squirrels, moles etc. Our pest control contract will not only protect the health & safety of your employees, but it will also protect your reputation. Don't be liable for prosecution! Pest prevention contracts will assess each client needs and tailor the service to fit that requirement.
Let us make your home the security blanket it should be. You'll be happy you did. Panther Pest Control knows how important it is to you for your home to be an environment that is not violated by toxic materials and is also pest-free. Since insects and pests find all spots to live and breed in the home, our contractor will thoroughly inspect your home before treatment to ensure that all possible areas where pests can hide are found. You can feel confident that Panther Pest Control uses very minimal chemicals in your home to make the process comfortable for you and your family. We use only environmentally friendly products that ensure your family's safety. Let us show you the difference between a locally owned company…we care!
Panther Pest Control company specializes in providing both commercial and residential pest control services in Woodside. Further, we use cost-effective and environment-friendly techniques, which do not cause any harm to pets and humans. Our skilled technicians have years of experience working as a pest controller. Using cutting edge tools, they sweep unwanted pests and insects out of your homes without causing any harm to your family members.
If you need the removal of problem bugs, wildlife, or invasive buckthorn from your home or on your property in Woodside, we can help you at prices you can afford. The bottom line is our goal is to provide you with a living environment that is clear of nuisance and damaging pests and do so in a courteous, expedient, professional manner. We will also ensure you do not have to deal with dangerous chemicals or have to handle any sick, dead, or injured animals. We offer the safest and absolute best value in the pest control industry and we will stand by our guarantee on that, to hire us just give us a call on 020 3404 5177.
We offer pest control also in:
More about Our Pest Control Practice in Westminster
Choose the most appropriate time for you to be visited by our technicians. When the experts arrive at your home they will thoroughly inspect the area. The professionals will find the spots where the pests are hiding and identify the level of the infestation. After that, our staff will be able to evaluate the suitable techniques to permanently remove the infestation. They will use environmentally friendly pesticides. The technicians suggest chemicals only for severe situations. When the right pest removal treatment is applied and the issue is eliminated, our specialists will clean and disinfect the area and surroundings. After their service completion, you'll enjoy a perfectly clean, disinfected and vermin free environment.
We offer pest control also in: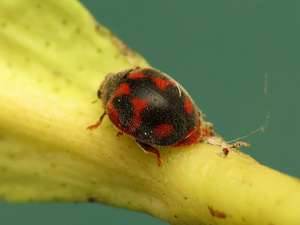 As explained above, the process of exterminating pest thanks to its natural predator is absolutely organic. However, such predators or parasites are often not present in the area or their population is so low that it's simply not enough to deal with the pest on time.
When this happens, biologists and pest control experts work together to initiate a proper importation. This introduces a new animal or plant species where it naturally doesn't exist. Usually, organisms that adapt quickly to a new environment are used. When this procedure is not researched carefully, it may lead to the newly introduced species turning into pest itself.
The introduced animal species should rely heavily on the pest as a food source. This way, when the population of the pest is reduced, the population of the imported species will maintain itself naturally without going out of control. Panther Pest Control.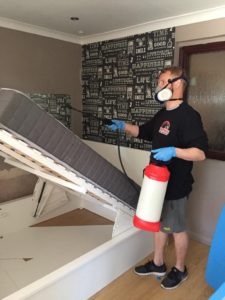 Matteo Grader is the bed bugs expert. He is responsible for domestic pest control sessions in London, and exclusively specialises in bed bugs treatment services. He has several years of experience in dealing with bed bug infestations and other pest issues.
Matteo also helps train new exterminators. He will advise you on the most effective pest prevention and proofing methods so that your home stays vermin-free in the future.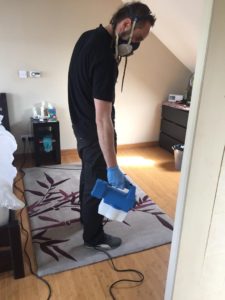 Alexander Clarke is one of the first exterminators in London and ever since he began his career, he's proved to be reliable, skilled and effective. He is an expert in dealing with wasps and wasp nests, as well as other unwanted insects.
He has vast knowledge about various types of household pests, their life cycles and habits, and is masterful in applying professional anti-insect treatments and methods. He covers the entire area of London and delivers quick and efficient results. You can listen to his advice and secure your home from future pest problems. He will make sure your home is treated thoroughly.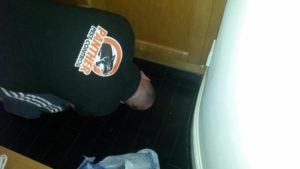 To help you in the fight with rats and mice, Noah Walker is perfectly trained and qualified in employing industry-approved rodent control methods, including setting up traps, the use of rodenticides, sealing points of entry, etc. He has been working as an exterminator with Panther Pest Control for over 3 years and is unequalled in finding the rodents' nests, entry points and routes.
He is the leader of a couple of rodent control teams and helps train new technicians.
We've made sure to answer most of the questions we get asked about the services that we offer. You can find the answers to your questions here.
Pest Control Specialists Are in Your Area
Vermin do not have boundaries. They do not have favourite cities. They are everywhere. We operate in London and are ready to help with your pest problem every day of the week or the weekend. Don't hesitate to call for an emergency pest problem. Teams of pest exterminators are in the M25 area and will come to the rescue as soon as possible.
Pest control specialists you can trust
Panther Pest Control always makes sure that the job is done up to the highest standard. If you are in need of a short-notice or an emergency pest control treatment, call us on 020 3404 5177 without delay or fill in our contact form at any time. We'll get back to you with a free quote ASAP!