Fast Pest Removal in East Ham, E6 & E12, Newham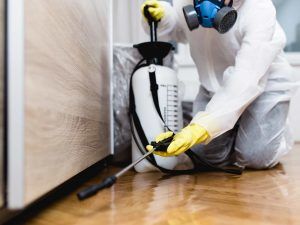 Easy pest prevention in East Ham! Panther Pest Control will completely remove mice, rats, wasps, bedbugs and other pests from your business or home.
Established a decade ago, our expert pest control company is familiar with all the types of pests that may affect homes and businesses in London. We know their lifecycles, habits and preferred environments – which means we also know exactly how to find and remove them effectively.
What Our Pest Control Service Offers You in East Ham
Care for our customers – Our client care team is available to assist you 24 hours a day, every day of the year. If you have an ongoing pest problem, or an emergency pest control requirement in East Ham, why wait? Call us for help – we can visit you as soon as it suits you, even on the same day or at night. For your peace of mind, we guarantee the results and effectiveness of our pest removal service.
Care for your wellbeing – Our pest-control methods are applied in a way that will not harm you, other people or your pets. Should any safety precautions need to be taken temporarily, while pest control treatments are being applied, we will guide you in full in advance.
Care for your property – Panther Pest Control treats your property and belongings with the same respect we treat our own. After removing any pests, we clean and sanitise affected areas and give you pest-prevention advice so you can keep the pests away.
Care for the environment – Our pest removal teams use industry-approved professional-level products supplied by official UK pest control organisations. We are committed to using the most environmentally-friendly pest eradication approaches available.
How Our Pest Control Process Works
To get started, simply Contact Us. Let us know about your pest concerns or pest control requirements and we will guide you on the next steps and schedule a site-visit where we can carry out our pest-inspection and treatments.
If you need help identifying a pest, we will do that for you too.
Call Panther Pest Control today – we will survey your property in East Ham for existing or potential pest problems, and implement treatments and strategies to prevent rodents, insects and other pests becoming a problem for you again.
Panther Pest Control services are available in your area of East Ham. Contact our friendly sales team today.
We offer pest control also in:
Name: Steatoda grossa
Appearance: Similarly to the black widows, the females are 6-10.5mm in length, dark coloured with a round bulbous abdomen. Their colouration ranges from purplish-brown to black with light-coloured markings. Unlike black widows and other species, the cupboard spider doesn't have a bright pattern or other bright markings.
Life Span: Females can live up to six years, while the typical lifespan for the male is about one – one and half years. This is due to the fact that males often die shortly after mating.
Habitat: Found in many parts of the world, including all three coasts of North America, in Australia, New Zealand and in Europe. They can go several months without food, but only if they have access to water. These spiders construct cobwebs and as other web-weavers, they have poor eyesight depending mostly on vibrations coming through their webs.
Danger Level: Medically significant in humans, but minor with no long-term effects. Intrusions by large creatures will cause these spiders to flee, hence they are not aggressive. That being said most injuries to humans are defensive bites or honest mistakes. Symptoms of cupboard spiders are general malaise for a couple of days which may include blistering where the bite is, muscle spasms, pain, fever and sweating.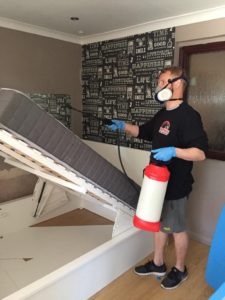 Matteo Grader is the bed bugs expert. He is responsible for domestic pest control sessions in London, and exclusively specialises in bed bugs treatment services. He has several years of experience in dealing with bed bug infestations and other pest issues.
Matteo also helps train new exterminators. He will advise you on the most effective pest prevention and proofing methods so that your home stays vermin-free in the future.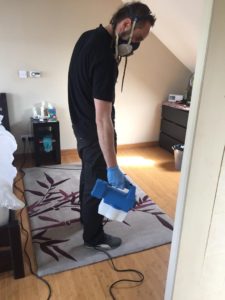 Alexander Clarke is one of the first exterminators in London and ever since he began his career, he's proved to be reliable, skilled and effective. He is an expert in dealing with wasps and wasp nests, as well as other unwanted insects.
He has vast knowledge about various types of household pests, their life cycles and habits, and is masterful in applying professional anti-insect treatments and methods. He covers the entire area of London and delivers quick and efficient results. You can listen to his advice and secure your home from future pest problems. He will make sure your home is treated thoroughly.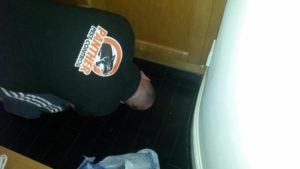 To help you in the fight with rats and mice, Noah Walker is perfectly trained and qualified in employing industry-approved rodent control methods, including setting up traps, the use of rodenticides, sealing points of entry, etc. He has been working as an exterminator with Panther Pest Control for over 3 years and is unequalled in finding the rodents' nests, entry points and routes.
He is the leader of a couple of rodent control teams and helps train new technicians.
We've made sure to answer most of the questions we get asked about the services that we offer. You can find the answers to your questions here.
Pest Control Specialists Are in Your Area
Vermin do not have boundaries. They do not have favourite cities. They are everywhere. We operate in London and are ready to help with your pest problem every day of the week or the weekend. Don't hesitate to call for an emergency pest problem. Teams of pest exterminators are in the M25 area and will come to the rescue as soon as possible.
Pest control specialists you can trust
Panther Pest Control always makes sure that the job is done up to the highest standard. If you are in need of a short-notice or an emergency pest control treatment, call us on 020 3404 5177 without delay or fill in our contact form at any time. We'll get back to you with a free quote ASAP!