Impressive Pest Control in Didcot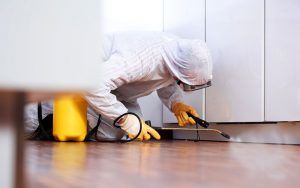 Panther Pest Control proudly serves Didcot with all its pest control and extermination needs. We concentrate on minimal chemical treatment instead of chemical invasion. Using our unique process of pest management we can use the minimum amount of chemicals, if any, to fix your problems. By focusing on eliminating the problem rather than treating the symptoms, we bring our customers complete satisfaction, rather than repeat infestation!
We provide our support to a wide range of sectors including Bars and Restaurants, Take Aways, Warehouses, Offices, Pre-Schools, Shopping Malls and Factories to name but a few. Our pest control company will design a program around your pest management issues and ensure all problems connected with pests are controlled and eliminated which include the spread of disease, contamination of inventory, food and supplies, damage to the building and the real chance of a reduction of goodwill on your business.
By concentrating our efforts outside the house, we reduce the demand for applications inside. Especially, we thoroughly inspect your home's exterior. Then concentrate on possible areas where insects or mice can enter.
Our job is to put a stop to all those unwanted pests invading your home or space and provide you peace of mind. We're here to provide help. If you're not happy or just think it's that little too expensive we are delighted to supply a free of cost alternative quotation. Whichever sector you're in we can help. Whether you're a Hotel, Bar, Bar, Cafe or Restaurant the most precious asset you have is your reputation.
We protect all domestic properties from one-bedroom flats to country estates that can all suffer insect issues which range from mice, rats, flies, ants, wasps, squirrels, moles etc. Our pest control contract won't just protect the health & safety of your workers, but it will also protect your own reputation. Do not be liable for prosecution! Pest prevention contracts will evaluate each client requirements and tailor the service to match that requirement.
We work with all sorts of companies in healthcare, retail, grocery, hospitality, food services, property management, and other little businesses to make certain that our neighbourhood in Didcot is a clean, pest-free place to work and live. We understand how to take care of any problem that happens. Whatever your home or business may be, Panther Pest Control will work with you to create a solution that best suits your requirements. To book our specialist contractors just give us a call on 020 3404 5177.
We offer pest control also in:
Spring Insects in your home:
Ladybirds
Ladybirds feed on spider mites, aphids – a common and serious pest of plants. They will also eat other small insects that are soft. Which makes them a natural pest control mean for your garden.

If you need the help of the most experienced team in the area – call Panther Pest Control.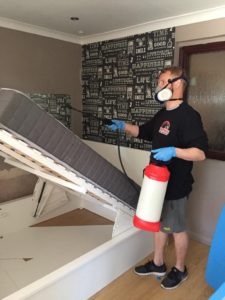 Matteo Grader is the bed bugs expert. He is responsible for domestic pest control sessions in London, and exclusively specialises in bed bugs treatment services. He has several years of experience in dealing with bed bug infestations and other pest issues.
Matteo also helps train new exterminators. He will advise you on the most effective pest prevention and proofing methods so that your home stays vermin-free in the future.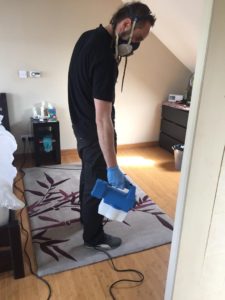 Alexander Clarke is one of the first exterminators in London and ever since he began his career, he's proved to be reliable, skilled and effective. He is an expert in dealing with wasps and wasp nests, as well as other unwanted insects.
He has vast knowledge about various types of household pests, their life cycles and habits, and is masterful in applying professional anti-insect treatments and methods. He covers the entire area of London and delivers quick and efficient results. You can listen to his advice and secure your home from future pest problems. He will make sure your home is treated thoroughly.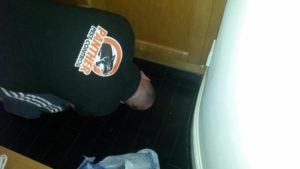 To help you in the fight with rats and mice, Noah Walker is perfectly trained and qualified in employing industry-approved rodent control methods, including setting up traps, the use of rodenticides, sealing points of entry, etc. He has been working as an exterminator with Panther Pest Control for over 3 years and is unequalled in finding the rodents' nests, entry points and routes.
He is the leader of a couple of rodent control teams and helps train new technicians.
We've made sure to answer most of the questions we get asked about the services that we offer. You can find the answers to your questions here.
Pest Control Specialists Are in Your Area
Vermin do not have boundaries. They do not have favourite cities. They are everywhere. We operate in London and are ready to help with your pest problem every day of the week or the weekend. Don't hesitate to call for an emergency pest problem. Teams of pest exterminators are in the M25 area and will come to the rescue as soon as possible.
Pest control specialists you can trust
Panther Pest Control always makes sure that the job is done up to the highest standard. If you are in need of a short-notice or an emergency pest control treatment, call us on 020 3404 5177 without delay or fill in our contact form at any time. We'll get back to you with a free quote ASAP!