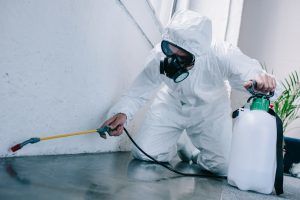 Our company is a leading supplier of pest control services and provide quality solutions for the specific needs of our customers. Whether your problem is in your house or commercial property, we will deliver the option that is just right for your pest removal issue. Our staff of insured and experienced pest controllers can handle different types of vermin, such as cockroaches, bedbugs, rodents, mice, fleas, pigeons, and others. The experts will completely remove the pests from your place, applying eco-friendly and safe methods. The service they can give you will protect against damage to your property and the spread of different diseases.
What Benefits You Will Take from Our Pest Control Service in Romford
Discreet pest eradication on request
Safe, eco-friendly pest control methods
Knowledgeable and qualified staff
Top-quality products from prominent UK-based suppliers
24/7 pest control service is available for your emergency situations
Round-the-clock customer service for quick response to your questions
Expect Only the Best Performance from Our Reliable Pest Controllers in Romford
Make an appointment with our technicians for a time convenient for you, and they will come to conduct a full property inspection. After evaluating the level of infestation they will determine the most appropriate procedure to eliminate the vermin from your place. The specialists will utilize the most innovative equipment and quality products to guarantee the full eradication of all pests. They also deliver pest-proofing options to block entry points and protect properties from future infestations. If you require this option, just tell us and we will provide you with it.
You will receive expert advice on how to maintain your space free from pests at all times. And if you have any specific questions related to your pest control problem, you can ask them to our friendly pest controllers.
Book an Efficient Pest Control Service with Us Now!
Let us help you take care of your pest control needs right now! Just dial 020 3404 5177 or complete the online contact form and share with us what your pest eradication issue is. We will solve your problem quickly and reliably!
Romford is a town located in northeast London. The town originally started along the Main London Highway. It was not until 1247 that the centre was officially recognized as a town. Today is a major retail, commercial, leisure and entertainment centre with a thriving 24-hour economy. The economy in Romford largely depends on agriculture with many minor product industries being set up there. The town began as a small industry centre and ramped up its influence in the late 19th-century before merging with Greater London in 1965.
We offer pest control also in:
Is it true that mice are considered a problem only during the wintertime? No, because Mus domesticus, a.k.a the House Mouse is active year round, which means an infestation is possible at any time.
Appearance
Can grow up to 7 – 9.5cm in body length and its tail grows around the same length;
An average House Mouse can weigh between 12 – 30g;
Their relatively small feet & head and large eyes & ears distinguish them from a young brown rat (Rattus norvegicus).
Life Cycle
4 – 16 young per litter, 7 – 8 litters a year;
The gestation period continues for about 3 weeks;
Reaches sexual maturity between 8 – 12 weeks after birth.
Habits
Usually ground living and burrowing, but don't underestimate because it's also a good climber;
Preferred food is cereals;
Will eat around 3g of food per day. Can survive without any additional water.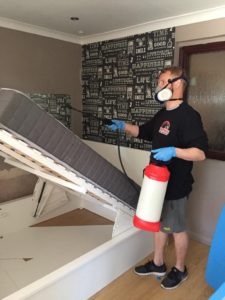 Matteo Grader is the bed bugs expert. He is responsible for domestic pest control sessions in London, and exclusively specialises in bed bugs treatment services. He has several years of experience in dealing with bed bug infestations and other pest issues.
Matteo also helps train new exterminators. He will advise you on the most effective pest prevention and proofing methods so that your home stays vermin-free in the future.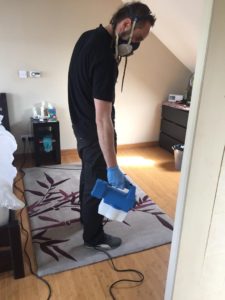 Alexander Clarke is one of the first exterminators in London and ever since he began his career, he's proved to be reliable, skilled and effective. He is an expert in dealing with wasps and wasp nests, as well as other unwanted insects.
He has vast knowledge about various types of household pests, their life cycles and habits, and is masterful in applying professional anti-insect treatments and methods. He covers the entire area of London and delivers quick and efficient results. You can listen to his advice and secure your home from future pest problems. He will make sure your home is treated thoroughly.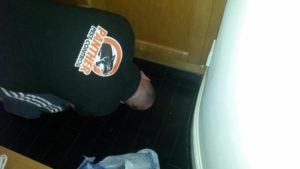 To help you in the fight with rats and mice, Noah Walker is perfectly trained and qualified in employing industry-approved rodent control methods, including setting up traps, the use of rodenticides, sealing points of entry, etc. He has been working as an exterminator with Panther Pest Control for over 3 years and is unequalled in finding the rodents' nests, entry points and routes.
He is the leader of a couple of rodent control teams and helps train new technicians.
We've made sure to answer most of the questions we get asked about the services that we offer. You can find the answers to your questions here.
Pest Control Specialists Are in Your Area
Vermin do not have boundaries. They do not have favourite cities. They are everywhere. We operate in London and are ready to help with your pest problem every day of the week or the weekend. Don't hesitate to call for an emergency pest problem. Teams of pest exterminators are in the M25 area and will come to the rescue as soon as possible.
Pest control specialists you can trust
Panther Pest Control always makes sure that the job is done up to the highest standard. If you are in need of a short-notice or an emergency pest control treatment, call us on 020 3404 5177 without delay or fill in our contact form at any time. We'll get back to you with a free quote ASAP!