Do you have a problem with fleas, cockroaches or any other pests? Let us remove your vermin issue in a quick and reliable manner! We offer flexible pest control services that will eliminate all harmful organisms that may damage your property and affect your health. With our help, you will forget about the mice in the attic and the cockroaches in the kitchen. We will provide you with fully insured and qualified staff that will give you service tailored to your specific needs and requirements.
Our specialists can handle even the most irritating pest control problems, such as bird deterrence, cockroach extermination, control of rats and mice, insects and bed bugs, and more. They will use the most modern and effective pest control equipment and reliable products for the safe extermination of the vermin in your home or office.
What Perks You Will Receive from Our Pest Control Service in Gravesend
Friendly and polite customer support staff – available round-the-clock for your needs and questions related to our pest control options
Safe and discreet pest removal service
Regular pest control option to maintain your area always free of vermin
Certified and insured pest exterminators
Flexible working time depending on your personal schedule
Rely On Our Professionals for a Quality Pest Control Service in Gravesend
To ensure you are fully protected from pests, you have to make aIf you're having a problem with pests but can't find the place they live, our pest control removers will handle the issue. Our technicians have the professional knowledge and equipment to find out where the harmful organisms hide in your property and determine the most appropriate solution for eliminating them. Additionally, they will give you professional advice on how to protect your place from future infestations, and if you request, they can deliver regular pest control service to your property.n appointment with our pest eradication specialists. The team will visit you at the pointed of time to evaluate the level of infestation of your affected area. The next step includes identifying the correct method for removing your vermin problem. When all this is done, the technicians will share with you the best solution and give you a fair quote for the required job. If you're delighted with the offer, they can start the pest removal procedure immediately or at another time suitable for you.
The pest control specialists we provide are professionally uniformed and fully equipped with the tools and materials for your specific pest control job.
Book a Friendly Pest Control Service in Gravesend
Booking with us is easy. Just dial 020 3404 5177 or complete the request a quote form. We will listen to your pest removal needs and give you a solution that will meet them the first time.
Gravesend is a maritime town in Gravesham district and part of Kent's county, located on the right side of Thames it has riverside, historic villages, countryside, picturesque parishes and a full calendar of events for you to enjoy. Gravesend is also the town in which the native-American princess Pochahontas died on her way back to America in 1617. The most iconic building of Gravesend is the clock tower on Harmer Street.  The tower was constructed in 1887 to mark the anniversary of Queen Victoria's coronation. One of the oldest buildings in Gravesend is Milton Chantry, a chapel built by Aymer de Valence in 1322.
We offer pest control also in:
Parasitic nematodes are species which aim to kill other insects in order to change the process of their development. Nematodes are also popular by the name roundworms and there are over 25 000 species of nematodes on Earth.

There are 2 major types of nematodes. The first type is predatory and is very suitable for organic pest control procedures as they kill various pests. The other type spread plant viruses between separate plantations and are considered to be extremely harmful in the agricultural aspect.

Predatory nematodes will protect your garden from cutworms, corn earworm moths and other nematode species which are pests.

Most of the parasitic nematode species live in the top layer of the soil, not deeper than 15cm from the surface. Unlike other organisms, nematodes do not decompose organic matter, instead, they feed on living organisms. Bacteria can be destroyed effectively by nematodes, which makes its regulation much easier. An average of 5000 bacterial organisms may be destroyed per minute by nematodes.

Check what Panther Pest Control for more.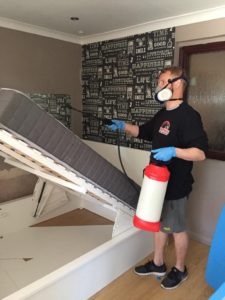 Matteo Grader is the bed bugs expert. He is responsible for domestic pest control sessions in London, and exclusively specialises in bed bugs treatment services. He has several years of experience in dealing with bed bug infestations and other pest issues.
Matteo also helps train new exterminators. He will advise you on the most effective pest prevention and proofing methods so that your home stays vermin-free in the future.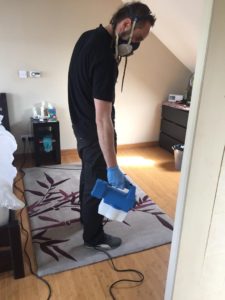 Alexander Clarke is one of the first exterminators in London and ever since he began his career, he's proved to be reliable, skilled and effective. He is an expert in dealing with wasps and wasp nests, as well as other unwanted insects.
He has vast knowledge about various types of household pests, their life cycles and habits, and is masterful in applying professional anti-insect treatments and methods. He covers the entire area of London and delivers quick and efficient results. You can listen to his advice and secure your home from future pest problems. He will make sure your home is treated thoroughly.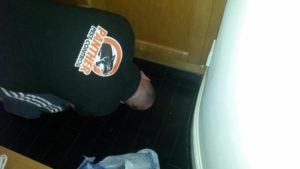 To help you in the fight with rats and mice, Noah Walker is perfectly trained and qualified in employing industry-approved rodent control methods, including setting up traps, the use of rodenticides, sealing points of entry, etc. He has been working as an exterminator with Panther Pest Control for over 3 years and is unequalled in finding the rodents' nests, entry points and routes.
He is the leader of a couple of rodent control teams and helps train new technicians.
We've made sure to answer most of the questions we get asked about the services that we offer. You can find the answers to your questions here.
Pest Control Specialists Are in Your Area
Vermin do not have boundaries. They do not have favourite cities. They are everywhere. We operate in London and are ready to help with your pest problem every day of the week or the weekend. Don't hesitate to call for an emergency pest problem. Teams of pest exterminators are in the M25 area and will come to the rescue as soon as possible.
Pest control specialists you can trust
Panther Pest Control always makes sure that the job is done up to the highest standard. If you are in need of a short-notice or an emergency pest control treatment, call us on 020 3404 5177 without delay or fill in our contact form at any time. We'll get back to you with a free quote ASAP!