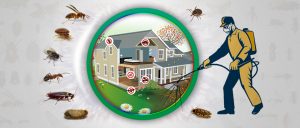 Do you have mice in the attic, cockroaches in the kitchen or fleas in the bedroom? Whatever your pest problem is, we will find its quick and safe solution. We provide professional pest control services in Chislehurst that will ensure the necessary hygiene in your living or working area. With our help, you will rid your property of the vermin and protect it from future infestations. We deliver one-off pest control services as well as regular options for pest prevention.
What Benefits You Will Have When Booking with Us in Chislehurst
Prompt service with attention to detail
Vetted, certified and insured pest control technicians
Customer support service – available 24/7
Safe, eco-friendly pest control products
Discreet pest removal
Quick response to emergency pest control situations
What You Can Expect from Our Pest Controllers in Chislehurst
Our pest removers will arrive at your place at the point of time to evaluate your area and identify the level of infestation. They can find a place where the pests are hiding and choose the best method to eradicate them. They will give you a proper quote for the needed pest eradication treatment, and if you like the offer, the specialist will start removing your pest problem. They will commence the job immediately if required or at another time convenient for you.
What kinds of services our team can complete for you? You can benefit from options, such as cockroach removal, mice eradication, insect extermination, bird control, and many other pest control solutions. If you have any specific vermin issue you consider difficult to solve, just tell us about it, and we will do the necessary to handle your problem.
Book a Pest Control Service with Us and Take Care of Your Home in Chislehurst
Let us remove the vermin from your home, flat, house or office in a quick and discreet manner. Simply get in touch with us on 020 3404 5177 or fill in the request a quote form. After making your booking, you can relax in the knowledge that your home is in the safest possible hands.
Chislehurst got its name from the Anglo-Saxon cisel(gravel) and hyrst(wooded hill), it's located east of Bromley and southwest from Sidcup with a total territory of 10.5 miles. Chiselhurst has one of the most expensive housing prices in southeast London, thanks to its lively rural village atmosphere. Chislehurst is a good tourist attraction if you are into exploring man-made caves, carved over a hundred years, forming a large maze with a size of 6 hectares 30 meters below ground.
We offer pest control also in: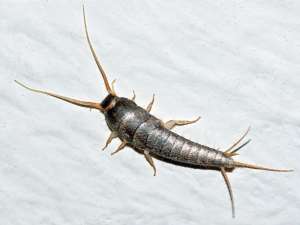 So if they're not fish, what are they? Insects of course. In fact, they are arthropods like cockroaches and crabs.
There are no health risks associated with this tiny little creature, but it can sting. You'll be mildly irritated, but there are no long-term effects and the sting isn't fatal. Silverfish are relatively harmless but creepy and disturbing nonetheless.
They have been around for millions of years and have developed a method of reproduction that is unique. It's called external reproduction and doesn't need the male and female to come together to produce their young. Their populations can increase at an amazing rate.
Their favourite food is starch, cellulose and sugar, so they might turn up in books, wallpaper, carpets and food; such as coffee, sugar, pasta and other leftover food. They are a bluey, grey colour with a tapered body and no wings. And they are quite easy to spot even though they are only 1 to 2 cm long.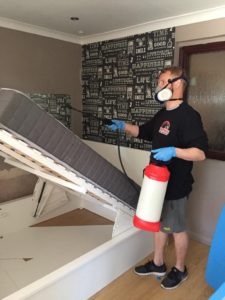 Matteo Grader is the bed bugs expert. He is responsible for domestic pest control sessions in London, and exclusively specialises in bed bugs treatment services. He has several years of experience in dealing with bed bug infestations and other pest issues.
Matteo also helps train new exterminators. He will advise you on the most effective pest prevention and proofing methods so that your home stays vermin-free in the future.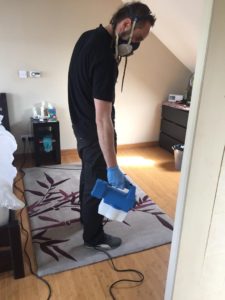 Alexander Clarke is one of the first exterminators in London and ever since he began his career, he's proved to be reliable, skilled and effective. He is an expert in dealing with wasps and wasp nests, as well as other unwanted insects.
He has vast knowledge about various types of household pests, their life cycles and habits, and is masterful in applying professional anti-insect treatments and methods. He covers the entire area of London and delivers quick and efficient results. You can listen to his advice and secure your home from future pest problems. He will make sure your home is treated thoroughly.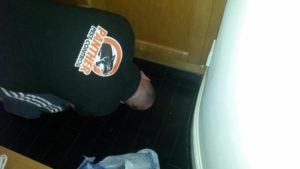 To help you in the fight with rats and mice, Noah Walker is perfectly trained and qualified in employing industry-approved rodent control methods, including setting up traps, the use of rodenticides, sealing points of entry, etc. He has been working as an exterminator with Panther Pest Control for over 3 years and is unequalled in finding the rodents' nests, entry points and routes.
He is the leader of a couple of rodent control teams and helps train new technicians.
We've made sure to answer most of the questions we get asked about the services that we offer. You can find the answers to your questions here.
Pest Control Specialists Are in Your Area
Vermin do not have boundaries. They do not have favourite cities. They are everywhere. We operate in London and are ready to help with your pest problem every day of the week or the weekend. Don't hesitate to call for an emergency pest problem. Teams of pest exterminators are in the M25 area and will come to the rescue as soon as possible.
Pest control specialists you can trust
Panther Pest Control always makes sure that the job is done up to the highest standard. If you are in need of a short-notice or an emergency pest control treatment, call us on 020 3404 5177 without delay or fill in our contact form at any time. We'll get back to you with a free quote ASAP!